June is Black Music Month!
We're using this month to highlight amazing Black artists.
These songwriters, animators, producers and more have contributed to popular Quaver songs. We hope their stories will inspire you and your students!
Last week, we featured Mike Hicks, who produced numerous QuaverEd songs. Mike shared about his artistry and passion for music.
Today, we're excited to sit down with Ryan Brown.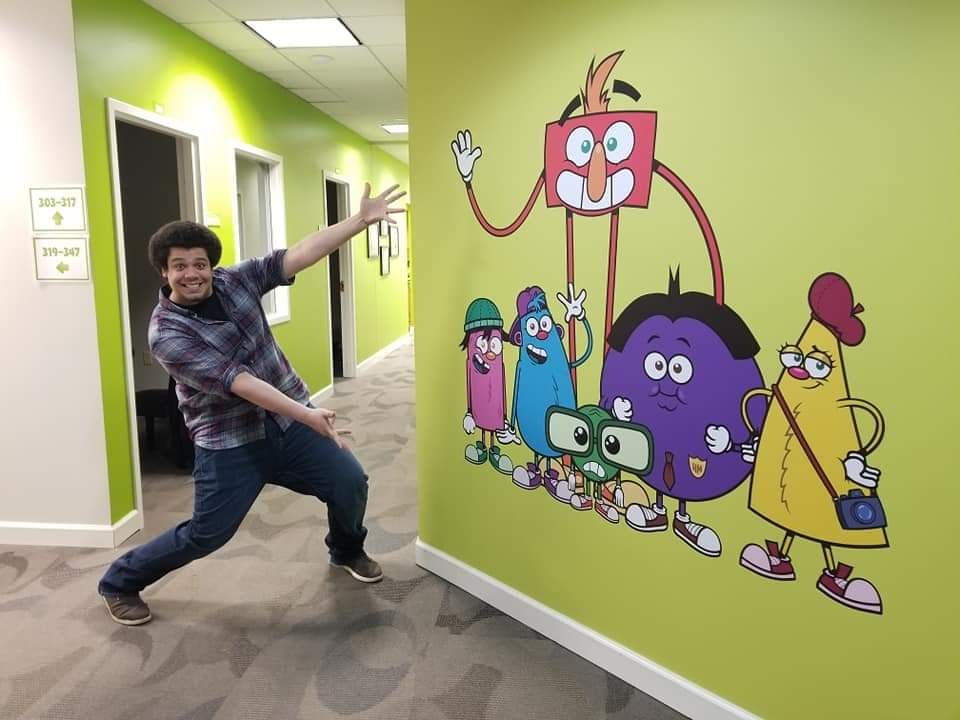 Ryan Brown poses proudly near some of his work at QuaverEd headquarters in Nashville!
Talents: Artist, illustrator, storyteller
Fun Fact:
Notable Characters:
Quaver Contributions (and these are just a few!):

You-Nique (QuaverMusic + QuaverSEL – Artist)
I Believe in You (QuaverMusic + QuaverSEL – Artist)

How I'm Feeling Today (QuaverMusic + QuaverSEL – Artist)
Write it Down (QuaverMusic + QuaverSEL- Artist)
Keep Things Organized (QuaverSEL – Artist)
Keep Juggling Your Feelings (QuaverSEL – Artist)
Two-Way Street (QuaverSEL – Artist)
Save Our Planet (QuaverSEL – Artist)
The Holiday Tree (Quaver Pre-K- Artist)
***
QuaverEd: What does Black Music Month represent for you? Why is it important to you?
Ryan Brown: For me, I think about how past Black musicians brought about change and awareness through their art. Through it, they were able to show that they are just as complex deep down as anyone else. Art is a powerful thing we create. True art comes from within us; we tell a personal story with it. Black artists creating what they created during such awful times helped others to see that we are ALL the same no matter the color of our skin.
Q: What inspired you to become an artist?
RB: I've always LOVED cartoons! I truly can't remember a time I wasn't obsessed with drawing. As a young kid, I'd lay in front of the TV with a HUGE notebook and redraw characters like SpongeBob for hours. I was always so fascinated with how a common thing like a dog or a lamp could look so different from one cartoon to another. Each animated series was a window into an artist's personal perception of the world.
Q: Which QuaverEd project has been your favorite?
RB: Well, one of my favorite QuaverEd projects isn't quite released yet. So stay tuned! I'd have to go with the "You-Nique" lyrics video. The song was written by the amazing Otto Gross and sent over to me for conceptualization.
Ryan created and drew Sonder, the main character in "You-Nique!"
Q: Tell us about that process and how it impacted you as an artist.
RB: For "You-Nique," I was given the opportunity to develop the character of Sonder, a character that I injected A LOT of my personal sense of design into. The song initially was going to be about a Mr. Potato Head-type character that learns to dress/assemble themselves in a unique way.
We decided that we wanted this animation to appeal to a larger demographic than just younger students, so we nixed that approach. The only thing remaining from that concept is Sonder's pink ears.
One thing about Sonder's design that I'd like to touch on is that she was actually designed to be genderless. It was important to me to create a character that could appeal to anyone. At the end of the video (spoiler!), Sonder is revealed to be a girl, but I did try to design her in a way that was not completely clear.
From the questions I've gotten from multiple educators, I'd say that I succeeded in doing just that! I really wanted to give it something that made it special to rewatch and discuss within the classroom.
We never thought "You-Nique" would be something so huge within the Quaver community. It honestly started as a normal song that needed an animated video. I was fortunate enough that our co-founder Graham allowed me to take the song and craft a bit of a "deeper" story with it. Once it was finished and ready to go, we decided to make it a special event! This was quite flattering. That's one of the things I love about working at Quaver — if you have an idea or feel compelled to do more, our leaders are always open to letting us do more than our job title indicates. This project really helped me further my skills in creating more than just animation.
In this video, you can see the original animatic for "You-Nique" on the right and the final animation on the left!
Q: How has the teaching community and the student community reacted to the song?
RB: I NEVER expected it to become as beloved as it did.
Teachers, politicians, and students have come and spoken with me about it, and I've always felt so surprised and honored that it would make such an impact on them.
I think one of the things that has really touched me is all the fan art I've seen for the characters from "You-Nique."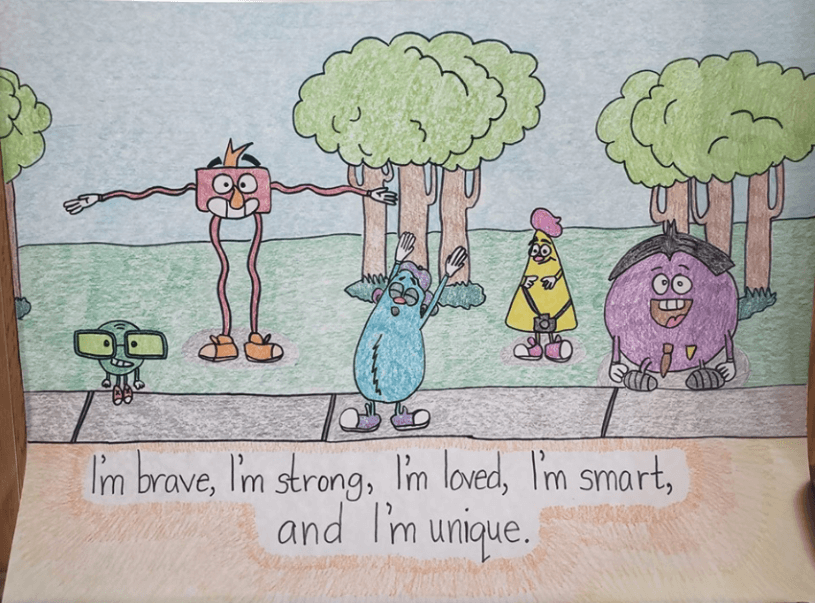 Ryan has received countless art from students and teachers who love the characters in "You-Nique!"
First, it was one, then another, and now I have a folder on my desktop full of them! It's truly humbling that I was able to create characters that students enjoy so much that they felt moved to draw them themselves.
Sonder herself has now become a regular in Quaver's world, along with Perry, Boobam, and Songbird. It feels really good knowing that I was able to create a character for Quaver that has a lasting impact.
Q: If you could share any piece of advice with students today, what would you tell them?
RB: My main advice would be to never give up! Being an artist is challenging, and it's a very competitive industry. Meet and talk to as many people as you can. When I started out in college, I would've never thought a music education company in Nashville would be able to supply me with the job that I wanted. There are a lot of other opportunities out there that you have to be on the lookout for! Just because you don't have a gig at Nickelodeon or Disney doesn't mean you can't find something just as satisfying somewhere else.
Q: Anything else you'd like to share?
RB: Keep on drawing! Don't let others tell you what you should or should not be doing when it comes to your passions.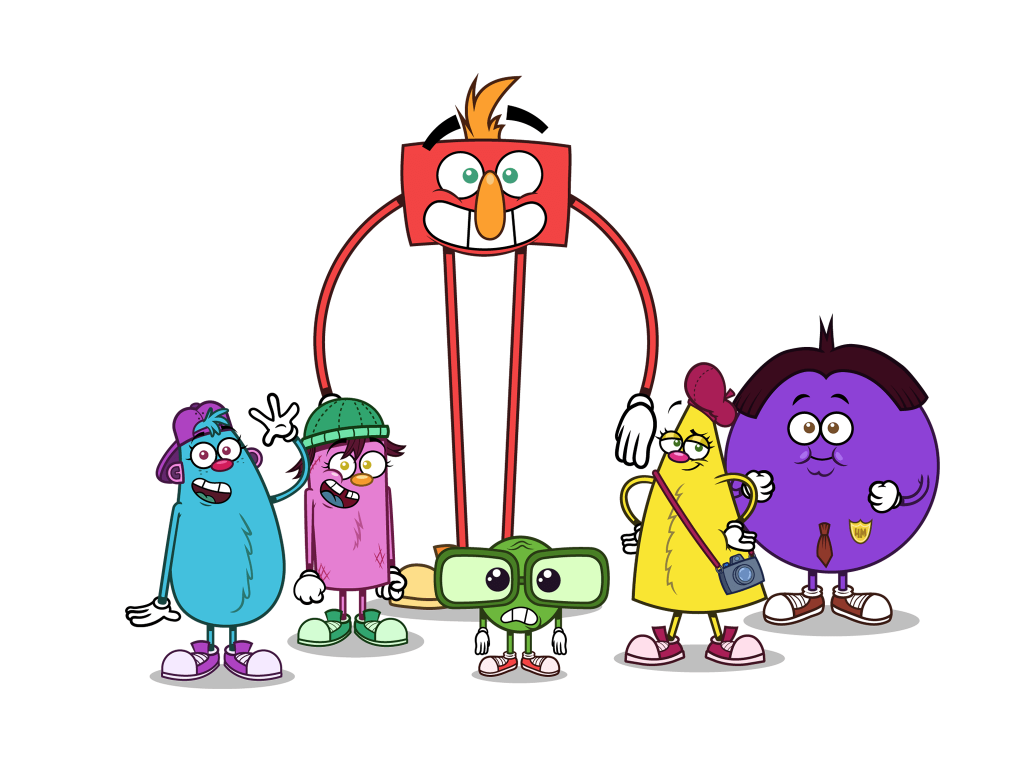 The "You-Nique" cast of characters!
***
Did you know?
Black Music Month was founded by Kenny Gamble of the Gamble & Huff producing team, Cleveland radio DJ Ed Wright, and artist development/media strategist and NMAAM board member Dyana Williams.
In 1979, President Jimmy Carter declared that the month of June celebrate the contributions of Black musicians to music. Black Music Month became official in 2000, thanks to the work of its founders.
Learn more about the history of Black Music Month.
Join us throughout the month of June for more conversations!