Quaver's HigherEd Programs offer:
FREE resources for methods and practicum courses!
FREE curriculum for student teaching!
FREE curriculum for new graduates!
QuaverMusic HigherEd Program
Utilized by over 150 educational institutions across the U.S., HigherEd is designed to lead music educators and their students down the journey of producing music for the 21st century!
Formatted for Music Education majors, Quaver HigherEd Program is a full curriculum for students and 6-week syllabus for students.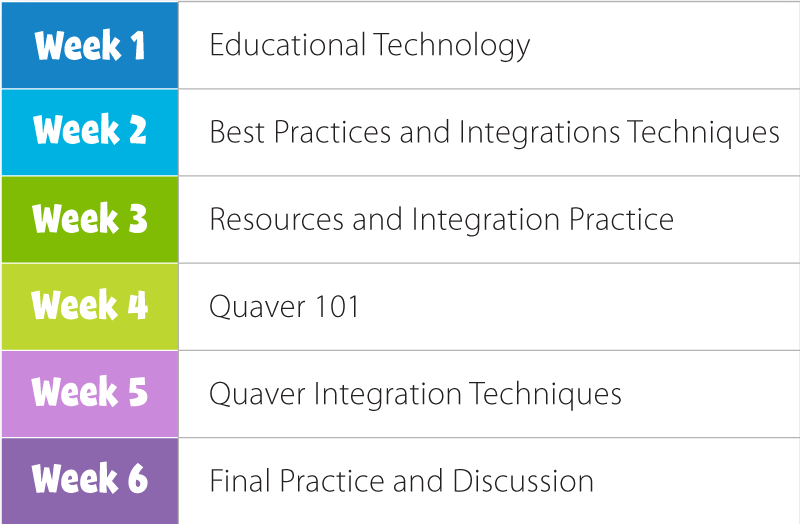 Music Educators are provided a full curriculum and students are provided full access to their lesson plans, supplements and much more. The educational technology allows the educator and student to utilize Quaver HigherEd Resources, no matter their teaching environment.
Virtual, Hybrid, or Traditional – Quaver HigherEd Program for Music Education Majors is made just for you!
Praise for Quaver Resources!
"My college students at Central Washington University also are amazed when they discover the creativity, sequence and comprehension of the lessons in the Quaver curriculum. I think they are unexpectedly surprised by the many options Quaver lessons offer them as they compose the lessons they teach in class."

– Leslie Schneider, Central Washington University
"In my opinion, QuaverMusic.com is THE most comprehensive tool for Music Education in the 21st Century! Use it with whatever method you choose; Kodaly, Orff, etc. It also aligns easily to Music Learning Theory! The program stays current without having to buy new books every few years, and the assistance from the company is exemplary!"

– Dr. Wendy van Gent, Northern State University