QuaverEd is proud to offer highly interactive online curricula and user-friendly navigation to make teaching and learning easier and more fun. We have advanced technology in the following areas:
Lesson Plan Presenter
Our Lesson Plan Presenter is a turbo-charged Powerpoint-like presentation application. Not only can it accommodate all kinds of interactive games and activities, it also provides considerable flexibility to the teachers.
The Lesson Plan (LPP) presenter shows the Lesson Plan, Overview of the lessons screens, and Printable worksheets for the students. In addition, it presents each interactive screen required for the lesson.
Each LPP screen has a menu button on the lower left hand corner that brings up the following options:
Change the grade level of the lesson,
Show the Screen Notes, explaining how to use the screen
Bring up a link or QR code so students can access the screen without logging in
Draw on the screen with colored markers
Place a Text Box on the screen – useful for foreign language students
Hide the screen or bring up a blank screen,
Drag a customizable timer on the screen
Drag a keyboard or metronome on the screen
Switch to a Spanish language screen for DLLs
Switch to an Accessible screen for disabled students
Resource Manager (Music, Ready, and Health Curricula)
Our Resource Manager allows you to search, create, import, and share custom resources and assignments. It includes a built-in searchable resource library and advanced customization tools.
Search for any of thousands of teaching resources by topic, grade level, or type (lessons, songs, videos, interactives, composition tools) to find ready-to-use lessons or standalone activities.

Create custom lessons, quizzes, and assignments using our Resource Creation screens. These allow you to take advantage of our Lesson Presenter app to incorporate our own multimedia screens, custom quizzes and rubrics, audio playlists, and more.

Import your own resources into the curriculum adding content from outside the Quaver library including website links, YouTube videos, mp3s, custom assessments, and games.

Share lessons across your district and assignments directly with students, for use at home or in the classroom.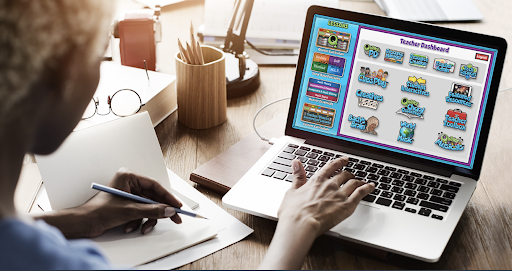 Student Accounts/Teacher Grade Book
Each school license includes an unlimited number of free student accounts. This provides equal access to everyone whether learning takes place in the classroom, at home, or in a hybrid environment.
QuaverEd technology features flexible content delivery to individual student accounts, creating opportunities for differentiated assignments.
Custom Assignments can include quizzes, digital books, games, printables, video instruction, and digitally delivered via student account or QR code.
Teachers can video instructions on each screen for the students to view.
Students can video their responses, answer quizzes, or simply view the assignment. The teacher will see what screens the students actually accessed in completing the assignment.
The Teacher GradeBook is also rich in functionality. It provides for all in-class quizzes and game competitions to be automatically graded. Student homework assignments can be automatically graded based on the particular assignment.
The teacher can also link to the student's dashboard and see exactly what the student is doing.
Graded assignments can be sorted by type, a curve can be applied to the grades, and much more.
Music Composition Tools (Music Curriculum only)
Our technology also includes online composition tools. You can ignite creativity in young musicians of all experience levels with virtual instruments and robust composition tools compatible with any web browser, on any device.
Digital Creatives include digital keyboard, sequencer, guitar, and drum apps.
QSoundFX allows students to create Foley sounds or video soundtracks
Song Brush empowers your youngest students to experiment with melodic contour and notation by drawing.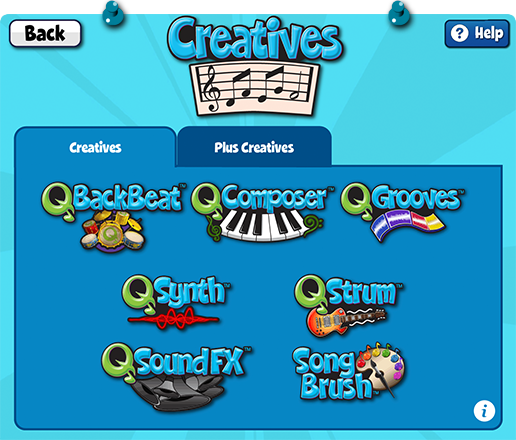 Supervisor/IT Reports
A variety of tools and reports allow teachers or district IT staff to easily create classes, integrate with other district services, and survey teacher usage and sentiment.
In addition, individual teacher resource usage can be tracked and reported on by the system.
Users can spot trends in Teacher-level Usage and compare school usage across the entire district.
We also provide a License Management Tool where the Supervisor or IT staff can swap teachers on a license, see the expiration dates of licenses, switch licenses to different schools, and more. The idea is that the District can manage who gets the licenses and when.
Rostering and Single Sign On
QuaverEd supports student access through Single Sign On via SAML/ADFS, LTI, Clever, and Google.
We can also easily integrate QuaverEd resources with existing district LMSs and student information systems.
Robust Infrastructure
QuaverEd uses Amazon Web Services to power our online curricula. In addition, we employ top experts in network architecture to support the most reliable and fastest network possible. One component of our architecture is the Content Delivery Network shown below.
Quaver's cloud-based Content Delivery Network employs hundreds of edge servers to minimize Internet delay times (latency) in distributing media-rich content.
QuaverMusic has partnered with Project Unicorn to improve data interoperability within K-12 education.
Questions about our technical capabilities?
Contact our in-house IT and integrations teams by clicking the link to our technical support page here.