"Life-long lessons" that last and last and last ….
By Kristin Clark Taylor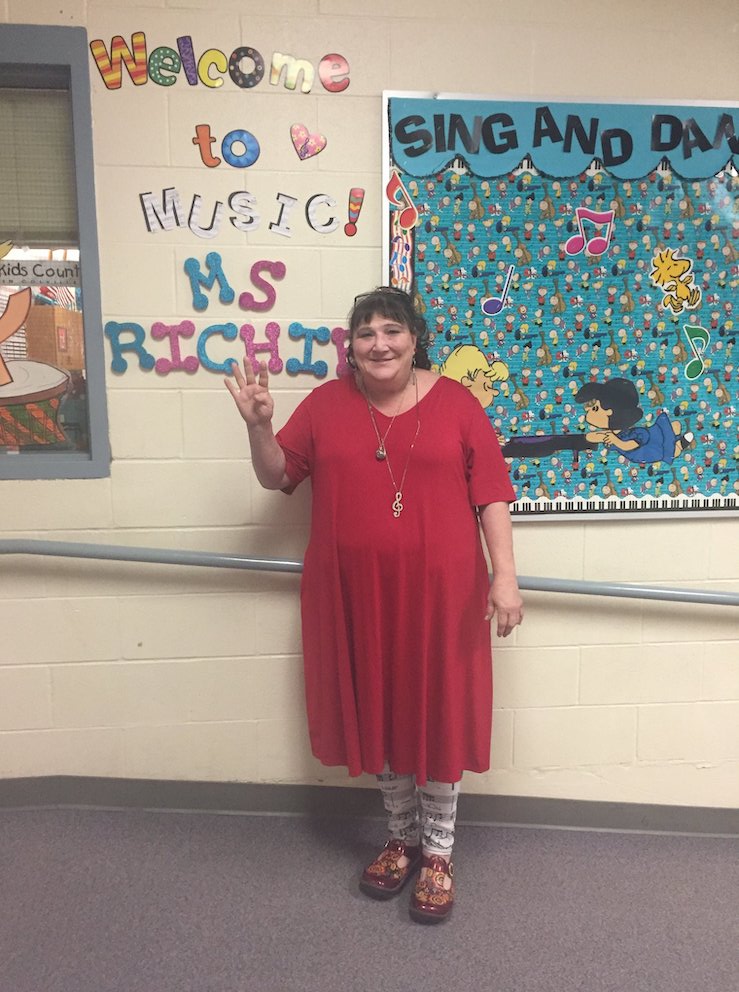 Nope, this isn't an article on the economy … but that's what it might sound like as we listen to one voice of wisdom and experience reflect on important themes like growth, expansion, and sustainability.
Linette Richie is an expert on these topics — but Linette's not speaking from a gleaming, glassed-in office on Wall Street.
She speaking from a public school classroom filled with plastic chairs, musical instruments, and a very, very colorful bulletin board.
She's speaking from three different classrooms, in fact.
Linette teaches TK-5 music in three different schools in the Colville School District in the state of Washington – and she happens to know a thing or two about growth and expansion:
"When I got first got here 8 ½ years ago, they kind of handed me a key to the music classroom, with no curriculum," she reflects. "They had a few instruments … but they hadn't had an elementary music program, so we kind of had to start from scratch. They had junior high and high school music programs, but that was it. We had to grow!"
So what did she do?
She grew!
"Quaver was the answer to everything!"
"I immediately started searching for a music curriculum. My first Master's degree is in the areas of teaching and learning technology, so when I found Quaver, I knew it was the answer to everything!" she says with gratitude and enthusiasm. "Quaver has allowed me to grow as a teacher, and it's facilitated the growth of my students in ways that is hard to describe."
And right after Linette tells me Quaver's impact is so "hard to describe," she proceeds to do a beautiful job of, well, describing it:
"The curriculum teaches principles and concepts that stick with my students year after year; this kind of learning stays with them forever," she says. "This is learning that lasts and lasts and lasts."
Celebrating Sustainability
Linette says that the junior high and high school teachers "take note" of how well-prepared her music students are when they reach those higher levels, and here, she sings a beautiful song that praises sustainability:
"I love that Quaver focuses on Solfege; I use it to teach ear training. When the junior high and high school teachers see that these students already arrive familiar with Solfege, already familiar with various composers, with elements of music history, and with the principles of music, they see with their own eyes and hear with their own ears what a solid foundation these students are standing on. It's a great source of pride."
Sustainability, indeed.
"When they got to the higher grades, they didn't have to start learning these more advanced concepts Cold Turkey. They already knew how to keep a steady beat because of Quaver. They already knew about music theory, because of Quaver's song-based lessons. Some of them have even taken these skills on to college! So Quaver has contributed directly to their growth."
Indeed, Linette has brought Quaver's motto — "We're Growing Alongside of You" — to life in the most tangible of ways.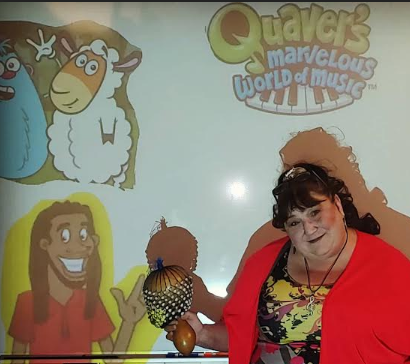 A Curriculum "That lets me Customize!"
Linette says the curriculum also lets her customize her lesson plans in a way that works for each of her students, and she appreciates the "endless variety."
Linette, who also teaches a 3-5th grade choir, says, "I love Quaver's choral resources. In fact, we performed the song 'You-Nique' in the choir first, at a school assembly, and everyone loved it so much we took it into the general music classroom. I can customize the songs and lessons for each grade level. One of the song activities that they offer with 'You-Nique' involves each student writing something unique about their classmates on a paper plate, and my students just went nuts over that!"
She says the exercise allowed her students to appreciate the unique qualities in each other … and in themselves. "As they're reading their own paper plates, I hear them asking each other, 'Really? You think that about me? Cool!'
My students also love 'Whisper, Talk, Shout, and Sing.' She describes how she can easily customize the song to teach any grade level. "I tweaked the kindergarten curriculum so that it reached my even younger ones, so both groups learned to use different ways of using their voices. The TK-ers were still asking for it at the end of the year. This kind of customization is crucial."

Pushing through the Pandemic
During the school shut-down, "Most of the other teachers were really scrambling, trying to figure out, 'How am I going to teach my students on-line?' I already knew how I was going to handle it, because I already had Quaver in my back pocket. I tell everyone I know, 'You guys really need to get Quaver!'"
The Leap to Higher Learning
"Some of my former students, the older ones, are even in college now, studying music! It's really exciting to see them want to become music teachers themselves and push out into the world with music playing such an important role in their young adult lives! This is the direct influence Quaver had on them!"
So Quaver's tagline – "We grow with you!" — is real. It is alive.
This is much, much more than a motto.
This is learning – and living – in full-blown, honest-to-goodness action.
***
Kristin Clark Taylor is an author and a journalist.