This Texas Teacher brings Tranquility to her Classroom using QuaverSEL
By Kristin Clark Taylor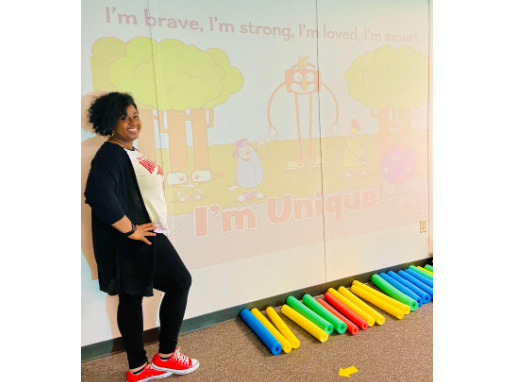 ***

What do you do when life gives you lemons? The most optimistic, solution-driven answer is this: You make lemonade.
But when the chips are down and the tides have turned, Kaundria Gay, a music specialist at Hearne Elementary in Houston, Texas, makes much, much more than just lemonade.
Kaundria also makes music.
This popular, well-loved teacher uses music to comfort, calm, soothe, and inspire her students. And what does Kaundria keep close at-hand in her classroom to help her achieve this goal?
That answer is easy: She uses QuaverSEL, a comprehensive, cutting-edge Social and Emotional Learning curriculum that has taken the nation by storm … and Kaundria knows a thing or two about storms, having faced many herself in these recent months:
Kaundria battled a COVID-19 diagnosis herself before recovering fully. Then she and millions of her fellow Texans suffered through the severe winter storms that threw the entire state into the deep freeze. During that time, she also suffered the loss of her father-in-law. And along with the rest of the teaching community, she's faced the challenges of classroom closings, anxious students, disrupted teaching patterns, and a global pandemic that has shifted the world on its axis.
Amazingly, QuaverSEL helped her through.
"It's been a lot to deal with, but we've made it through," she says with spirited determination.
"My students have been through so much … but the fact that I've been able to rely on QuaverSEL has made all the difference."
Kaundria teaches her students in precisely the same way she uses QuaverSEL: With boldness and vision.
"I use QuaverSEL in a bunch of different ways," she says with gratitude: "To warm up my class, to teach them about music, to stimulate discussion, and to bring calm to my classroom whenever I sense anxiety."
"Whenever I play a QuaverSEL song – especially when my students are stressed — it's almost like you can just feel the tension leave the room," she says.What does a tension-free classroom look like, exactly? Kaundria brings us clarity by providing a picture: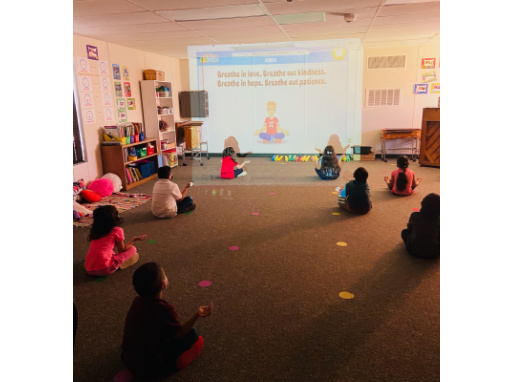 "In this picture, we were doing a closure activity," she explains as she describes the photo she took just before her students left on a break. "I told them to listen to the song 'Relax Your Mind' and let go any worries they have about school so they can enjoy their time off," she says.
QuaverSEL "Allows me to grow with my students"
Clearly, Kaundria and QuaverEd are singing the same song: As the company uses this week to celebrate its various music-based curricula (comprised of QuaverMusic, QuaverSEL, Quaver Pre-K, and the exciting new QuaverHealth), the joyous chorus seems to be this: QuaverEd grows with you.
Kaundria agrees: "My students come to me when they're very young, and they stay with me until they leave the fourth grade, so I have the unique opportunity to get to know them over the span of many years. QuaverSEL allows me to grow with my students. I can't get this anywhere else."
Everybody needs a Safe Space
"The past year has shown us lots of loss," she says, "so it's been helpful to have resources that help lighten the load."
"The lesson on grief has been very helpful, especially with my older students" she says softly. "After all we've been through, we need a safe space to talk it out. And when this happens, we grow together."
Teachers like Kaundria help us realize that sure, life can get hard. Sure, unexpected storms can knock us to our feet. Sure, life hands us lemons every now and then.
But teachers like Kaundria also know precisely what do when this happens:
They use music to make lemonade.
***
Kristin Clark Taylor is an author and a journalist.