A Week-Long Celebration of QuaverEd's Wonderful, World-Class Resources
By Kristin Clark Taylor
***
Think of QuaverEd as a beautiful umbrella.
QuaverEd is the world-class leader in online curriculum resource development in music education. The Nashville-based company is committed to bringing Seriously Fun educational experiences into classrooms throughout the nation and across the globe.
Open the QuaverEd umbrella and you'll find resources awaiting you that will enhance your teaching experience in amazing ways. Throughout this week, we're celebrating all of the cool, cutting-edge resources that make up QuaverEd.
So let's open up this beautiful umbrella and take a peek at what's underneath:
QuaverMusic: Highly customizable, standards-based teaching resources for PreK-8 General Music.
QuaverSEL: Supercharged social and emotional learning for K-5, lovingly and skillfully designed to create a culture of caring and connectedness in the classroom and far beyond.
Quaver Pre-K: Interactive exploration, adventure, and joyous learning for the youngest students.
QuaverHealth: New! Highly engaging resources to strengthen the bodies and minds of today's K-5 student focusing on four dimensions of health: physical, emotional, social, and intellectual.
Many Curricula, One Goal
Though each curriculum is separate and distinct, they are all powered and supported by the same innovative technology and across-the-board dedication to customer service, professional development, and systems integration.
Many curricula, one goal: To empower teachers and counselors with emotion-powered, digital resources that make learning fun, meaningful, and easily accessible.
So underneath this extraordinary umbrella lies an incredible variety of interactive resources – each of them unique, but all of them driven by the same, integrative engine.
Alejandra Mourin, a school counselor at Santa Clara Elementary School in Miami, Florida, sings a song of gratitude for having access to such precious resources right at her fingertips.
Mourin, who uses QuaverSEL, says the values-based curriculum makes a qualitative difference in the lives of her students:
"The curriculum opens the door for us to discuss our emotions and feelings in a way we couldn't before," she says. "The QuaverSEL poster hangs right outside my office! Each month, the entire district examines a different value, so the values poster and this SEL curriculum complement our district-wide efforts perfectly … Thank you, QuaverSEL!"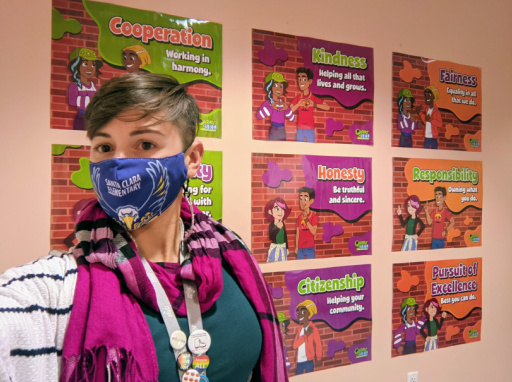 Mourin says she looks forward to the possibility of exploring some of the other curricula that QuaverEd offers: "I've been so focused on QuaverSEL, I didn't even realize there were other offerings. I'm exciting to learn about all that QuaverEd has to offer. Every, single bit of it!"
"We Grow Alongside you" – More than a tagline!
Kaundria Gay, another teacher who uses Quaver in her classroom (in Houston, Texas) appreciates how the curriculum is capable of growing right alongside the student.
"Because I can customize these resources so easily, it allows us to all grow together. It's not at all like the old-fashioned text-book learning, where the one-size-fits-all model of learning is all there is. This is different. This is unique."
Kaundria's classroom – and tens of thousands of other classrooms like hers across the USA – proves that the company's tagline, "We Grow alongside You," is far more than a tagline: It is life. It is growth. It is learning in action.
Through the pandemic, through school closings, through unanticipated storms, setbacks, distance teaching and remote learning, QuaverEd has been – and will continue to be — the steadying, unifying force.
One company, many applications — just a click and a keystroke away.
Think of it as a multi-faceted, music-powered resource that makes learning adventurous, joyous, and just plain fun.
Think of it as a beautiful umbrella.
***
Kristin Clark Taylor is an author and a journalist.