This Teacher uses Quaver to Reach and teach her Students
By Kristin Clark Taylor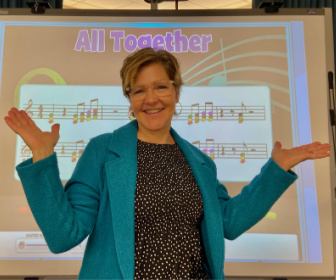 ***
There's something very cool cooking in Kansas.
Call it optimism. Call it hope. Call it the unbridled passion of one teacher's "can-do" spirit, and you've just described Sara Bonner's music classroom in Lawrence, Kansas.
When it comes to teaching her 3-5th grade music students, Sara, the Lead Elementary Music Teacher in the Lawrence Public Schools and a music educator at Deerfield Elementary, has found the perfect recipe for success — and Quaver is the main ingredient.
Faced with pandemic-related restrictions like reduced classroom capacity and a rule that prevents her students from singing and playing instruments, she is anything but deterred. (Though some of the restrictions have eased a bit, many are still in place.)
"Quaver allows me to meet my students exactly where they are, and it gives me the tools and resources I need to focus on all the things that we can do, instead of focusing on all that we can't do," she says with great gratitude.
In Praise of Perry the Sheep
Quaver's adorable, recorder-swallowing Perry the Sheep as inspiration, Bonner figured out a way to help her students practice their recorder in a risk-free environment — with the help of rubber chickens!
"Due to health-related pandemic protocols, the way that we make the music is by squeezing the chickens so that it's actually not the student's own air. We attach the chicken to the mouthpiece which enables the student to finger the recorder and squeeze to the rhythm. We're still playing "Perry the Sheep," except we're using a chicken to help in the effort! We couldn't do any of this without Quaver!"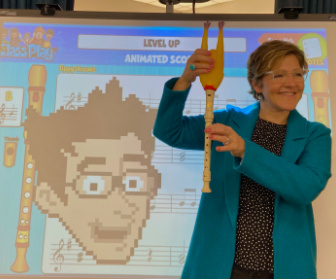 Sara, who describes herself as a "meet-my-students-wherever-they-are-kind of-girl," believes that her main responsibility as a music teacher is to "constantly take my students to new levels." Quaver, she says, is what helps her do this.
Speaking of 'levels,'" she says, "Quaver's song 'Level Up' is one of my students' favorites. They love the way the tempo keeps increasing, because it allows them to push themselves (and each other) to new heights! This is growth — and it's growth on just about every level."
With March being marked as "Music in our Schools Month" by the National Association for Music Educators, music teachers everywhere are celebrating the miracle of music, including Sara. But Sara Bonner also has something else to celebrate: As of this writing, she's preparing to return to full, face-to-face classes:
"I am so excited after this year to greet all my students in my room together! As one 3rd-grade boy said, 'It's going to be so exciting to have everyone in the same room making music together!'"
Quaver's "Cool Factor"
Bonner's bubbly enthusiasm is contagious. "I can't even begin to express the impact Quaver has on my student's ability to understand and appreciate music," she says. She remembers her own childhood, and how her mother taught her to read music by pointing to the notes in the church hymnal.
"Because of the restrictions, I can no longer stand close by my students and point to the notes. But guess what? Quaver can! It's a big deal that Quaver highlights every note the student is playing, especially since they were either playing at home or are socially distanced in the classroom. Quaver allows them to play their music, no matter what. I call that the 'cool factor'!"
Sara has a message she wants to share with other Quaver teachers: "We should congratulate ourselves," she says. "The rules of the game have changed, but through it all, we've remained strong and flexible. We keep loving and teaching our students, no matter what."
Bonner's bright light of can-do optimism and gratitude shines like a beacon:
"Having Quaver helps me teach the building blocks of music. It helps me offer creative choices for my students."
And as we close out "Music in our Schools Month," Sara shares a belief that is as beautiful as it is universal:
"Music is for everyone!"
***
Kristin Clark Taylor is an author and a journalist.