Living Lessons, Powerful Partnerships, and an Ongoing Celebration of Black Achievement
By Kristin Clark Taylor
The Constant Hum of History
If you're a Quaver educator, then you've already heard the hum.
You hear it every day — the rich, resonant hum of history coming to life, right in your classroom, vivid and bright, and multi-dimensional.
This is how Black history feels inside the Quaver curriculum.
It feels alive.
Through vivid visuals, soulful songs, and the sharing of human experience, Quaver brings black excellence and achievement to life.
This isn't history that's taught from a textbook. This is history that lives and breathes and sings and shouts – not just during the month of February, but throughout the year.
We'll call it the constant hum of history.
If you're looking for innovative ways to bring the living legacy of Black history directly into your classroom, there is no better resource than Quaver. Period.
Just click on Resource Manager to navigate your students through the hallways of history. Select a lesson and bring Black history to life. Your students won't just watch history unfold … they will participate in its unfolding!
Ready? Set!
Let's go!
The Sound of Freedom
Let's listen and learn as the powerful, poignant sound of Quaver's amazing vocalists bring texture, context, and modern-day realism to a song deeply rooted in the black experience, "Oh Freedom!"
Click on the screen below and let this Quaver lesson transport you into the power, glory, and divine majesty of the Black church. Sit together on the church pews as you listen to Quaver's vocalists discuss the historical significance of the song itself. In this special space, history comes to life.
Included in this lesson are slides and printables that explain the living legacy of the song, along with video interviews and discussion points that can be used to help guide thoughtful, informed conversations with your students.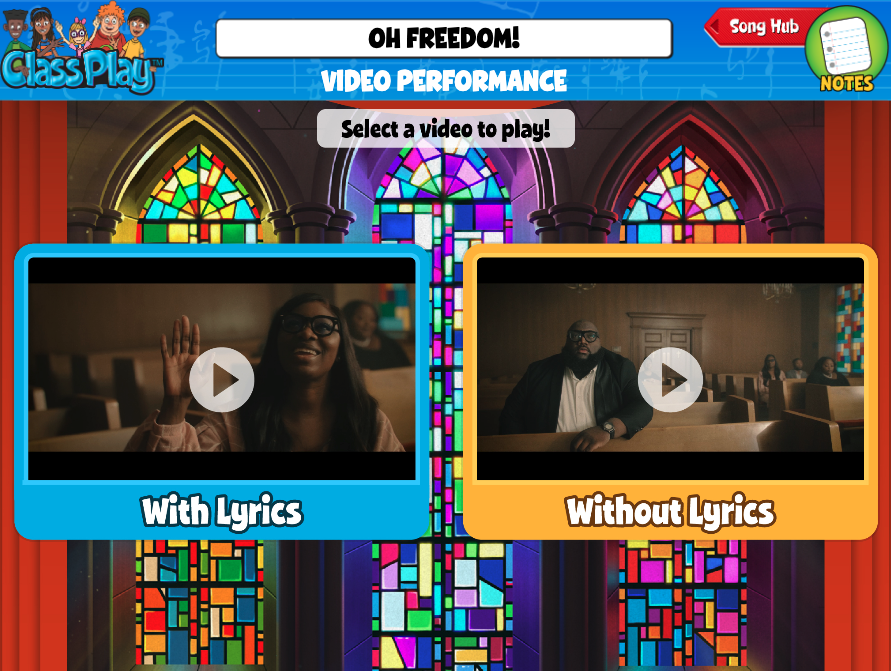 Or select the "History" slide (below) to take your students on a deeper dive into why the song was written and the sentiments it expresses: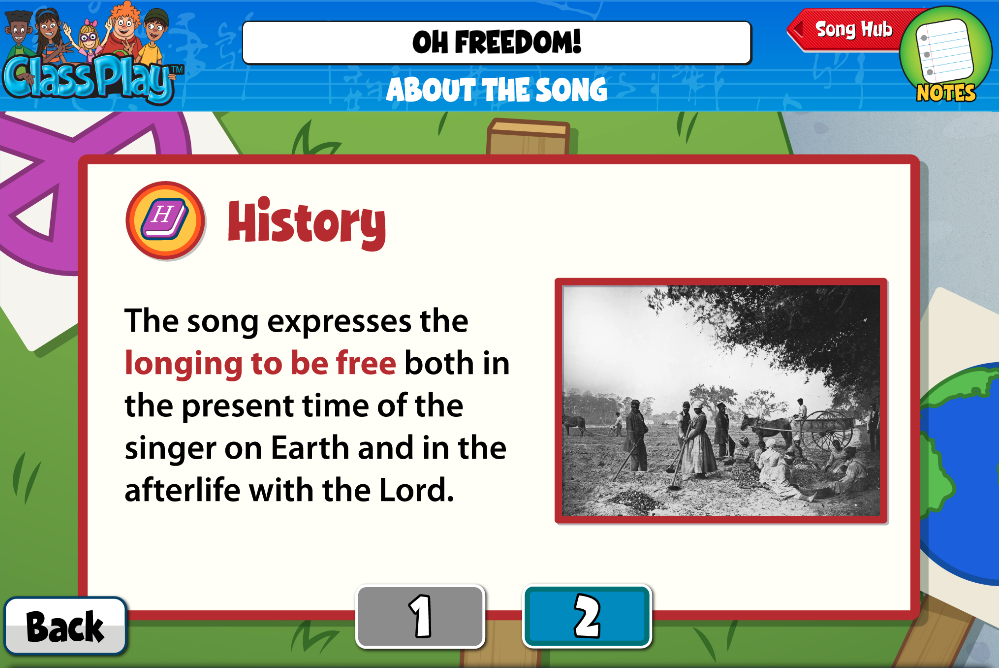 "We Shall Overcome"
Listen carefully and you'll hear it yet again — the beautifully constant hum of Black history revealing itself yet again through the healing, history-making song, "We Shall Overcome."
This time, it's the sound of people everywhere – black and white, young and old – coming together to march, heal, sing, and stand up against bigotry and racism. Print the lyrics! Use the discussion points! Bring the vocalists directly into your classroom by clicking on their stirring performance and experiencing the power of this enduring Civil Rights anthem. Click here to watch the performance.
The Power of Partnerships
The people at Quaver also know that Black history cannot be heard, fully and completely, with just the sound of a solitary hum. The sound of this rich history must be collaborative and connective, which is why partnering with other organizations is a powerful part of the process.
That's why Quaver collaborated with the National Museum of African American Music (NMAAM) when it opened its doors in Nashville, Tennessee, in January 2021.
Quaver, also headquartered in Nashville, helped bring the museum's online curriculum to life, providing interactive songs and lessons that helped create a groundbreaking digital partnership.
The Living Legacy of Black History
Of this we are certain: Black history is alive with excellence and achievement across every conceivable spectrum, and its rich history is deeply rooted in music. We also know that music is deeply rooted in the Quaver curriculum.
When all of this connective energy combines and converges, it creates a rare and wonderful opportunity for educators to hear the sound – and teach the living lessons – of Black history every single day of the year.
Call it a constant hum.
For more songs and lessons celebrating Black history, launch QuaverMusic, or sign up for a preview to explore their resources.
Kristin Clark Taylor is an author and a journalist.
***
For more information on QuaverEd, go to www.quavered.com.