QuaverSEL helps counselors navigate the tightrope of today's topsy-turvy world
By Kristin Clark Taylor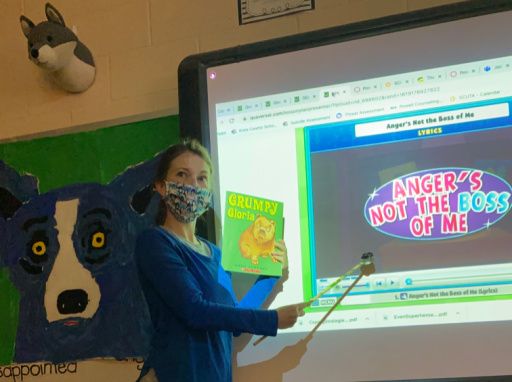 Young people living in today's tumultuous, topsy-turvy world are in peril.
Happiness, health, and a general sense of well-being – things that every child deserves – are sporadic and in short supply. Our children are being challenged to navigate a tightrope suspended above shaky ground, and the danger of them slipping is ever-present and very real.
They need a safety net.
Laura Filtness, a school counselor at Powell Elementary in Knoxville, Tennessee, is passionate about bringing balance, emotional honesty, and, yes, sometimes even comfort and solace into the lives of her students.
Laura gives them the safety net they need with the help of QuaverSEL, an online curriculum that has resources for counselors and classroom teachers.
"No doubt about it: Our kids are struggling today," she says. "They're dealing with sudden adversity, major change, grief, loss, and now the pressure of having to reconnect after having been isolated for so long. These are pressures of tremendous magnitude."
Laura feels a fierce commitment to meeting her students precisely where they are, wherever they are. This much-loved school counselor focuses with laser-like intention on giving her charges the safety net they need to feel secure and connected during these decidedly disconnected times.
Fortunately, this "net" provides her students with some special gifts that are pleasingly simple but oh-so-very powerful and profound: Joy. Belonging. Solidity. The practical tools they need to identify, manage, and communicate their emotions in a way that helps diffuse the pressure and untangle the tension. These are gifts that all of us cherish … but that children need the most.
Laura quickly describes the important component within her safety net:
QuaverSEL.
"I use QuaverSEL in my classroom lessons, in small groups, and with individual students," she says. "It serves me in many, many different capacities."
Laura is grateful for this curriculum, and for these practical tools during such decidedly tense times:
"The curriculum allows me to broach hard-to-tackle concepts in a way that makes sense to young people. Even something as simple as singing a song about their emotions lets them release the pressure, often without them even realizing it. It just happens naturally, and QuaverSEL is the catalyst."
This much is clear: QuaverSEL's songs and lessons act as both a catalyst and a safety net – and Laura's net stretches far beyond her classroom.
"I share these tools with my parents, too," she says. "I encourage parents to utilize the tools within the curriculum; to sing the songs with their children and use the material as a launch point for discussions at home. They do … and it works."
But Laura's net stretches even wider still.
"I also encourage other teachers to use QuaverSEL," she says. "Teachers, parents, counselors, it's helpful to us all. The beauty, here, is that you don't have to be a trained counselor or a mental health professional to help our kids identify, cope with, and work through their emotions. This is what makes QuaverSEL so useful."
At its most fundamental level, music is what sits at the center of this beautiful safety net; the music itself.
Laura agrees.
"I see it with my own eyes," she says. "When tension is high, and I play an SEL song like 'Anger's not the Boss of Me,' and the music and singing just seem to settle everything down. It's the music that makes the difference."
Another successful stress-buster? "My students really connect with "The Mindset Battle." They love that it's kind of a rap song, it's fun, and it's catchy. I even find myself humming it throughout the day! In a world that's not always so fun, this song is important for a lot of reasons."
No doubt about it: Our kids are navigating a tightrope these days — but passionate, heart-centered counselors like Laura Filtness are bringing them balance. Creating comfort. Stepping in and stepping up.
Yes, the world is a topsy-turvy place for our young people.
But QuaverSEL has created just the safety net they need.
***
Kristin Clark Taylor is an author and a journalist.