"The Songs and the Lessons connect us!"
By Kristin Clark Taylor
For Jenni Sonstroem, music is everything.
Music moves mountains. It lowers stress and raises the spirit. It deepens human connections and it soothes the soul. It teaches us how to be more compassionate, more caring, and more collaborative. It takes us on a full-circle journey of learning, joy, and discovery. These are the things that Jenni has discovered about music.
What Jenni has also discovered is a single resource that achieves all of these things simultaneously — and she's quick to name the resource: QuaverMusic.
Sonstroem, a music specialist at Laurel Park Elementary in Apex, North Carolina, says Quaver has taken her on a full-circle journey of learning and discovery.
She says she's seen, with her own eyes, how Quaver resources have touched the lives of everyone around her — whether it's her students, their families, or other teachers throughout her school district. (In fact, she was instrumental in getting the Quaver curriculum adopted for North Carolina's Wake County School district in 2020.)
As she quickly ticks off the benefits of this music-based curriculum, it feels like Jenni is inviting us to join her joyous journey with Quaver. Let's listen in:

Quaver as a collaborative force: "I'm involved with district-wide planning leadership committees with teachers from other schools. Because we're all using Quaver, it allows us to 'speak the same language' and work collaboratively. For the school district to have that commonality of planning is a huge deal for everyone involved! I was able to help develop the district pacing guide that allows for us to align with the county, and I did it by collaborating with other colleagues in my district and with the Quaver team, who made sure I had exactly what I needed. Ben Andrews, Quaver's curriculum specialist in my district, also helped make it all happen. This is truly collaboration at work."


Quaver's cross-curricular appeal: "Quaver uses music as a tool to teach just about every subject. The pacing guides makes it easy to create science, math, and language connections. The resource manager allows me to cross-reference different subjects and customize my lessons in a way that brings benefit to each of my students. The cross-curricular connections (science, social studies/global, math, and ELA) within the myriad of Quaver resources make learning incredibly meaningful and engaging for my students!"


Teaching virtually: "Teaching virtually was no problem, thanks to Quaver. Having these resources available was life-saving. Being able to give students assignments via their Quaver accounts helped us stay connected. Students used their Quaver avatars for GoogleMeet screensavers. I collected 5th-grade student avatars and created a bulletin board to share with families that accompanies their 'Virtual Choir' performance of 'You-Nique.' All students, virtual and in-person, were a part of this end-of-the-year celebration!"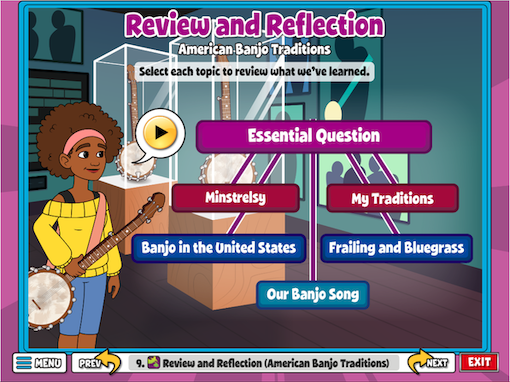 "The Bridge that connects us": "The addition of the Spoons Project and the Banjo Project are so welcome! When I first presented Spoons, the students jumped up and ran to their kitchens to grab two spoons! It was something everyone had at home to play! The Banjo project gave us a chance to connect with our culture and families. I grew up in the same community as (folk musician and banjo player) Rhiannon Giddens, which is not too far from my school in North Carolina, and that made the Banjo Project that much more special for my students!"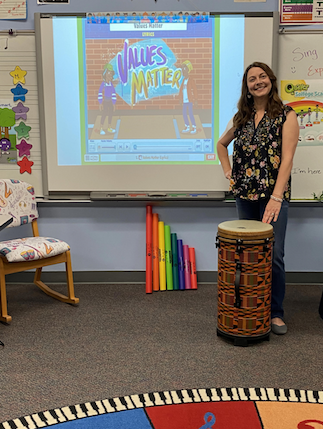 Full Circle: Sonstroem says "Values Matter!" launched her classroom into in-person learning for the second half of the year, as students played various instruments and sang together. "The music-making was a beautiful thing to see happen again in the classroom, especially after the students had been learning virtually," she says. "The experience made everything come full-circle!"

It's a Family Affair: "During the pandemic, when schools were closed, Quaver's technology created important human connections. I made a music playlist that featured lots of QuaverSEL songs that helped uplift my students and keep them motivated. They played the songs for their families, which deepened the human connection even more – something we all really needed at that time.

"The cool thing is that lots of this is music my students created on Q-Grooves, too – one of the second-graders told me, 'I use it [the playlist] at home for family dance parties! — so they were home dancing with their families to music that they created themselves!"
As our conversation ends, I find myself smiling as I visualize her students dancing in their homes with their families. I smile at the thought of teachers across the school district coming together to collaborate and create.

Smiles, laughter, learning, and discovery – all of it bringing us full circle.

A joyous journey, indeed.

***
Kristin Clark Taylor is an author and a journalist.