"Our students are better with Quaver than without it. Simple as that."
by Kristin Clark Taylor
***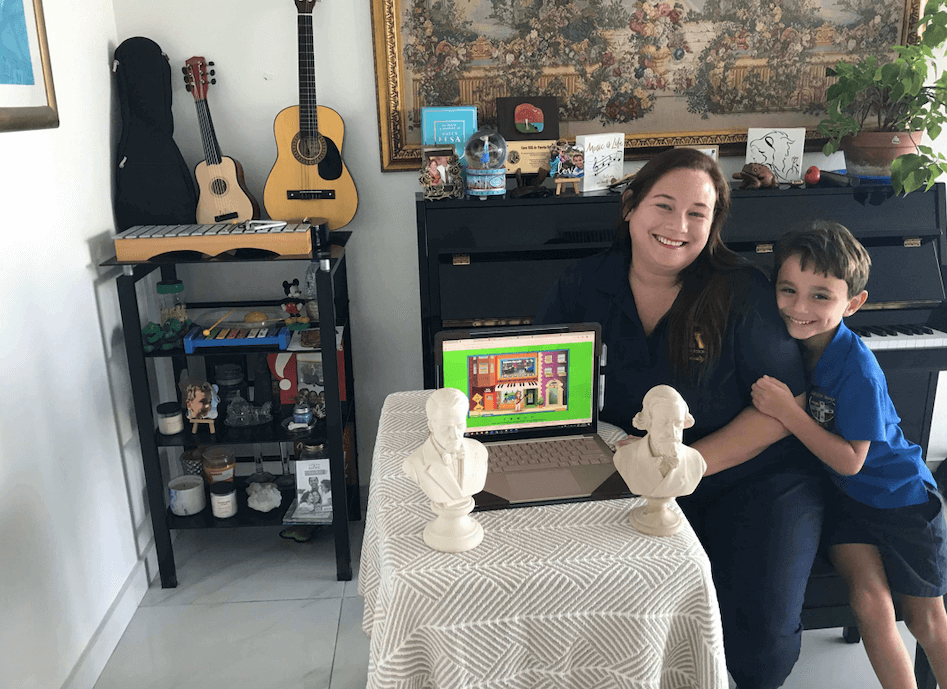 Quaver teacher Adriana Kraiselburd poses with her young musician son, 5-year-old Adrian. Says Adriana, in San Juan, Puerto Rico: "After Adrian finishes his virtual classes, he loves to come out of his room and watch me plan the (virtual) Quaver lessons for my class! One of his favorite songs is, 'Hey, Mr. Beat Boy!'"
***
During a time when so many companies and classrooms have been shuttered and so much of life has been redefined, we've still been able to forge ahead. To stand strong. To stand together. To come together, across time zones and territories, with cutting-edge, cloud-based technology that allows our teachers to, well, to teach.
And to teach well.
Adriana Kraiselburd, who teaches Pre-K through 5th-grade music at Robinson School in San Juan, Puerto Rico, relies on this cutting-edge, cloud-based technology – QuaverMusic, based in Nashville, Tennessee – to close the distance gap that virtual learning creates. She describes QuaverMusic as "the game-changer."
"When I first discovered Quaver, it brought my teaching to a whole new level," she says from her living room-turned-classroom in San Juan. "I'd never seen anything like it. Today, even though I'm teaching virtually, I can see my students growing and learning right in front of my eyes."
Adriana, who's relatively new to Quaver, says she knew she had to have the curriculum in her classroom the second she saw it – no if's, and's, or buts about it. Like most new resources, though, the additional expense had to first be approved by school administrators. She says this was the rare case where no convincing or cajoling was necessary.
"I didn't have to spend time convincing my supervisors — I'd been using the pilot so they could clearly see the benefits it was bringing to our students. They saw it with their own eyes, so they were fully and immediately supportive about making the investment, which is saying a lot in this tough economic climate. It was a no-brainer. Our students are better with Quaver than without it. Simple as that."
This is one teacher who really did her homework:
"I researched Quaver by reviewing their website, which was really informative and engaging," she says, "and by following their teacher Facebook page. Hearing these Quaver teachers from all over the world talk about how they use Quaver in their classroom really opened my eyes. I saw how much it meant to them. And I thought, "Well, I'm going to work to get Quaver for my students!'"
So she kept digging. She kept doing the work (and the homework) to find out more. Adriana says she also carefully reviewed the results of the Quaver teacher surveys on the company's website and was inspired by what she saw.
"When I saw the teacher surveys that showed the impact that Quaver was having on students, it really blew me away. I took those surveys to my supervisors, too. The numbers from those surveys really helped me make my case."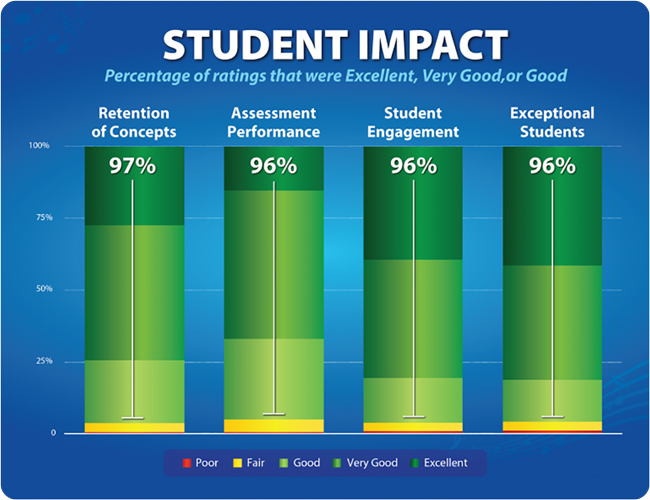 Now Learning is a Family Affair
Adriana says her youngest students are constantly asking for the super-popular Quaver song, "Stinky Pirates." And because her students are learning from home, she sees the song has also become a favorite for parents, too!
Indeed, positive parental involvement is on the rise: "Parents are sitting down to sing and learn with their kids! This never would have happened before; not to this degree, anyway. I thank Quaver for this."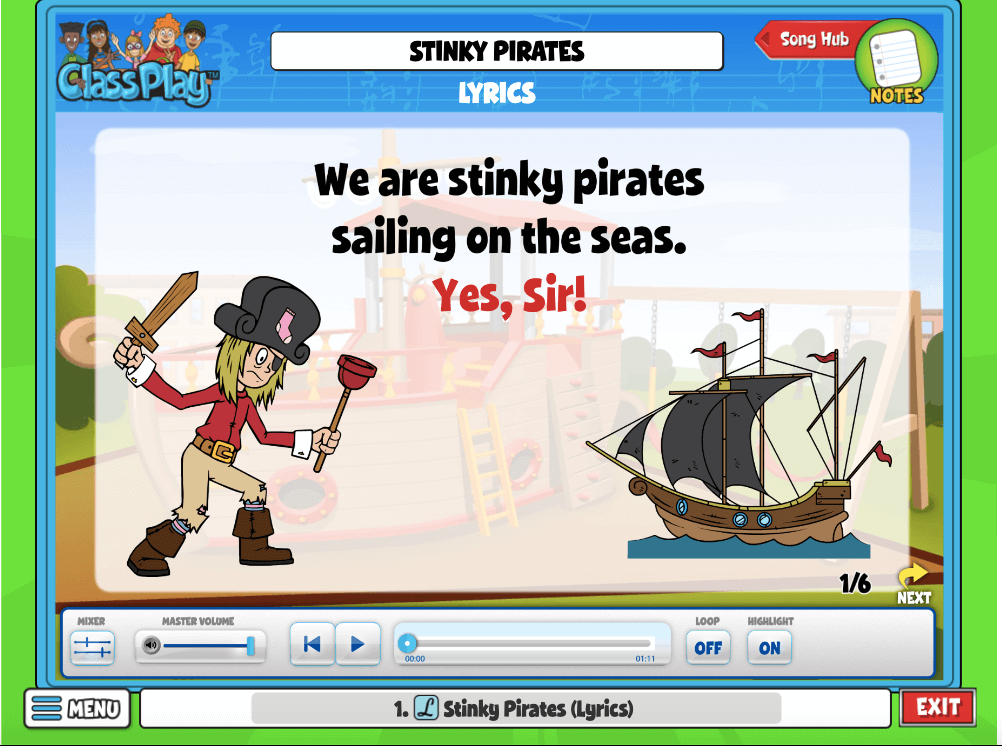 In a recent lesson on meter, she asked her 2nd-grade students to grab their dolls to dance the waltz. "Most of them didn't even need to grab their dolls! They just grabbed their parents and danced the waltz with them! I could see and feel them learning the meter of three! Before Quaver, how would that have happened?"
She ticks off other favorites: "My students go crazy for, 'Whisper, Talk, and Shout and Sing,'" she says happily. "They love to sing the "shout" part at the tops of their lungs! Especially since we're all feeling pretty isolated these days, being able to sing a song that actually celebrates how we can communicate with each other comes at the perfect time."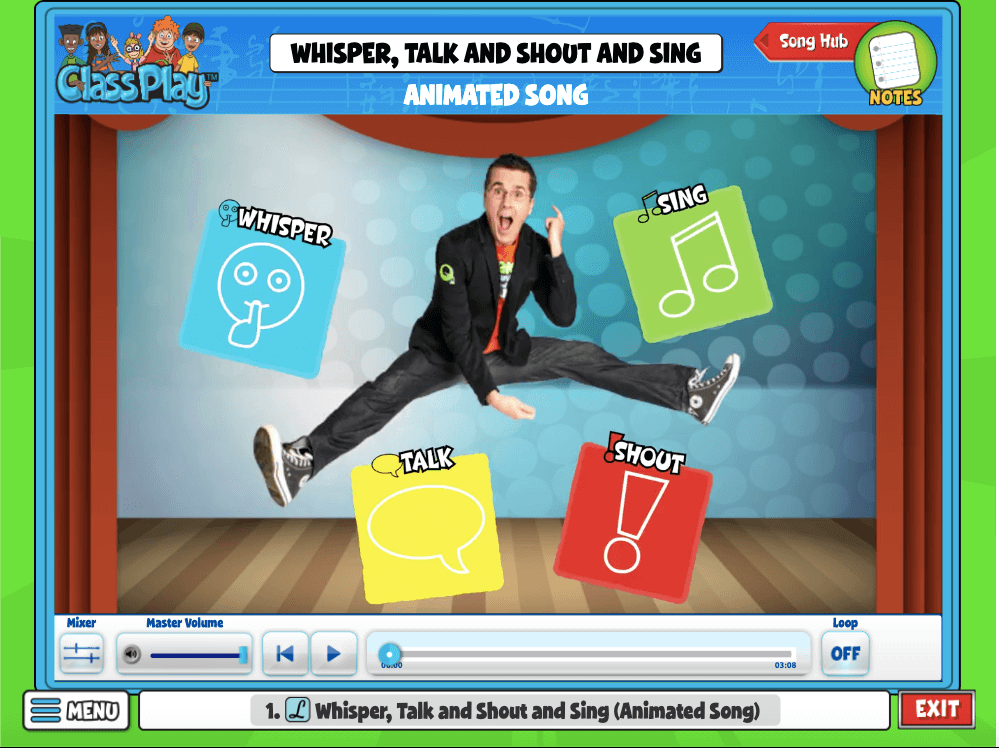 Music Takes Center Stage
Before the shutdown, she says, music class remained almost hidden offstage. "Unfortunately, music was always kind of pushed to the side" – but today, that's no longer true. "Today, everyone can clearly see what an important tool it is."
Inside the school shut-downs lies another silver lining – higher attention spans and greater engagement. "When I use Quaver, I generally have 100% participation. Because they're having so much fun, my little ones sometimes don't even realize they're learning! They're interested! And they're not distracted."
Even when schools fully reopen again, Adriana is certain that Quaver will stand front and center in her classroom.
"This resource is very useful while we're in this virtual learning phase," she says, "but it will be just as useful — if not more! — when we're back in the classroom."
That kind of sustainability, that kind of enduring value, is how excellence is defined.
And excellence, as we all know, is the most enduring value of all.
***
Kristin Clark Taylor is an author and journalist.