"Quaver helps put all of us on the same page!"
By Kristin Clark Taylor
***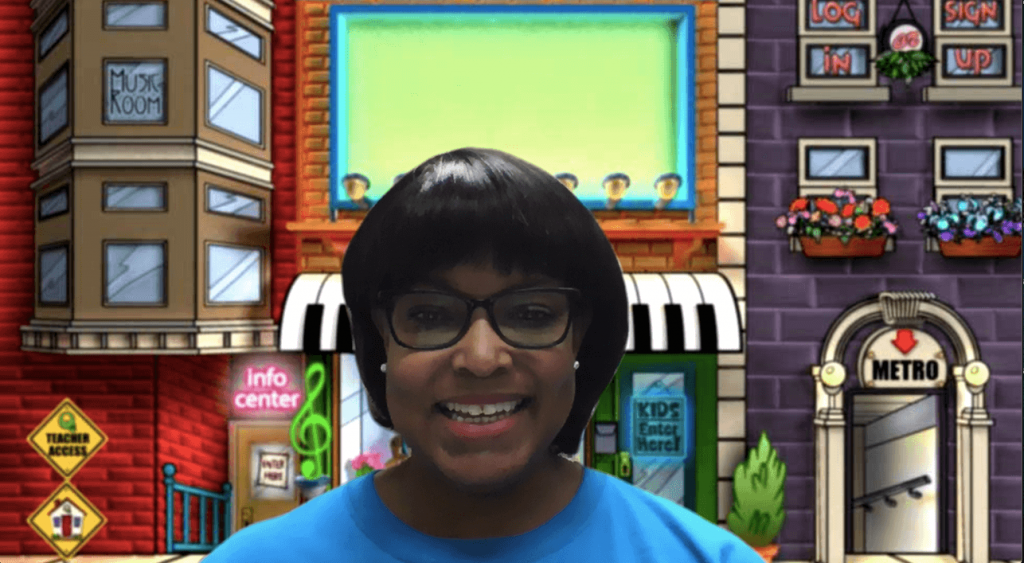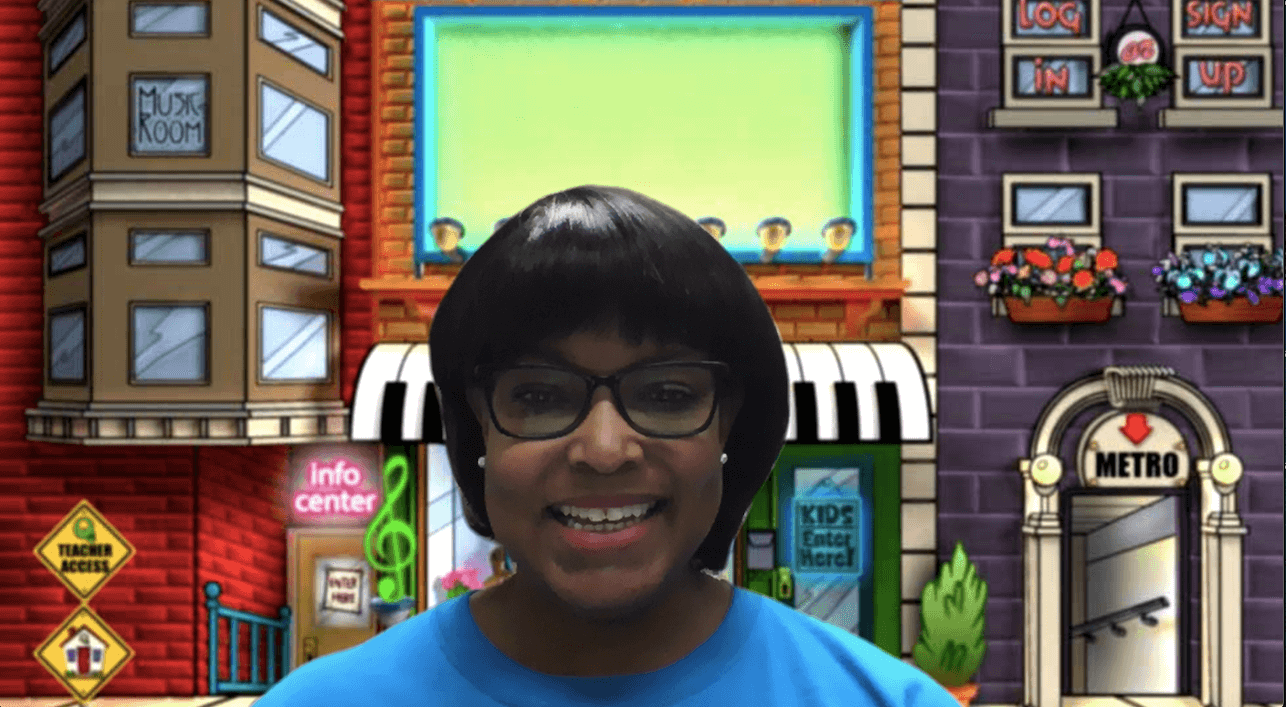 Elementary music teacher Linda Sue Hundley poses in front of Quaver Street — "one of our favorite places to be!"
***
What a difference a word makes.
When I ask K-5 music teacher Linda Sue Hundley if Quaver has been helpful in creating a process that promotes collaboration between and amongst music teachers throughout her Spring, Texas school district, she issues a gentle but firm clarification:
"Quaver is the process," she says with quiet conviction.
"Quaver is what has allowed music teachers at a district-wide level to collaborate as effectively as we are collaborating. The Quaver curriculum has laid the groundwork for us; it has provided the tools we need to remain uniform and consistent from school to school, across-the-board. Quaver helps put all of us on the same page."
Hundley's clarification hangs heavily (and happily) in the air between us as we speak. Especially on a topic as important as collaboration, it's a clarification that is stark, vivid, and worthy of repeating:
"Quaver is the process."
I listen as she speaks, making careful note: Here is a teacher who uses her words – as well as her music — with purpose, precision, and intention.
Hundley, a music teacher at Marshall Elementary School in Spring, Texas, is also a member of the Spring district's Elementary Music Education Committee.
"It's hard for me to put into words the positive impact Quaver has had in both the classroom and at a larger district level," she says with emotion.
"I partner – we partner – with lots of other elementary music teachers in schools throughout the district, and we use Quaver as the standard and the guide. And in the classroom, my students just can't enough of it. The bright, bold, loveable characters; the engaging lessons. All of it helps me be a better teacher and a more effective collaborator," she says with conviction. "So this is a highly effective resource for us on lots of levels."
Hundley has more happiness to share:
"Quaver's like a shining light," she says. "Especially during these not-so-normal times, when the world feels like it's upside-down, Quaver is providing calm in the midst of chaos. From a district-wide perspective, Quaver gives us the tools we need to have informed, engaging discussions in a way that lets us compare how we're doing from school to school; to evaluate what works and what doesn't.
"And when it's time to teach, I need look no further than Quaver. All the lessons are there. They're all carefully sequenced. Every teacher, no matter what their background – Kodaly, Orff, you name it – can utilize these resources. The students love it. It's the perfect combination."
A perfect combination, indeed:
Hundley says that particularly over the last several months, her students have found joy in Quaver's super-popular songs like "You-Nique" and "Stinky Pirates" – and she adds, "The 'Hot Potato Song' gives them a much-needed opportunity to express their emotions during these highly stressful days. I couldn't ask for more."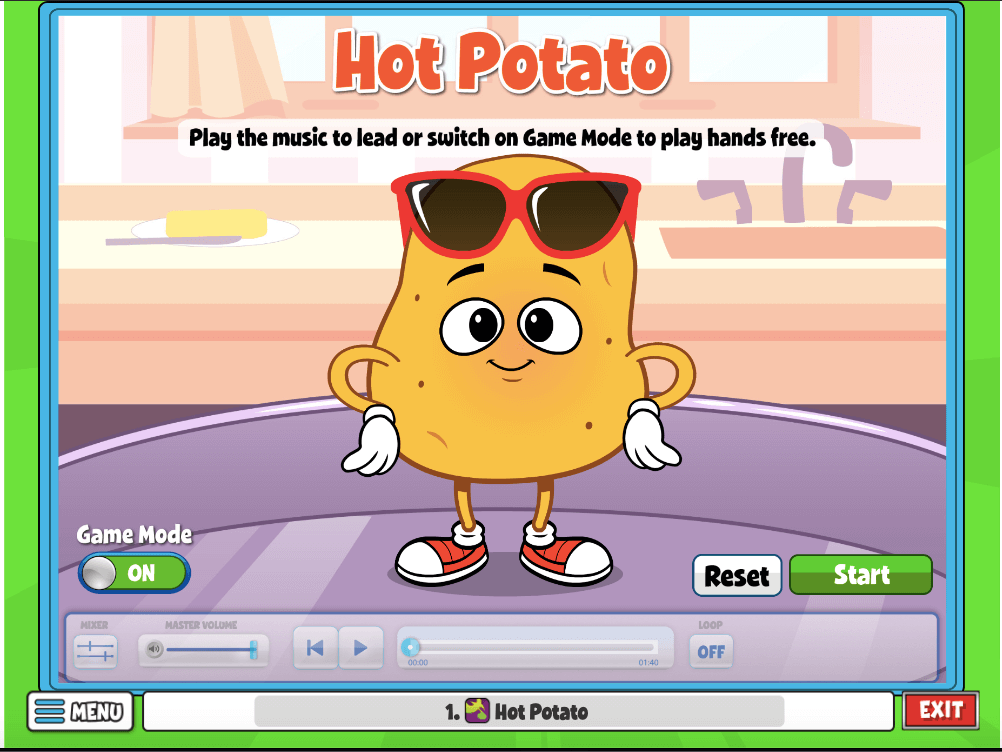 Try "Hot Potato" with your students today!
Hundley, who sat through the very first Quaver presentation when the Spring ISD was considering a pilot program "eight or nine years ago," says she went into that presentation feeling hesitant and not at all sure that Quaver was what her school needed.
"But I still remember how floored I was by the presentation and by the curriculum itself. We'd never seen anything like it. I guess you could say it was love at first sight! And from that moment forward, Quaver has been there for us."
Hundley credits Dr. Joseph Clark, Performing and Visual Arts Director for the Spring District, and David Landgrebe, the District's Assistant Performing and Visual Arts Director, with showing full faith in Quaver from the get-go.
So while music clearly plays a powerful, pivotal role in Hundley's life, so, also, do words — and she continues to select them with great intention and care.
In fact, as we come to the end of our conversation and I ask her if she has any additional parting words, she tosses out three simple words without a moment's hesitation – three words that come straight from her heart.
"Thank you, Quaver!"
When she says them, it almost sounds like she's singing a hymn.
A hymn of the highest praise, indeed.
***
Kristin Clark Taylor is an author and a journalist.
***
Sneak Peek: Another of Hundley's collaborating partners from the Spring ISD, music teacher Elijah Ortiz, will be featured in an upcoming article, so keep your eyes peeled!