This Cutting-Edge Curriculum is Well-Loved in the Commonwealth
By Kristin Clark Taylor
"A Gift and a God-Send."
Bonnie Johnson, an elementary music teacher at Conway Elementary in Fredericksburg, Virginia, in the Stafford County Public School District, remembers the adjustments she and her students had to make when classrooms closed.
Suddenly, she was teaching – and her students were learning—not from the classroom but from their living rooms, and the challenges were substantial. But Bonnie found a beautiful way to bridge the learning gap during those difficult months.
Bonnie's bridge? QuaverMusic.
"Having Quaver during that time was a gift and a God-send," she says. "As an on-line learning tool, it gave me everything I needed to teach music in a way that still felt relevant, engaging, and fun – and 'fun' was exactly what my students needed. They needed to smile."
Bonnie says the physical isolation that resulted from the mandated school closings wasn't as traumatic as it could have been, primarily because Quaver stepped in to fill the gap, not just with its sophisticated technology but with the "kind, colorful characters" that helped create a sense of collective belonging.
"We couldn't be together in the classroom, but the way the songs and lessons are so carefully designed really gave my kiddos a chance to feel a sense of healthy interaction and competition," Bonnie says. "It made such a difference!"
In particular, Bonnie says her students enjoyed songs and lessons like Instrument Crane – "where they had to drop instruments in with their appropriate music families" – and the music theory games – "where I showed my students a soccer ball with a musical note on it, then they kicked the ball into the correct net!"
All of this learning, Bonnie says, was done remotely.
"They participated and competed with each other from the space of their own homes! Even the families sometimes joined in!" she says with appreciation and more than a little amazement.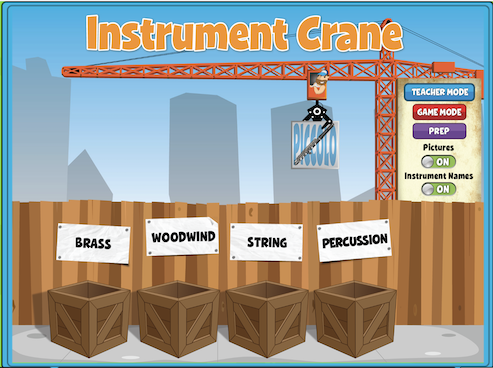 A Regional Favorite: "The Pawpaw Patch!"
QuaverMusic is known throughout the nation — and indeed across the globe — for creating lessons and songs that are deliberately diverse, thoughtfully inclusive, and consistently geographically representative.
Bonnie sees this benefit, too, and says that one of her absolute favorites is a lesson called, "Pawpaw Patch."
"Lots of people don't know this," she says, "but Pawpaw trees are actually native to Virginia, so this particular lesson holds a special place in all of our hearts!" says the Virginia teacher.
Her second-graders, she explains, are learning how to folk dance to this lesson, and the dance itself involves a very precise, double-lined formation. Says Bonnie: "The characters show us exactly how to do the dance; precisely where to step. They outline every, single movement with the same precision as a coach outlines the plays in a football game. We love it!"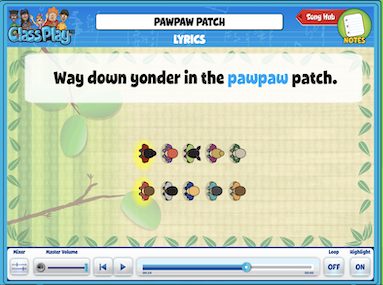 Meeting State Standards with the Click of a Button
When the State of Virginia assembled a group of experienced educators to review the components of the Quaver curriculum to ensure that the content adhered to state standards, they turned to Bonnie Johnson to help coordinate an exhaustive review of the company's 1st-grade curriculum.
"The review process itself was very involved, very intricate, and very comprehensive," Bonnie remembers. "The state of Virginia is deeply dedicated to helping its teachers adhere to these standards, and QuaverMusic is deeply dedicated to making sure all of these state standards are met."
"They just make it so easy. With just the click of a button, an entire drop-down box tells you everything you need to know about the standards and requirements, and it even shows you which tabs and lessons will help you fulfill these standards goals. This gives teachers a huge amount of confidence, especially since compliance is both mandatory and so involved."
Hooray for my Kiddos, for Kodaly, and for Quaver's constant support!
Bonnie, trained in the Kodaly method of music, is also deeply grateful to have found Kodaly-based lessons within the curriculum.
"It's clear to me that the people at Quaver are very smart and very compassionate," she says with genuine admiration. "It's shows in how they've designed the resources."
"I understand that they understand the process of Kodaly and its overall importance to music education, and I really appreciate being able to customize my lessons in a way that works best for me and my students. It's a winning combination," she says.
What's most "winning" of all? The happiness that Quaver brings to her students. "Everybody's back in the classroom now, obviously, and we've come back stronger and more confident, and we owe a lot of this growth to Quaver!"
Bonnie ends as she began, with an expression of gratitude and a heartfelt sigh of relief:
"We know, from having lived through it, that Quaver is there for us. We also know that learning can happen no matter what happens or where we are."
A poignant and powerful piece of knowledge, indeed.
---
Kristin Clark Taylor is an author and a journalist.
***
For more information about QuaverMusic go to www.quavered.com/music.