The winner of Quaver's Music Madness is….
Thank you for participating!
Over the past month, students from schools across America and around the world submitted over 150K votes! We invite you to take a brief survey and share your feedback on how we may improve for next year.
Quaver's Music Madness 2022 – Final Bracket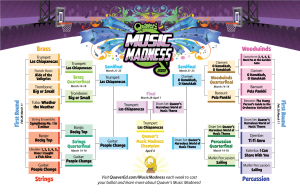 Quaver's Music Madness started with sixteen songs from four different instrument families––Brass, Strings, Woodwinds, and Percussions. Each round from February 28th to April 4th, teachers introduced song matchups for students to listen and respond to. After evaluating the songs, classes voted on that week's match-up favorite. After five weeks of voting, Trumpet: Las Chiapanecas was crowned the 2022 Music Madness Champion!
***
Thank you for participating! We'll see you next year!