QuaverMusic curriculum is aligned with National Core Arts Standards and supports various pedagogies. Teachers can access scaffolded lessons by following the yearly lesson plan, which offers 36 weeks of lessons per grade. They can also search lessons by theme and musical style. QuaverMusic offers a wide variety of song-based lessons in Orff, Kodály, and M.L.T.

No matter the teaching style, QuaverMusic provides a seriously fun curriculum for every classroom.

Music comes to life with 1200+ Songs
Unlock the power of technology and help today's tech-savvy students learn to love music.

QuaverMusic is packed with 1,200+ songs that engage students and reinforce understanding at every grade and skill level. A team of animators, graphic artists, audio engineers, songwriters, developers, and more help create our original QuaverMusic content.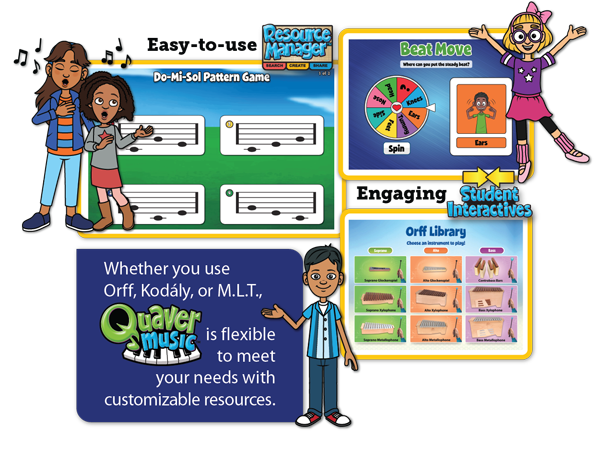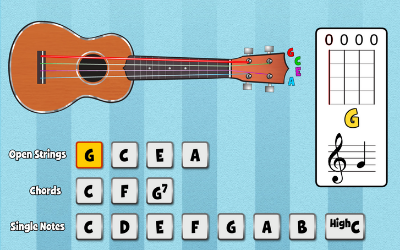 QuaverMusic lessons contain movement videos, activities, interactives, games, and assignments. Assessments are built into the lesson structure to offer another way for teachers to measure skills.
Printable scores, listening maps, QuaverMusicals, and even 150+ ukulele songs bring music to life in any classroom setting. Educators can access all of these songs from Quaver's ukulele lesson module.
Lessons are aligned to the National Core Arts Standards and various state standards. Meet your district's objectives with our pre-built and customizable lessons.
Culturally Responsive Resources
QuaverMusic has 6,500+ culturally diverse, interactive resources to reach and represent ALL students.
We also offer Spanish translations of many songs to meet the needs of Dual-Language learners.
Commitment to Growth
Since 2013, QuaverMusic has grown in many ways. With quarterly updates, our team has added more than 2,500 new resources and significantly improved the site's functionality.
Try QuaverMusic for Free Today
Join over 21,000 educators who use QuaverEd curricula in their schools.