QuaverHealth•PE curriculum is aligned with SHAPE America National Standards and supports various teaching styles. Teachers can easily follow the yearly lesson plan, which includes 408 ready-made lessons for both Health and PE. Health lessons can be flexibly integrated as an entire health lesson, a daily dose, or into your PE instruction.

No matter the teaching style, QuaverHealth•PE provides a seriously fun curriculum for every educator.
The Power of Music in Health and PE
Unlock the power of music to help students grow stronger bodies and minds!

QuaverHealth•PE is packed with catchy songs and music videos to engage students and reinforce understanding at every grade and skill level. A team of animators, graphic artists, audio engineers, songwriters, developers, and more help create our original QuaverHealth•PE content.
QuaverHealth•PE songs can be used in many ways, specifically to communicate key messages to students. Teachers can invite students to stand, sing, and dance to the provided choreography or create their own.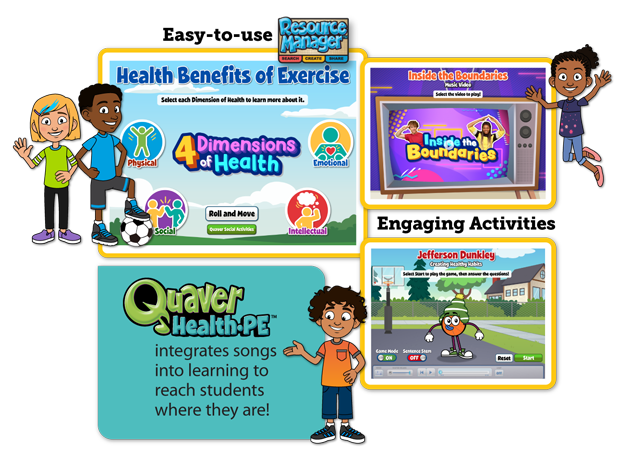 Lessons are aligned with SHAPE America National Standards and various state standards. Meet your district's objectives with our pre-built and customizable lessons.
Culturally Responsive Resources
QuaverHealth•PE has culturally diverse, interactive resources to reach and represent ALL students.
QuaverHealth•PE also offers Spanish translations to meet the needs of Dual-Language learners.
Try QuaverHealth•PE for Free Today
Join over 21,000 educators who use QuaverEd curricula in their schools.