We're kicking off our first annual Movement Madness!
You may have heard of Music Madness, our bracket-style tournament for QuaverMusic teachers and students. This year, we're excited to provide Movement Madness for our QuaverHealth•PE users. We'll start with eight activities and every two weeks, you and your students can vote on your favorites!
The Championship voting form is now open! It will close at 5 p.m. CDT on March 31. On the morning of April 3, we will announce the winner on this page and in the QuaverHealth•PE Facebook Group!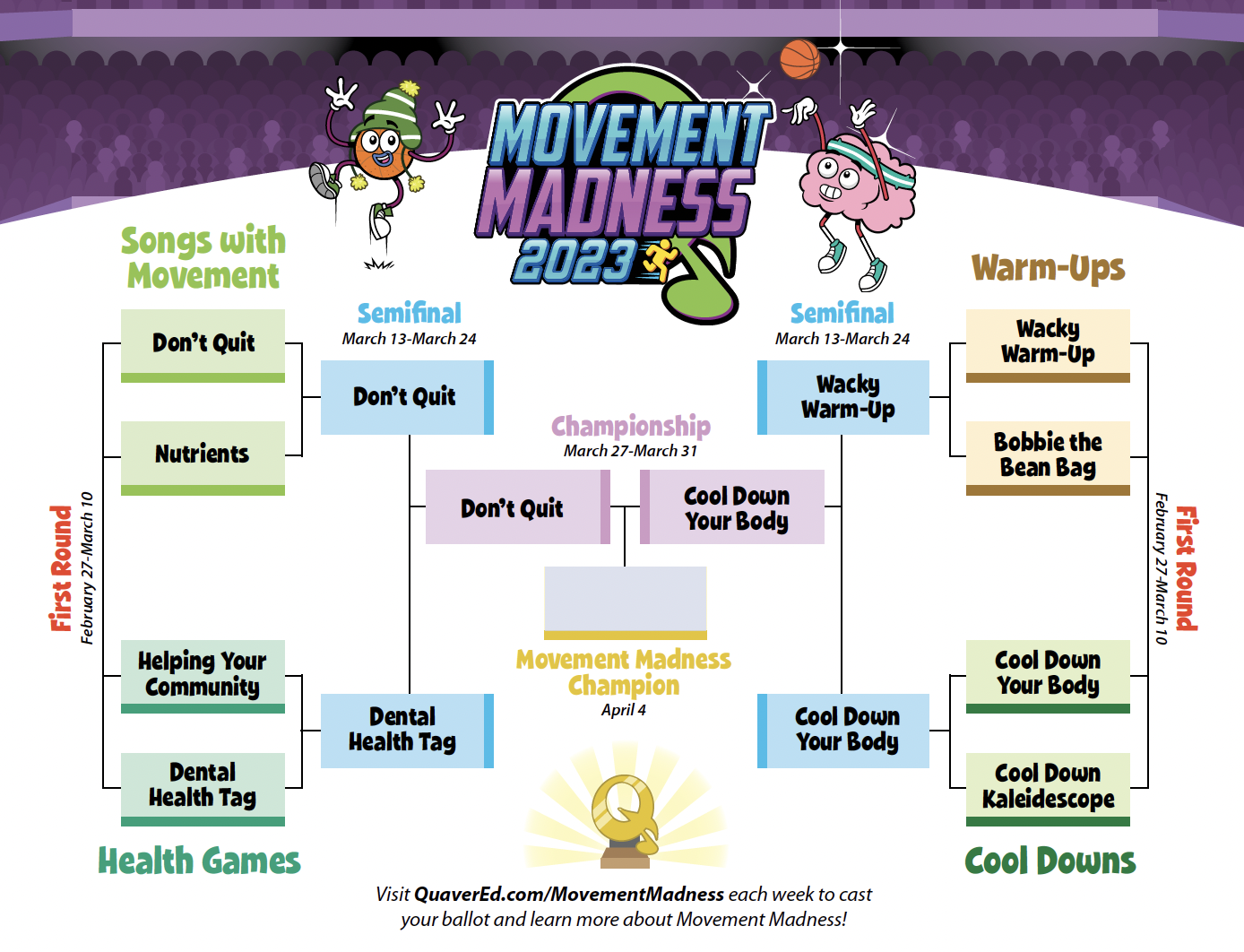 How it works:
From your Teacher Dashboard, go to Featured Resources to find this year's bracket, the semifinal bracket, and a curated set of activities under "Movement Madness." You can also search "Movement Madness" in Resource Manager to find these activities if you'd like to build a custom lesson or assignment.
We recommend dedicating class time for students to do each of the activities.
Students can then come to this page (QuaverEd.com/MovementMadness) to vote on their favorites. Students can use their personal devices to submit individual votes or teachers can submit votes on behalf of a class.
At the end of each round, we'll announce which activities move onto the next round on this page and in the QuaverHealth•PE Facebook Group. We'll also provide an updated bracket and the next round's voting form.
We recommend planning ahead with this schedule:

First Round: February 27 to March 10
Semifinal: March 13 to March 24
Championship: March 27 to March 31
Winning Activity Announced: April 3
FAQs
How do students vote?
Votes are entered through the google form above.
Students can vote on their own using a personal device or teachers can submit a vote on behalf of a class!
How can I use the bracket?
We know school schedules vary so we provide the resources for you to implement Movement Madness in a way that works best for you and your students. Many teachers will print the bracket on a poster and display it in their classroom or gym. You can also display it using a projector or interactive whiteboard.
As the tournament progresses, you can update the bracket based on how the Quaver Community votes. We will provide the results and updated brackets on this page at the end of each round.
The Madness is starting! We can't wait to see what activity comes out on top!