Welcome to QuaverEd's Technical Support!
Here you will find various solutions to common issues:
If you're in need additional assistance, reach out to our Customer Support team via email at Info@QuaverEd.com or call (866) 917-3633.
Troubleshooting frozen or slow videos
After launching a video, select the options button in the lower-right corner of the video and manually adjust the resolution for the video until you no longer have buffering/freezing issues. If your device utilizes WiFi to connect to the network, see if it is possible to use an ethernet cable to connect to the network instead.
If you are still encountering issues after attempting the two processes above, you may need to reach out to your IT department so they can look at your setup and make the appropriate adjustments to resolve the issue. Many teacher-reported slowdown issues have been resolved by taking the following troubleshooting steps:
Check Your Internet Speed
A minimum connection of 10 Mbps (download speed) is required for Quaver to run on any device as we intend. Check your connection by visiting www.fast.com. You may wish to repeat this test 2-3 times at different points during the school day to gauge your connectivity over time.
Close Unused Browser Tabs / Programs
Performance of Quaver is increasingly affected with more browser tabs open and unused software programs. Close any unused tabs and programs, and try again!
Try a Different Browser
Does the issue occur when you login to Quaver in a different browser (Chrome, Firefox, Safari, Edge)? If not, your default browser may require an update (feature may be restricted by your district/school IT department). If the issue persists, continue on to the steps below.
Plug it in!
If on a laptop or tablet device: When your battery reaches lower levels of charge, you may begin to experience performance issues. Make sure the device is charged above 50% to prevent any system throttling, which could lead to slow performance.
Restart Your Browser / Device
Like many things in life, a fresh start can set things back on track. If you experience slowness on the Quaver site, quit and restart your browser, or even restart your device.
It's also possible that the QuaverEd servers are overloaded. Check our Site Status to see if there is something QuaverEd is working on. Otherwise, call your district IT department to help solve the problem.
Troubleshooting jumbled or missing images
Many websites (including QuaverEd.com) push changes to their site on a regular basis. These changes can be in the form of new images, text, sound files, interactivity, and more.

If the Teacher Dashboard icons appear jumbled at random (as pictured to the right), try a browser cache clear.

What is a Browser Cache, and what does it do?

When you visit a website, your browser downloads data from the website. This includes all images, text, sound files, interactivity, and more. Your browser stores the data in a cache to pull from should you revisit the site later, instead of downloading it all every time you revisit the site. This speeds up your browsing experience as you visit and revisit websites.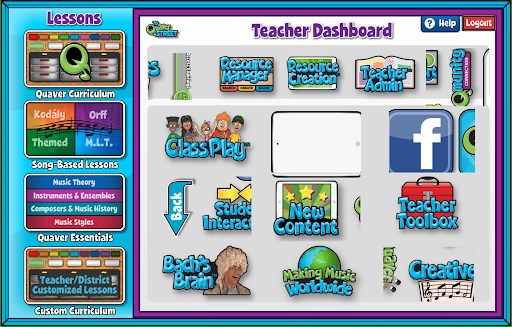 How often should I clear my browser cache?
Typically, slow loading times you might experience on QuaverEd.com will not be resolved by a browser cache clear. You should only clear your browser cache if the website does not visually appear as you feel it should. If Quaver screens take a long time to load, do not clear your browser cache, as that might make things even slower!
At times you may encounter loading issues with certain activities/slides when using Quaver products. When encountering these types of issues clearing your browser cache could potentially resolve these issues. Please select the browser you utilize below to see instructions on how to complete this process. (NOTE: If these options are unavailable in your browser, your IT department may have restricted these settings and would need to clear the cache for you.)
Troubleshooting Alternatives
If clearing the cache did not resolve the issue, you may wish to consider using a private browsing window in your preferred browser as a temporary solution:
If an IT professional needs additional information, please contact us, and we will be happy to offer additional answers or support!
Mobile Code Notifications
Occasionally, you or your students may see a notification about entering a mobile code. Typically, this screen appears when you or a student is logged out of a Quaver account. You can be automatically logged out if you left your screen running for an extended period of time.
We recommend exiting out of your browser window, logging out, and logging back in again.
This screen can also appear when a student tries to access a link from the teacher side of the site. For example, if you send a link to a student that you copy and pasted from ClassPlay when logged into a teacher account, students will receive this screen when they try to click on it and access the activity. If you would like students to access a specific resource, it must be assigned. For more information on assigning resources, click here.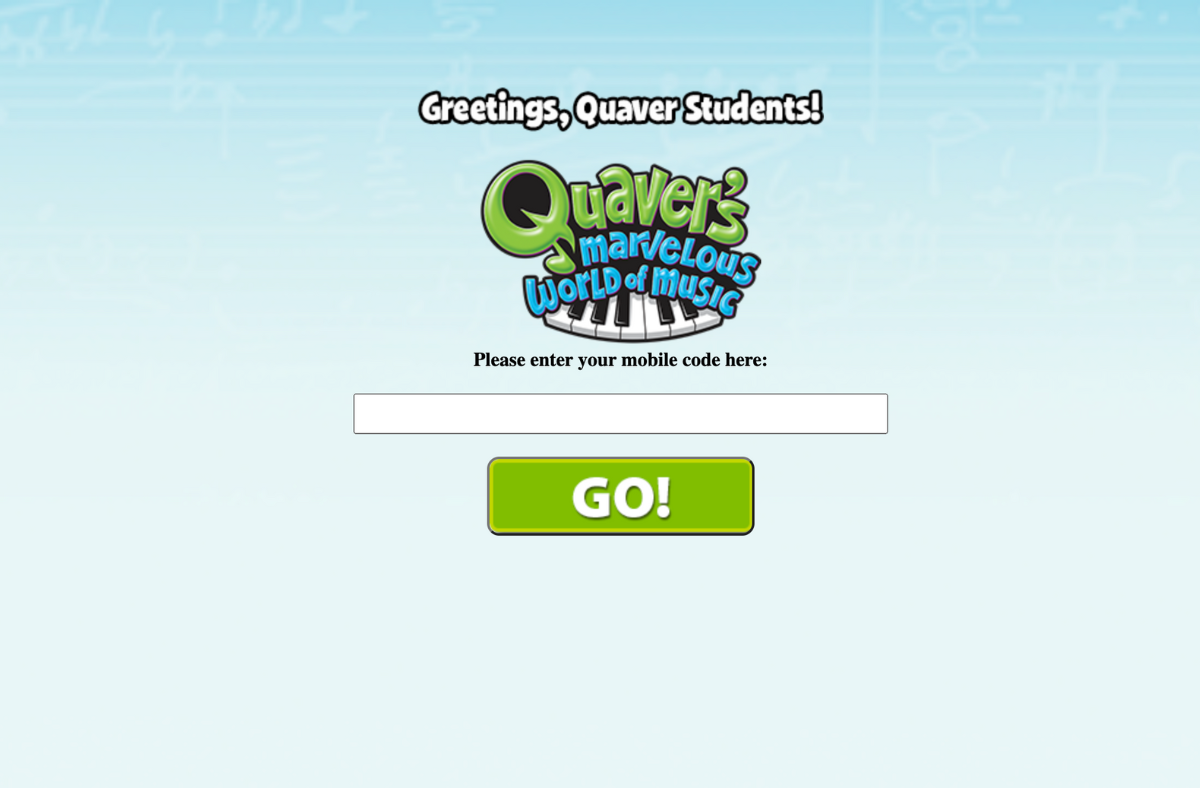 Device Requirements
QuaverEd curricula operates on most desktop, tablet, or mobile devices. There are certain minimums that must be met and versions of the browsers that are supported.
Apple, for example, has stopped supporting older versions of their iPads that may not function well with our curricula. However, our online platform is fully compatible with Chromebooks, Microsoft, Android, and Apple computers, tablets, and mobile devices currently supported by their manufacturers.
The software and hardware specifications provided below are QuaverEd's suggestions to ensure the best user experience while using QuaverEd products. Any hardware and software specifications outside of this scope could have varied experiences.
Classroom Tech Requirements
QuaverEd works with all interactive boards, including SmartBoards, Promethean Boards, Mimio, and others. If you are having a problem operating Quaver using one of these devices, call our Customer Service hotline at (866) 917-3633. Since most of our curricula are for elementary students, we recommend that the interactive board be mounted lower on the wall so that the students can reach the drag and drop activities.
The teacher can also use a flat panel TV screen to display QuaverEd screens. This screen will not be interactive but can be effective regardless. This is especially true if the students can share a device.
The teacher can also use a standard projector against a pull-down screen or a plain wall. Be sure to place the projector far enough from the wall so that the visible area is as large as possible for the students.
We also strongly recommend a good set of speakers. Much of our curricula involves music, and computer speakers typically don't provide the best listening experience for students. The investment will be well worth it!