We are so grateful to every single educator and the hard work and excellence you put in day after day. We are particularly grateful for all of our amazing Quaver teachers. You change lives daily and inspire us all!
As a token of our gratitude, and as a fun way to make the most of this time teaching at home, download these fun Quaver Zoom backgrounds to use this week (and beyond!) Featuring favorite characters like Boobam, Songbird, and Perry the Sheep, add a little Quaverized touch to your next video call!
Download a Quaverized Zoom background!
Everyone's favorite Pre-K friend, Boobam, is now available as a background for a video call or as a desktop wallpaper!
You can't have Boobam without Songbird! Download this purple background to use as a desktop wallpaper or as your background for a video call.
Perry, say hello! If you need a few more recorder noises in your life, download this background featuring our favorite recorder-playing friend, Perry the Sheep!
Write a letter to a teacher you appreciate!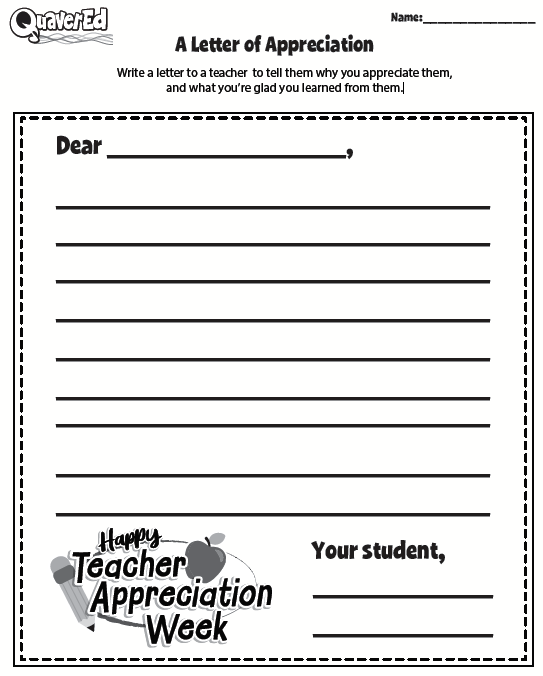 Students can use this worksheet to write a letter to a teacher to tell them why they appreciate them and what they're glad they learned from them.
Younger students can use this worksheet to draw a picture and write a short message to a teacher on a postcard template.
Thank you Quaver teachers!
A few years ago, we asked the Quaver team how they felt about our teachers. Here are just a few of their answers.
Thank you for all you do! We couldn't do what we do without you!
In this unprecedented time, we have been so impressed with your passion and your dedication to your students, even from afar. Thank you for all you do!