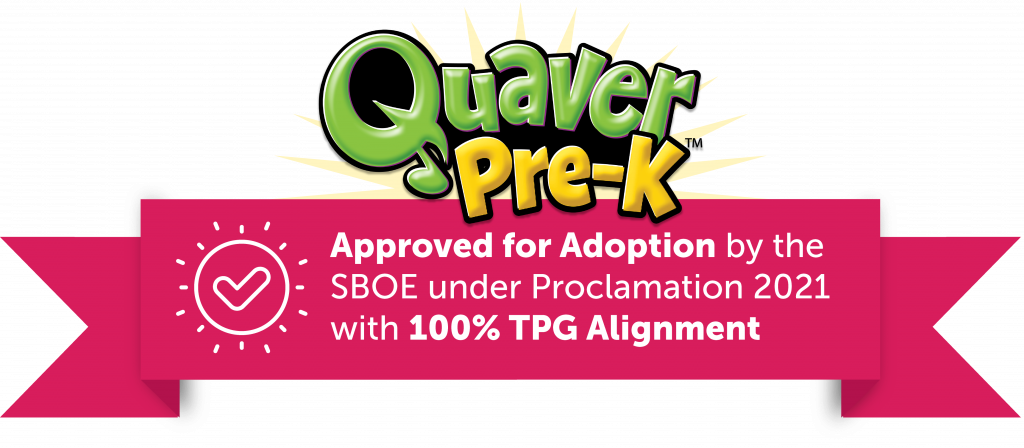 Thank you for considering Quaver Pre-K for Proclamation 2021! Built explicitly to meet Texas Prekindergarten Guidelines, Quaver Pre-K addresses all outcomes, breakouts, and skills in each of the TPG's ten domains. The result is a full year of integrated academic, social, and emotional learning.

Here you will find the following resources to aid you throughout the review process:
Tour Quaver Pre-K!
We've prepared a video that will provide a brief overview of the Quaver Pre-K Curriculum, with a focus on the tools you need to complete your review.
Access your Online Review
Experience Quaver Pre-K resources firsthand by logging in to your TEA review account. Download step-by-step instructions for access below.
Review Week Resources
Name and Corresponding ISBN
Name: Quaver Pre-K Curriculum
IBSN: 9781642850918
Quaver Pre-K Correlations
Review our correlations to Texas Prekindergarten Guidelines.
Quaver Pre-K Sample Overview
Along with our digital resources, Quaver Pre-K includes a complete classroom set of offline materials, including a classroom book collection, a teacher's handbook, manipulatives, posters, and more.
Other Helpful Resources
Contact Carlie Phillips
As Director of Sales for Texas, Carlie is here to help with any questions you may have.
Email: CarliePhillips@QuaverEd.com
Phone: (731) 697-7809