Can you recognize when you're feeling burnt out? And if you can, do you know how to manage those feelings?
***
Have you ever felt like you just wanted to give up and quit after a rough day, month, or year of teaching? You are not alone. Teacher burnout is real and is only getting more difficult to handle with societal pressure, the pandemic, and navigating education through virtual teaching.
Burnout is defined as suffering from exhaustion, losing a sense of personal identity, and having a lack of personal achievements (Maslach & Leiter, 1997.)
There are three types of burnout: overload burnout, underchallenged burnout, and neglect burnout (Wilding, 2018). Overload burnout is when you overwork yourself into a frantic state which can negatively impact your health and personal life. Underchallenged burnout is not feeling appreciated and having no passion for work. Neglect burnout is when you feel unmotivated to deal with the demands of your job. You may feel helpless or incompetent, which results in avoiding work.
Some signs of teacher burnout are:
Frustration
Lack of self-care
Feeling on edge
Lack of fulfillment
Being pessimistic about your work
Irritable
As an educator, it is essential to recognize and acknowledge your burnout so you can begin using healthy ways to cope with it. Some coping strategies to manage your burnout are:
Confiding in a colleague at work – being vulnerable is imperative because other colleagues have most likely been through something similar.
Using mindfulness as a way to relax and calm your thoughts.
Ensuring that you take time each day for self-care (rest, eating healthy, exercise).
When I was a teacher, there were many times I suffered from teacher burnout. I would give myself brain-breaks and practice mindfulness by shutting my classroom door, turning off the lights, and playing calming music. I would also have lunch with a close colleague, or even take a walk around the perimeter of the playground during recess as a way to clear my mind while getting some steps in.
Using QuaverSEL to Address Burnout
Did you know that QuaverSEL has tools to help address burnout? Use our "Addressing Burnout" Mindfulness screen. You can find it in your Teacher Toolbox by selecting MINDFULNESS and clicking INTERACTIVES.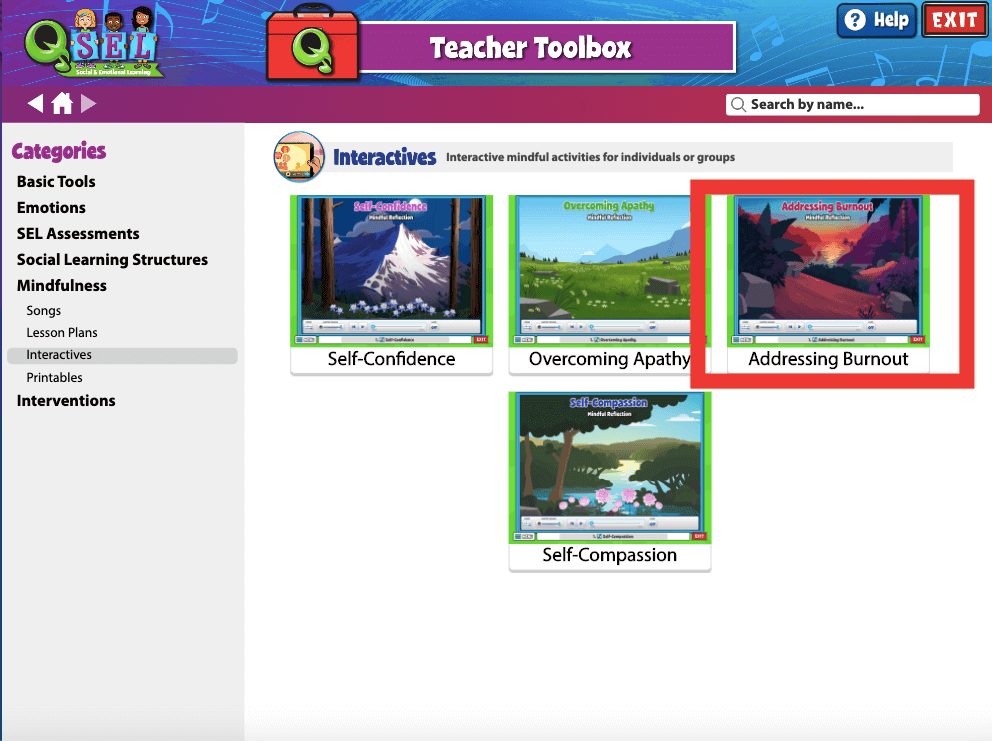 Try it yourself or with your students!
You might also consider playing a song from the SELMusic Library to get moving!
Teacher burnout is an emotional state that comes in waves. It is important to be aware of the signs so you can manage it by using these coping mechanisms. Remember, you are not alone and your feelings matter. Take time for yourself to manage your burnout so you can be a rockstar educator for your students!
***
References
Maslach, C., & Leiter, M. (1997). The truth about burnout: How organizations cause personal stress and what to do about it. San Francisco: Jossey-Bass.
Wilding, M. (2018). 3 Types of Burnout, According to Psychologists (and Signs You're Headed For Trouble). Retrieved September 21, 2020, from https://www.inc.com/melody-wilding/3-types-of-burnout-according-to-psychologists-and-signs-youre-headed-for-trouble.html
***
Try QuaverSEL free for 30 days! Use QuaverSEL's digital platform to reach your students, wherever they are, with flexible assignments that support their SEL development, in and outside the classroom.