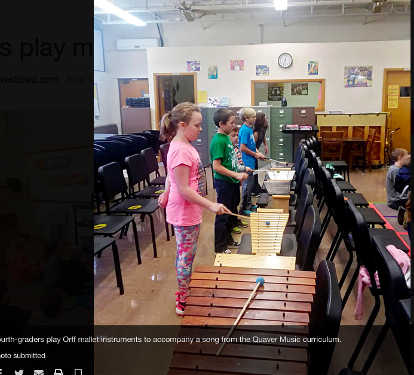 PRIMGHAR—The days of musty old textbooks are a thing of the past for music students at South O'Brien Elementary.
The textbooks are being replaced with a web-based curriculum by Quaver Music.
"I was looking for something different for my kids. We really didn't have a solid curriculum. The textbooks were really old and kids just weren't enjoying them," said Becky Meyer, music teacher at South O'Brien Elementary. "I came across this and I tell you what, the kids are loving it. They're just so technology geared anyway. They have an iPad in their hands half the time anyway."
Students from transitional kindergarten-sixth grade are using the curriculum.
Meyer said Quaver stood out from similar options because of its interactivity. All lessons are interactive and are delivered through the classroom Smart Board. New activities are frequently added to the program as well.
Fifth- and sixth-grade students have been introduced to arranging music while younger students arrange sounds for an early step toward composition. Fourth-sixth grade can connect their laptops to in-class activities. Classroom assigned iPads are available for others to use.
"We're bringing the technology they are using in their classrooms to the music classroom as well. That piqued everybody's interest because that's what we're trying to do more of," Meyer said.
The school is using Quaver Music on a one-year license subscription. Meyer notes that the constantly evolving web-based program is not only more practical than a slew of textbooks, it also is more cost effective.
"Music curriculum doesn't get updated as quickly as reading or math or science. Sometimes it gets pushed aside," she said. "The textbooks I had were pushing 35 years old."
"My kids have been really excited to come to music class. They're engaged a lot in the lessons," she continued. "It's always nice to hear kids at the end of class say, 'Oh man, class is over.' They love it."
The program has been set aside momentarily while students prepare for winter concerts. TK-first grade will perform at 1:30 p.m. and 6:30 p.m. Monday, Dec. 3. Second-fourth grade perform 2:15 p.m. and 7:15 p.m. Monday, Dec. 3. Fifth and sixth grade will perform at 7 p.m. Monday, Dec. 10.
Article originally published in the N'West Iowa REVIEW by Joe Fisher; November 13th, 2018