Celebrate love and friendship this Valentine's Day with these Quaver SEL resources!
Quaver SEL curriculum resources offer several engaging ideas for creating meaningful lessons on this special day!
Let's take a look at how you can use Quaver SEL's resources to explore friendship and how we can express love to those around us this February and beyond!
***
I Can Be Your Friend
You can find this hip hop song in the SELMusic Library by searching "I Can Be Your Friend."
This song puts an emphasis on relationship skills and how to be a good friend to someone. After listening to the song, discuss how we can love others by being a good friend as a class.
What Would a Friend Do?
Back in the Song Hub for "I Can Be Your Friend," you'll find the activity "What Would a Friend Do?"
This screen reinforces the qualities of strong friendships by giving students the opportunity to role-play various friendship scenarios.
Note: If you're not in the classroom this year, you may choose to do this activity via a video meeting as a class.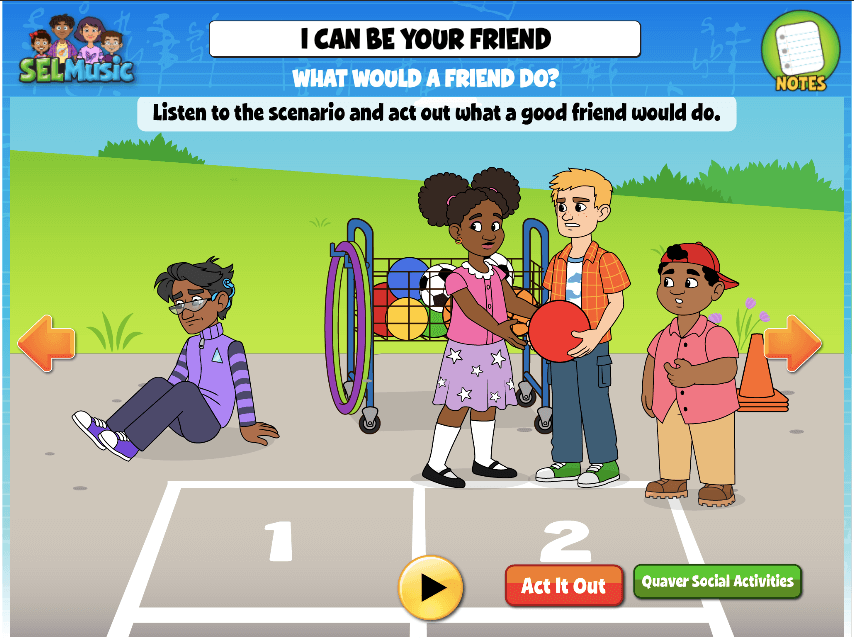 Students will listen to each scenario by pressing the yellow PLAY button.
Discuss each scenario and either select students to act out what a good friend would do in that situation or discuss as a class.
Ask students: what is the most important quality of a strong friendship?
***
Open Up My Heart
Back in the SELMusic Library, you'll find a pop tune called "Open Up My Heart."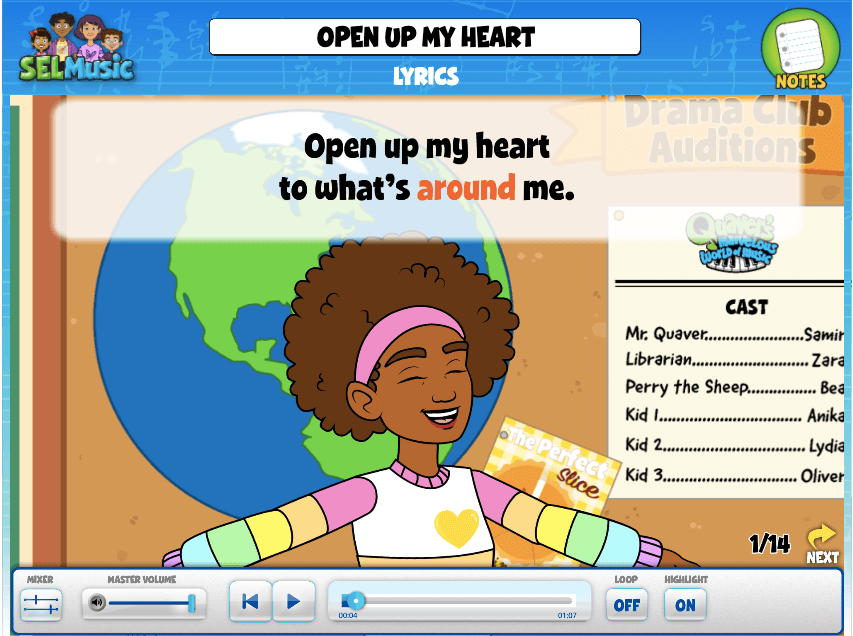 This song puts a focus on social awareness skills and empathy. We can love others well by being aware of and caring about their feelings and learning how we can help them.
Ask students what examples of people caring about others' feelings are in the song.
Can they name a time when they felt loved by someone because that person took the time to care about their feelings?
***
And there you have it— just a few resources that you can use to celebrate Valentine's Day with your students this February. Valentine's Day is a day to celebrate all kinds of love and how extending a little kindness and empathy to others can go a long way. We'd love to hear how these resources are working with your students.
Let us know and connect with us @Quaver_SEL on Twitter or @QuaverSEL on Facebook & Instagram!