The Awards tool in Student Admin allows educators to reward students with QuaverDollars for good behavior, social skills, and custom traits.

QuaverDollars act as a virtual currency which can be redeemed for in-class rewards such as being the designated Line Leader or Teacher Helper for the day. Students can also use the QuaverDollars to purchase items for their Avatar. Educators have an unlimited amount of QuaverDollars they can award to students.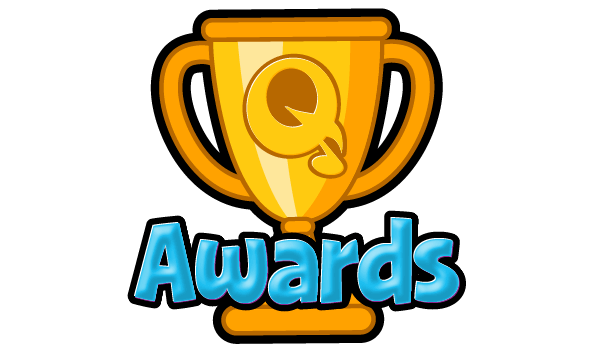 Awards Screen
From your Teacher Dashboard go to Student Admin, then click Rewards.
Select your class from the dropdown list at the top.
There are two ways to redeem or reward QuaverDollars:
Click Menu then "Reward/Redeem QuaverDollars"
Click "Reward/Redeem QuaverDollars" at the bottom of the screen
Reward/Redeem QuaverDollars
The Reward/Redeem QuaverDollars screen contains two tabs:
Reward
In the reward tab, you can select any or all students along with a QuaverDollars amount and a reason for the reward.
Redeem
The Redeem tab allows you to implement your own reward system. This is a great option for students who many not wish to buy Avatar items but could earn something at the your discretion.
After making your selection, click "Save."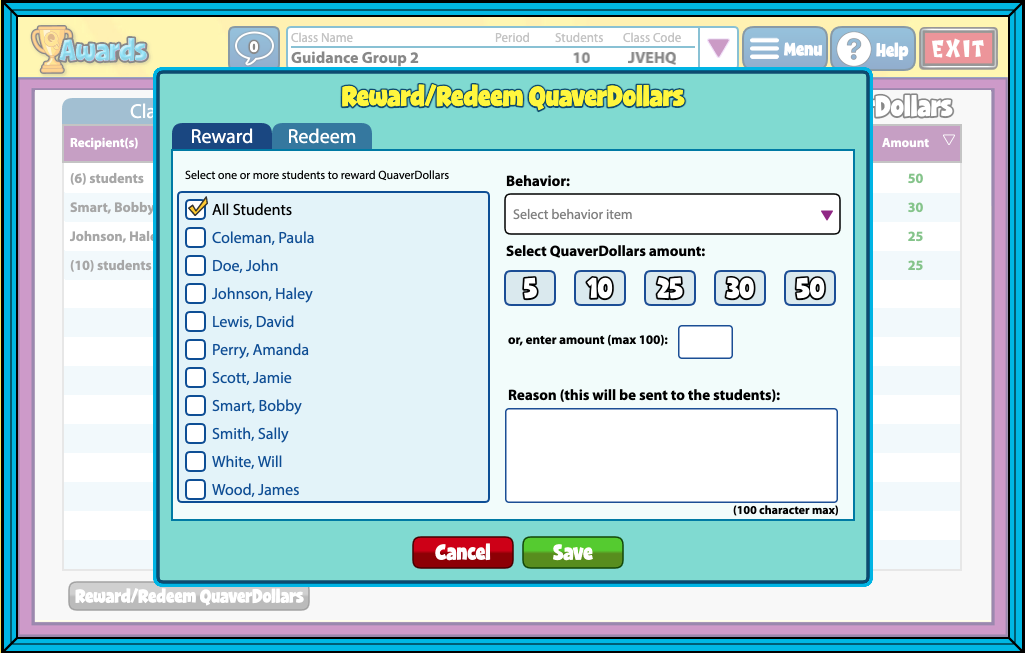 Class Tab
Your default tab in the Awards dashboard is to view transactions in the Class tab. This tab shows all transactions you'd made with Recipient(s), Reason for the reward, Transaction Date, and Amount. If you have not awarded any yet, this list will appear blank.
Note that if you reward multiple students at once, it will appear as a single transaction.

Click on a transaction to open a Transaction Details window and see the students in that transaction and related information.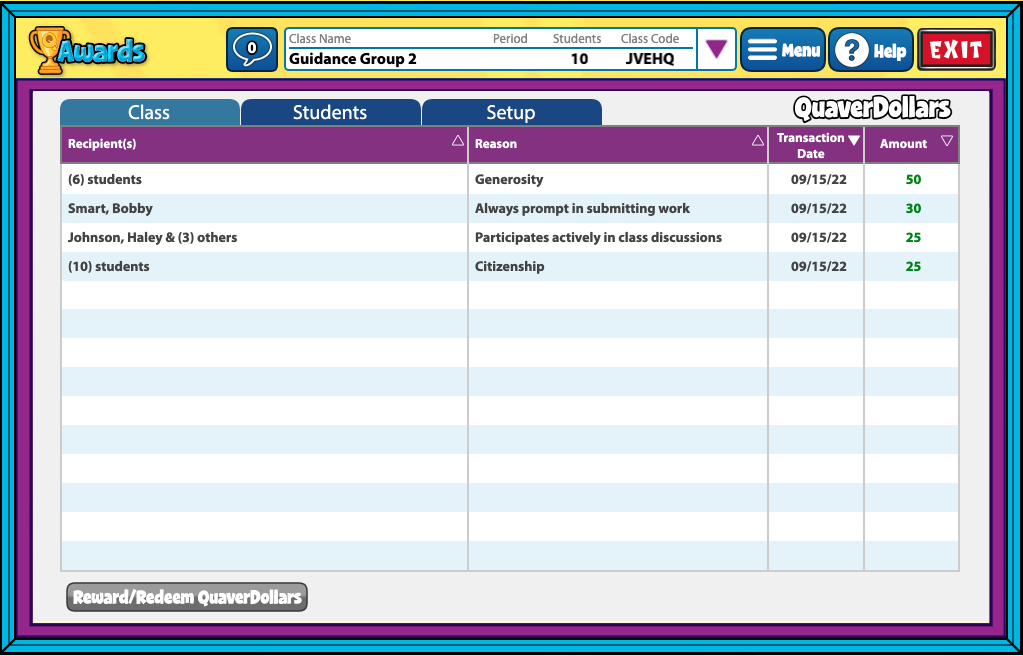 Students Tab
In the Students tab, you will view transactions by student and see important information related to their QuaverDollars:
The "Beginning Balance" is the number of QuaverDollars a student had.
When you reward or redeem QuaverDollars, the "Last Transaction Date" will update to reflect the date of the latest transaction.
The next columns show the "Amount," and "Transaction Type" either Redeem or Reward.
When QuaverDollars are rewarded and/or redeemed, the "New Balance" column will update to reflect this. Note that if a student also uses their QuaverDollars to purchase avatar items, this column will update.
The "Awarded to Date" column shows the total number of QuaverDollars awarded to a student.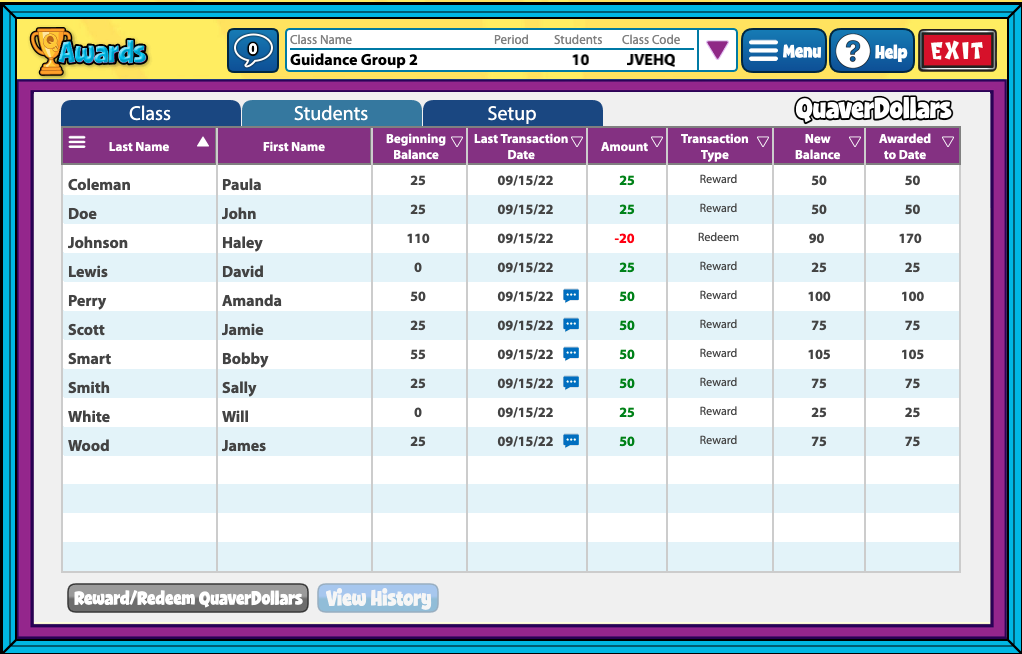 Setup Tab
In the Setup tab, you will be edit, add, and remove Purchases and Awards, their descriptions, and their QuaverDollar cost.
This customization tool helps you streamline the reward/redeem process.
There are two tabs to choose from: Awards or Purchases.
Under Awards/Purchase Categories on the left side, you can edit (purple edit icon), remove (red trash icon), and add categories (+Add Category).
On the right side, you can add, edit, and remove the items names and amounts under the category.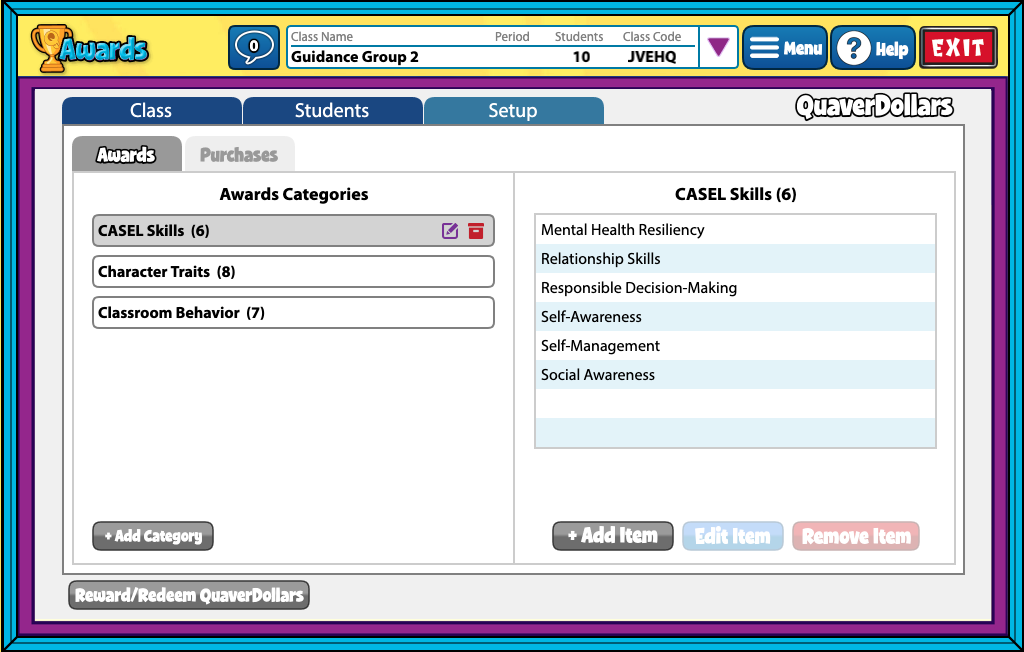 Student Notification
Students will receive a notification in their account when you award QuaverDollars. When they select that notification, they will see how many QuaverDollars they received as well as the message that you included.