Overview
Interventions provide educators with a variety of tools to meet the needs of students in Tiers 2 and 3.
QuaverReady offers these types of interventions: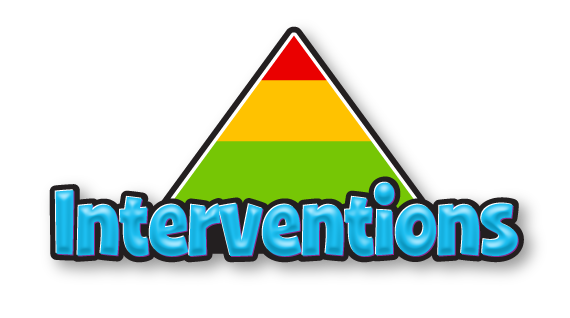 Selecting the Interventions icon on the Educator Dashboard will open the Individual Intervention resource menu.
On the top of the screen, you will see the four intervention options. Available topics for intervention will be displayed along the left side with corresponding grade bands in the center.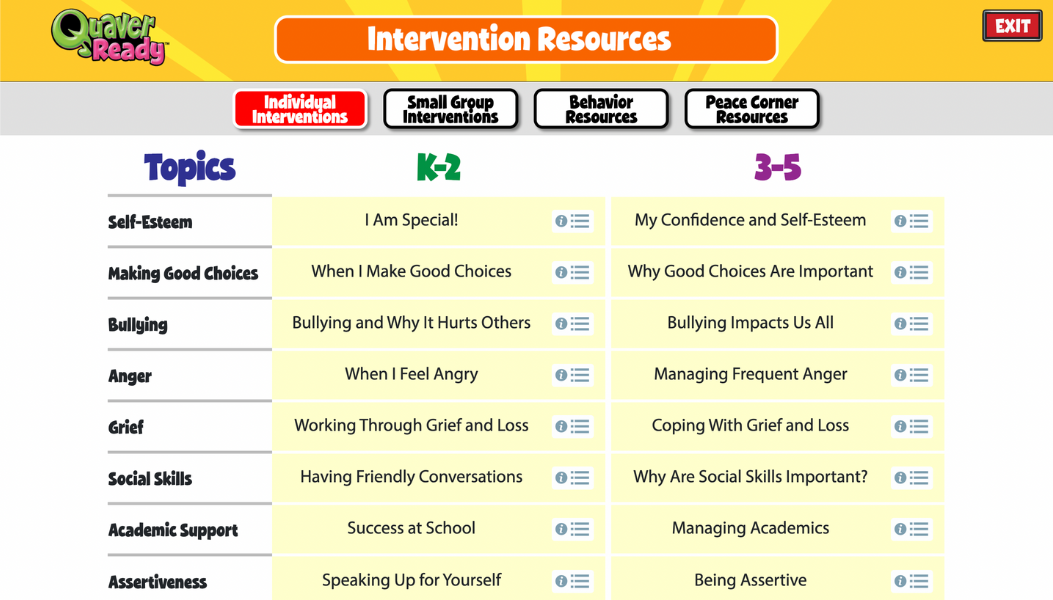 Individual Interventions
Individual Interventions are a series of sessions designed to be completed one on one with a student who might need additional support in a specific area i.e. social, emotional, behavioral, or academic. You can utilize the resource by topics and grade bands. 
When you select one of the interventions, it will open an overview of the screens. See example for "I Am Special!"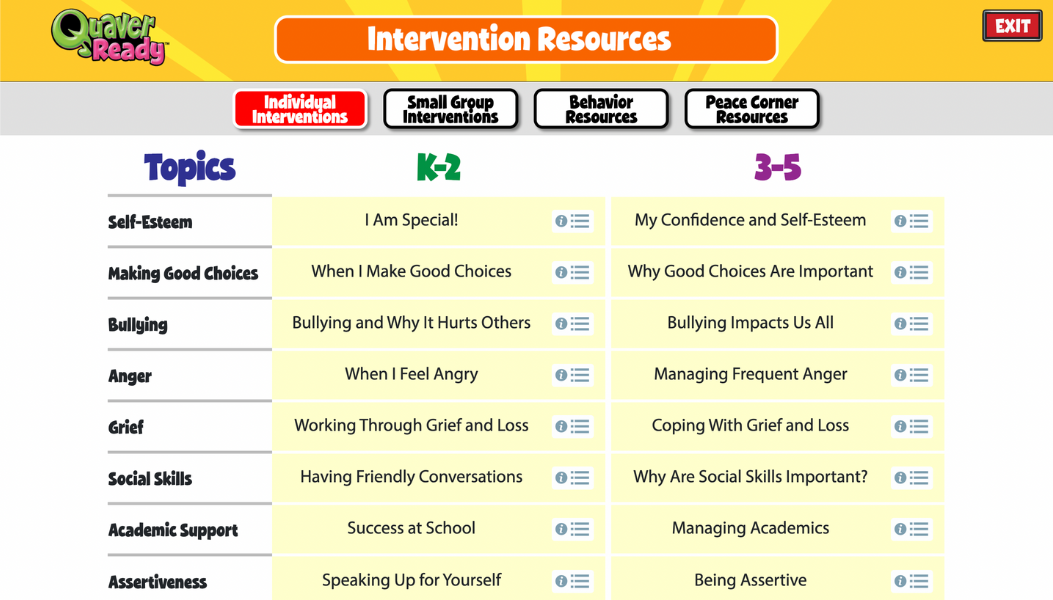 At the bottom of this screen, you can:
Use Intervention Notes for a detailed view of the intervention (this can also be printed).
Select the Worksheets button to find all printables related to the intervention.
Select the Launch button to open the intervention.
To return to the home screen, select Back or choose a different resource from the top.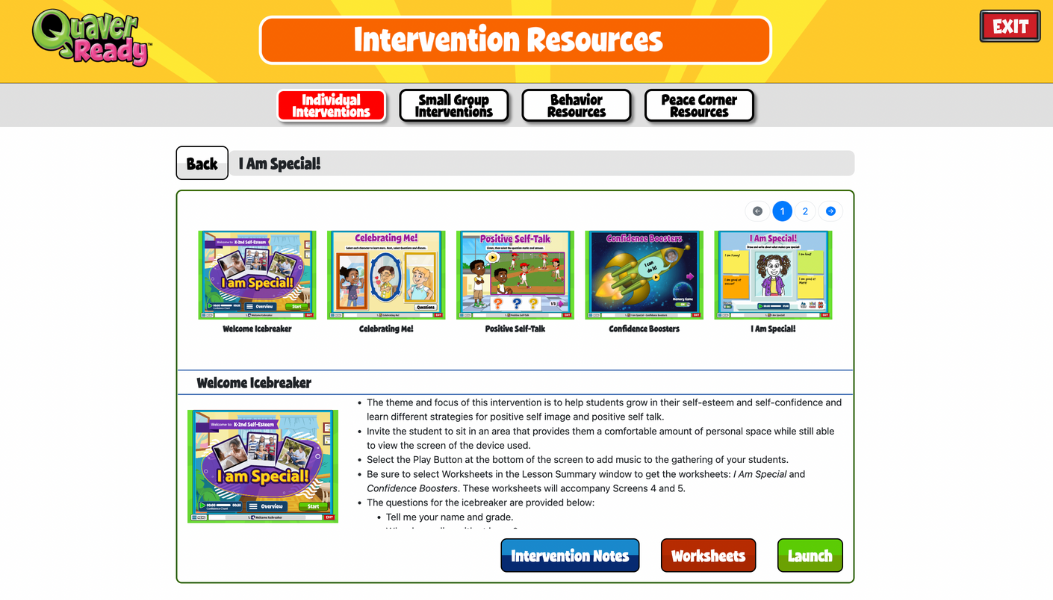 Small Group Interventions
Small Group Interventions are designed for use with a group of students who need extra support in the same area of intervention. The interventions are organized so that you complete a session once a week for six weeks. These interventions have the same functionality as Individual Interventions (see above).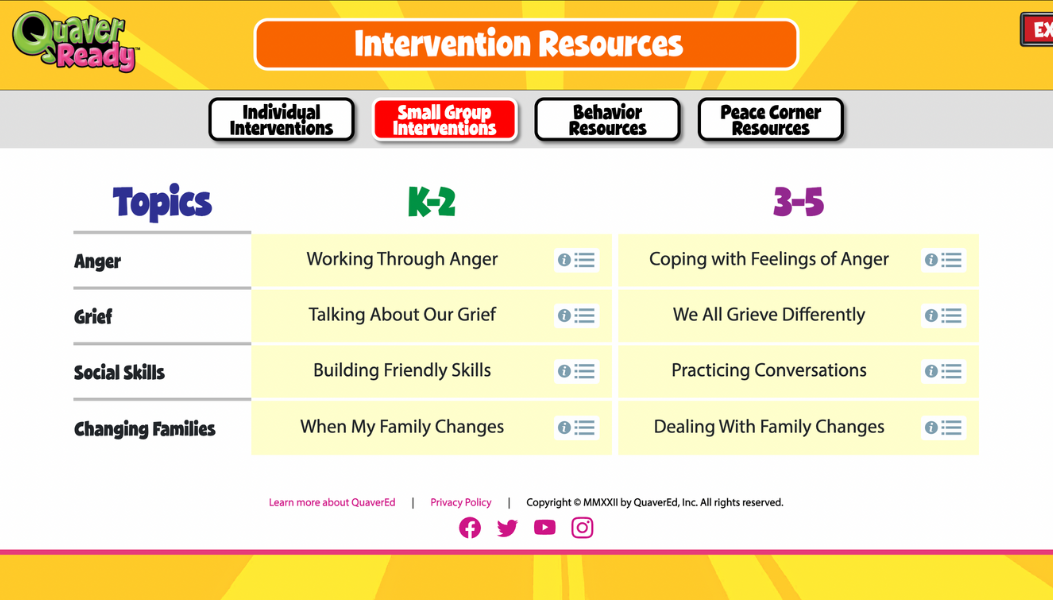 Behavior Resources
Behavior Resources give you the opportunity to encourage students to achieve positive behaviors inside and outside of the classroom. These printable resources include strategies and tools that will reinforce students' positive behaviors. After you select a resource, you'll see a purpose and description of how to use the resource. Select Launch to print the PDF.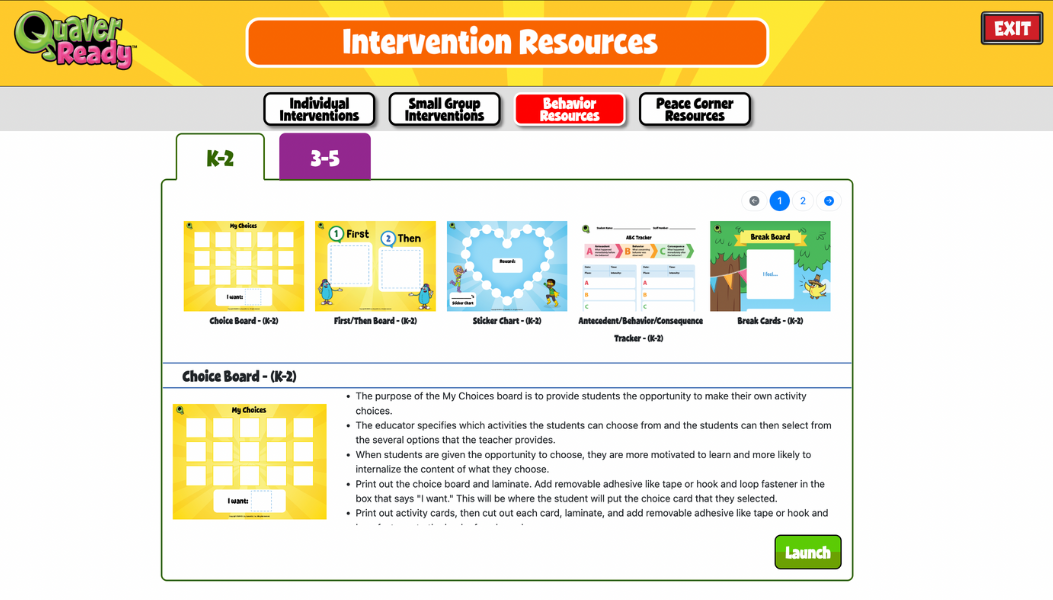 Peace Corner Resources
Peace Corner Resources support students through healthy self-regulation of their emotions. 
Select Launch on any of these screens to access any of the following resources: 
Sentence stems to help students explain their emotions and suggestions on things to do when they feel a specific emotion.
QR Codes for students to complete activities that help them cope with their emotions.
Movement activities that can act as a warm-up for discussion or as a break, and a timer to aid in time management. 
Additional Screens including Emotion Flashcards and an Emotion Check-in where students can share how they are doing.
To return to the home screen, simply exit out of the screen or select Exit.