Overview
Use the Custom Lessons Builder to customize units and lesson scope and sequence to fit your specific needs using both Custom and Quaver lessons. The Custom Menu is organized with grade levels across the top and three columns of lesson modules. Each module is listed on a button in the center of the screen for navigation to additional modules.
This help article covers: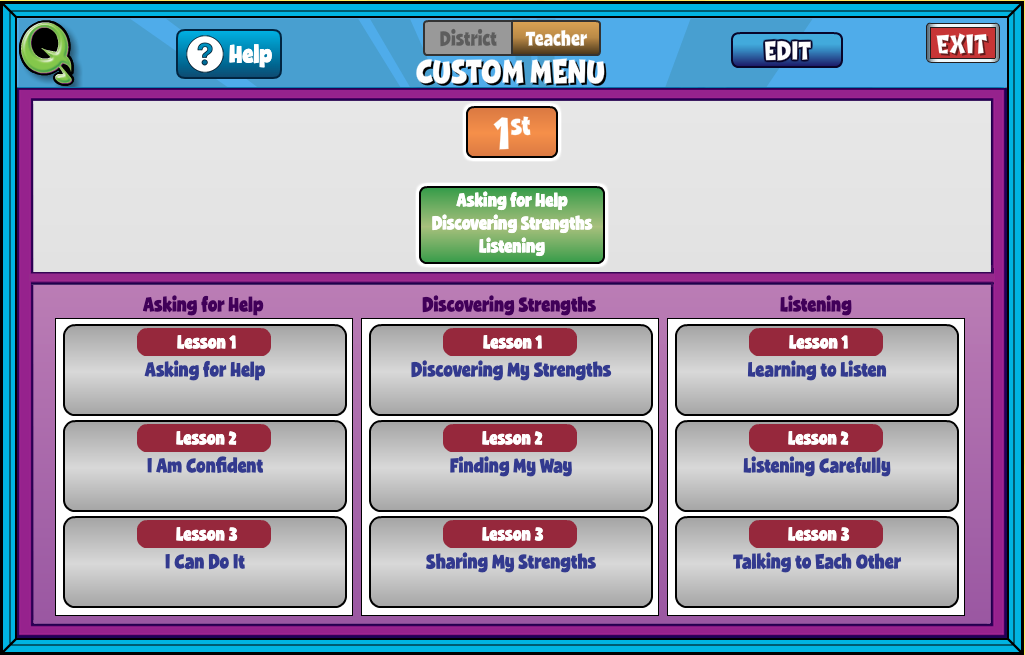 Custom Menu
At the top of the Custom Menu, toggle between district and teacher views. The green, highlighted button is the selected choice.
District: In this view, you are editing a shared menu for all users connected to the same district. This view can only be administered by an appointed supervisor account in the district. Please contact your district administrator or the Quaver team to arrange this.
Teacher: In this view, you are viewing a custom menu for your individual teacher account.
Custom Menu Editor
To Edit the Custom Menu click the Edit button at the top of your screen. This will bring you to the Custom Menu Editor. Here you can arrange grades, modules, and lesson sequences.
Add Grades and Modules
First, add at least one Custom Grade by selecting + Add Custom Grade and entering text or numbers. Then click enter.
Next, add at least one Module by selecting +Add Module and entering text or numbers. Then click enter.
With a Grade and Module open, you'll next drag lessons from your Lesson List into your desired order.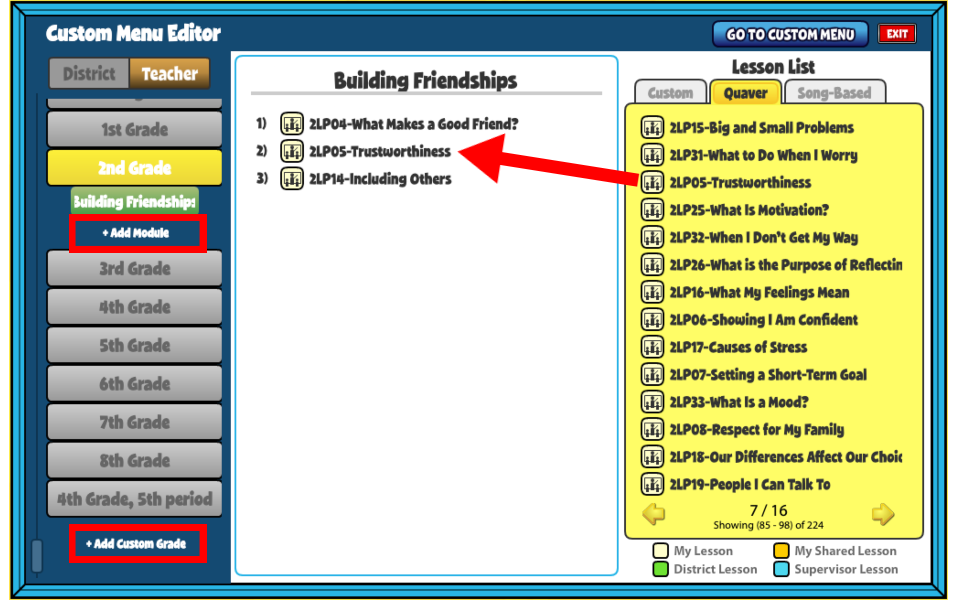 Select Lessons from Lesson List
On the right-hand side you will find the Lesson List broken into three tabs:
Custom – Lessons created by you or shared by your district colleagues
Quaver – Lessons found in the primary Quaver Curriculum
Song-Based – Lessons found in our Song-Based Lessons
The Lesson icon to the left of each title indicates what type of lesson it is. Use the legend below the Lesson List to identify My Lessons, My Shared Lessons, District Lessons, and Supervisor Lessons.
To add a lesson from this list into a module, simply click and drag the lesson into place. You can reorder the Lessons within your module. Drag a lesson into the trash to remove it from a module.