The SEMIFINAL ROUND is set!
***
See the SEMIFINAL ROUND matchups in the bracket below: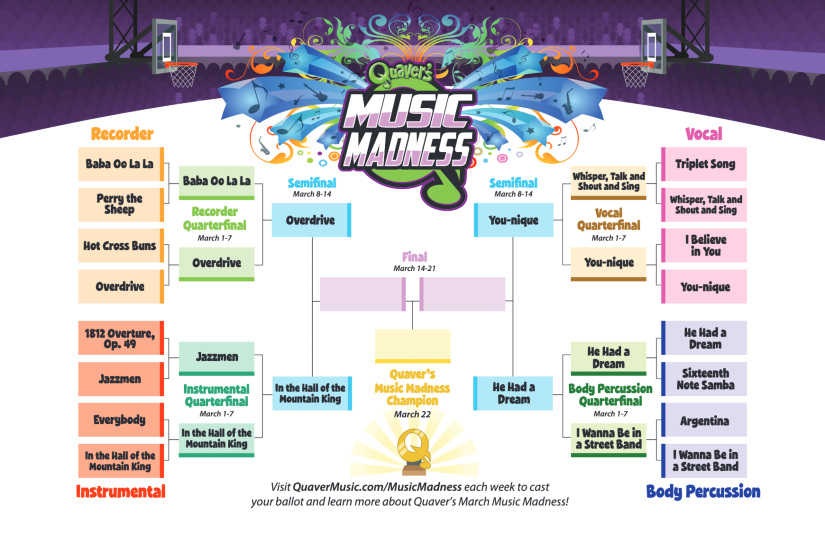 This coming week, our final four songs square off in the to advance to the Championship!
Overdrive vs. In the Hall of the Mountain King.
The groovy eighth-note patterns in Overdrive get down like a boogie on the bambam, while In the Hall of the Mountain King grows with excitement as the tempo speeds up!
He Had a Dream vs. You-Nique
Both these songs have marched through the tournament to inspire many to stand up, look in the mirror, and strive to make a difference.
Who will advance to Quaver's Music Madness Championship? You decide! QuaverEd's Emily Hopkins overviews Quaver's Music Madness 21 in this instructional video:
Next week's CHAMPIONSHIP MATCHUP will be announced March 14th on the QuaverMusic.com Facebook page and right here on the blog (you may want to bookmark this post!)
Looking for a new responding activity for your students?
Login and search "March Madness" in your Resource Manager for an audio playlist and accompanying student worksheets.
Suggestions For Younger Students (K-2)
Search for and print the worksheet found in Resource Manager, or create a URL to send digitally to students.
Students will analyze the songs based on the following elements: mood, dynamics, instrument families, and tempo.
Fill in the boxes:

Mood box – have students draw how the song makes them feel
Instrument Families box– have students circle which instruments they hear in the song
Dynamics box– have students mark on the scale which dynamic best fits the song
Tempo box–have students decide whether the song is slow (largo), fast (presto), or somewhere in between (moderato)

Have students rate each song by shading in the stars.
The piece that receives the most stars wins that round for your students/class!
Suggestions For Older Students (3rd Grade and up)
Download and print the worksheet, found in Resource Manager, for your students to complete as you listen to the songs each week.
Use the critical thinking questions to guide your students to analyze the pieces.
Students can respond to each of the questions on the worksheet and then discuss their answers in groups or as a class.
Have students rate each song by shading in the stars.
The piece that students give the most stars to wins that round for your class/students!
Share how you're implementing this week's matchups in your classroom instruction to our QuaverMusic Teachers Facebook page!
***
We can't wait to see who comes out on top! Boom Chicka Boom!