This month, Quaver's Song of the Month is Hickory Dickory Dock.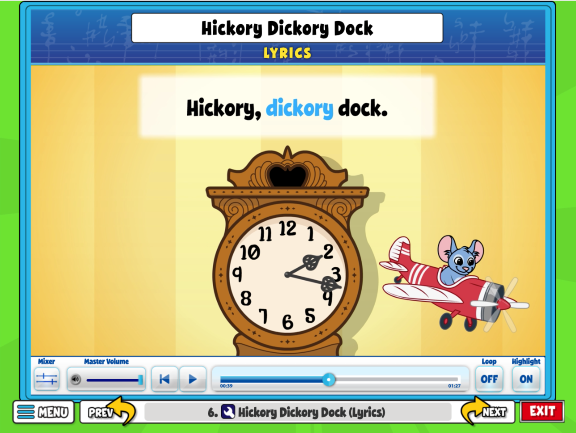 Access the Song on YouTube for Use in Class
This song can be found in Quaver among all-new Featured Resources from the Teacher Dashboard: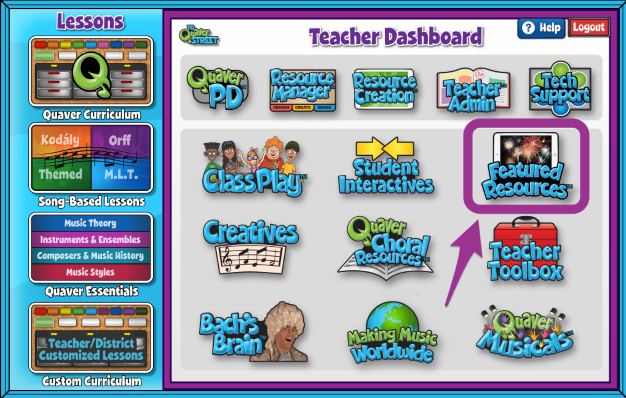 There is space in this song to allow students the opportunity to develop their improvisation skills. The song contains four verses, each representing an hour between 1 o'clock and 4 o'clock.

Below, the Verse 1 lyrics to serve as an example:
Hickory, dickory dock.
The mouse ran up the clock.
The clock struck 1. (Teacher plays rhythm)
The mouse ran down. (Student echoes rhythm)
Hickory, dickory dock.
The "hourly" rhythm for each verse heard in the song can also be seen in the diagram below: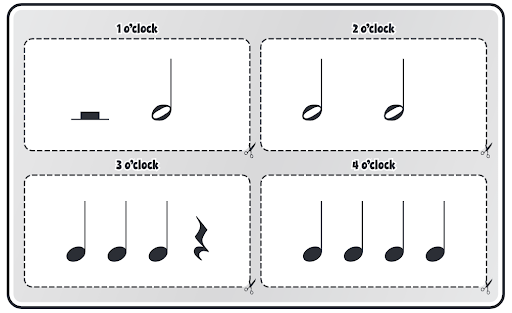 Here's a link to this diagram as a printable worksheet
After each clock chime pattern, a follow-up measure "space" is heard in the song. As you sing this song with students, clap/perform the hourly rhythms first. Ask student groups to echo each corresponding "space." After students feel comfortable with the hourly rhythms, invite individual students to lead the class in the "echo leader" measures of the song.
Active listening idea:
Print the worksheet for students, and cut out each hourly rhythm. Shuffle the order of the hourly rhythms that you perform throughout the song.
Students must listen carefully to echo correctly the pattern they hear from you and arrange the rhythms accordingly.
Students may also sequence their hourly rhythms to guide/reference their performance as echo leader.
Sometimes, it can be challenging to teach the topic of improvisation in music classes. The four simple rhythms in this song provide students with options or a "rhythm bank" to draw and choose appropriate rhythms.