A Georgia teacher sings her song of gratitude.
By Kristin Clark Taylor
***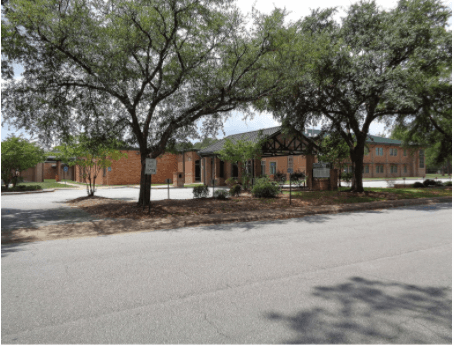 Sherwood Acres Elementary School in Georgia's Dougherty County School System.
***
"Awesome!"
"I loved every minute of it!"
"I was so sad when it ended!"
"I really hope we see another one come soon!"
No, these aren't passionate testimonials from of a group of Game of Thrones fans desperately hoping for a new season.
This is the passionate voice of one teacher, Anita Clay Moody, singing her praise and expressing her gratitude for the ground-breaking gathering of thousands of music teachers who convened last week for the QuaverCon 2020 conference.
Moody isn't singing a solo, though: Her voice is joined by what could easily be described as the largest chorus in the country: Almost four thousand music educators from every corner of the country singing a harmonious hymn of praise for everything they saw, heard, and felt at this extraordinary virtual gathering.
Moody, an elementary music specialist at Sherwood Acres Elementary School in Georgia's Dougherty County School System, says she's never experienced anything like it. That's probably because nothing like it has ever been accomplished. Not on this scale. Not with this much passion and (virtual) precision. Not with this much heart and human emotion.
Moody's message is loud and clear: "The things I learned and the tools I was given at QuaverCon will help me be a better teacher," she says.
Her emotion and gratitude, however, seem to spring from a deeper place: In addition to learning about Quaver's exciting new tools and resources, she also says the cutting-edge conference gave her an opportunity to express her ideas, hear from other teachers, and simply share in the collective, creative spirit of her colleagues. All of these factors are what helped make her QuaverCon memories and shared moments so meaningful.
"It felt like I was actually there, interacting with other teachers, hearing from other teachers, and learning about all the exciting new things Quaver has planned for us!" the 13-year teaching veteran says. "I've never experienced anything like it."
The July 21-22 virtual extravaganza, coordinated by the high-energy Quaver staff in Nashville, Tennessee, was packed with powerful presentations and interactive sessions that were stimulating and wide-ranging.
From the comfort of their own living rooms, music educators from every corner of the country could participate in sessions ranging from, "Active Music-Making in the Digital Classroom," to "What's New at Q!" to "Cultural Competence in the Music Classroom" – indeed, a virtual conference with vision and heart.
Says Moody: "I will remember this for a long, long time."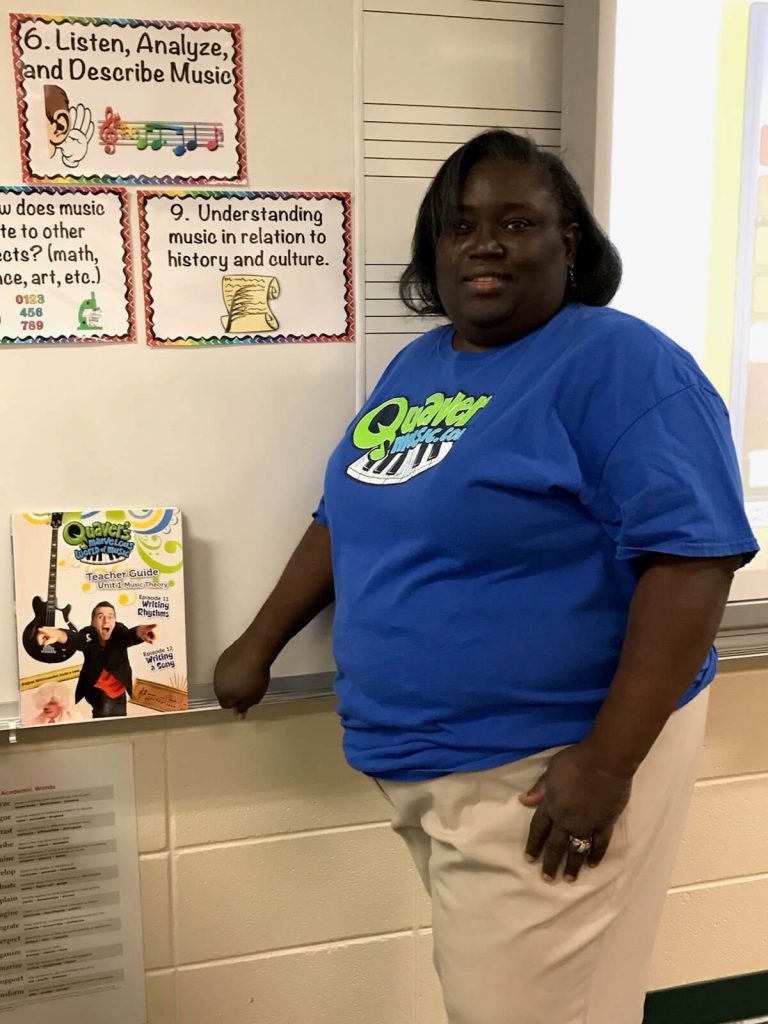 Music educator Anita Clay Moody using Quaver resources to reach and teach her students.
Icing on the Cake
Moody, who teaches K-5, claims the ground-breaking gathering, while visionary and definitely value-added, was simply icing on the cake. The real meal is the Quaver curriculum itself — something she's been savoring for 11 years. "I'm a long-time user. These tools help me, and they help my students," she says.
"Though I thoroughly enjoyed everything about QuaverCon, it's the way I use the Quaver curriculum every day that really allows me teach music in ways that excite my students and make them want to learn even more," Moody says.
"I teach every student in the school. I touch the life of every child. And my goal is to use music to enrich the lives of my students. Music is a motivator. Quaver helps me motivate and teach my students."
Moody is undaunted by the days, weeks, and months that lie ahead.
"There are still lots of unknowns for everybody, but I'm ready. I'm prepared. Whether I'm in the classroom or at home, I have what I need and I know what to do," she says with confidence.
This much is clear: Anita Clay Moody uses music – and Quaver – to enrich the lives of her students. Her philosophy, which she shares in these simple words, is filled with love:
"Life without music is no life at all."
Kristin Clark Taylor is a journalist and author.
***
Stay tuned as even more teachers share their feedback on QuaverCon 2020, to come soon!