QuaverEd offers a variety of training options to our customers to ensure that we accommodate all learning styles and schedules. Our philosophy on professional development is not only to provide guidance on the navigation of our products but also to incorporate best educational practices into every training session we host. Examples of training options include:
Live Training
Live trainings are scheduled at the convenience of each school district and include a pre-survey to better understand the needs of each group of educators. Everyone on our QuaverEd Training Team has teaching experience and personalizes each training session to the group they are hosting. During these sessions, customers are encouraged to ask questions and are given time for experiential learning.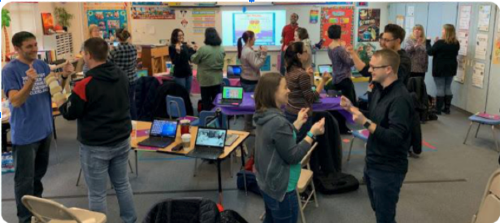 Webinars
QuaverEd curricula are updated four times a year with new content and functionality. As a result, QuaverEd schedules webinars during the year to bring everyone up to speed on the new content and functionality being introduced.
Click here to visit the Events & Webinars page.

Self-Paced Video Tutorials

QuaverEd also provides pre-recorded video tutorials and training videos to encompass resource updates and to give guidance on navigating each section of our curricula. These tutorials are embedded within the curriculum resources in two places; the "QuaverPD" icon on the Teacher Dashboard and the "Help" button on each screen of the site. The convenience of these videos helps educators quickly get assistance with the area of the resources that they are using.

Video tutorial topics include, but are not limited to, the following:
Account Creation and Basic Dashboard Navigation
Lesson Navigation
Resource Manager Customizing Functions
Creating Student Accounts
Once a Quaver user completes a professional development or training event, such as a webinar or video tutorial, the user may request a PD transcript to submit to their school district for credit.