We recently made some exciting distance teaching upgrades!
We've made it easier than ever to distribute assignments to your students—in and out of the classroom. You can now send an assignment to as many classes as you'd like. Simply check additional classes, or select "All Classes" from the Class drop down in Assignment Details.
How to Distribute an Assignment to Multiple Classes:
When you're ready to assign your assignment, navigate to your Teacher Administration tools located on the Teacher Dashboard.
Select the ASSIGNMENTS icon in the top row. You'll notice that it's divided into two sections. On the left you'll see the Assignment Templates available to you. On the right, you will see a running list of the Assignments you've already given.
On the Assignment Details screen, use the Class dropdown menu to select the class or classes that will receive the Assignment and adjust the Assign and Due dates to your specifications.
Here is where you will be able to distribute your assignment to multiple classes.
If multiple classes have been selected, All Students in those selected classes will receive the assignment.
If one class has been selected, you will be given the option to click the dropdown to assign to specific students.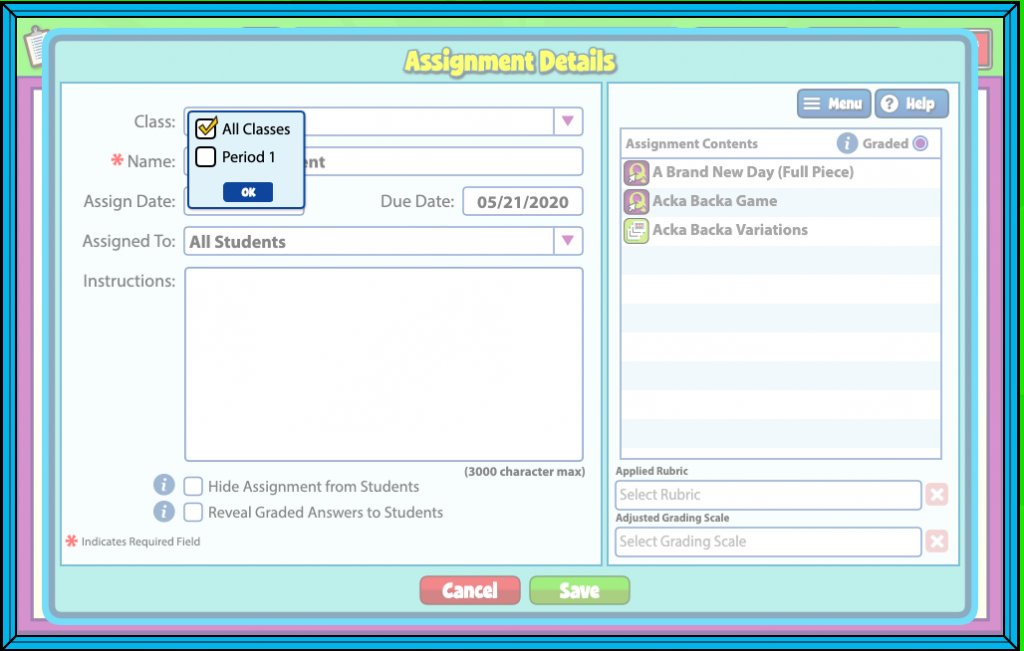 In the Instructions section, indicate any specific directions for students to follow.
Hover over the info buttons below to determine if you would like to Hide Assignment from Students or Reveal Graded Answers to Students. On the right side of the assignment details, confirm the Assignment Contents and indicate what will be the default grade for the assignment.
Click GIVE ASSIGNMENT to give the assignment to all classes. You will now see it on the Assignments Given menu on the right side of the Assignments menu.
***
Will this update be helpful for you? Learn about additional new distance teaching upgrades here and stay tuned for more!