Today, we introduce nine new student-geared How-To Videos for QuaverMusic student users. Students may login to their account and find a new QSupport icon where these videos can be found: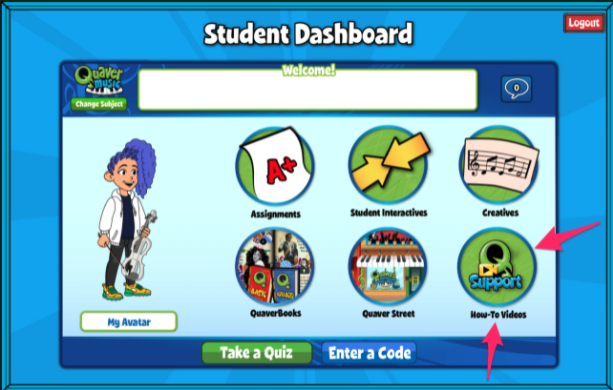 When clicked, a new browser tab will open a toolbox with videos on the following topics:

Intro to Assignments
Taking Quiz Builder Quizzes
Submitting Student Video Recordings
Submitting Melody Composer Songs
Submitting Game Scores
Submitting Quaver Creatives
Avatar Customization
QuaverBooks / Student Interactives
Take a Quiz Button / Teacher Guided Mode
These videos are designed to demonstrate how students can respond to QuaverMusic assignments, personalize their accounts, and otherwise navigate the website. Students can access them during class or from the comfort of their own homes!

***
If you are interested in getting QuaverMusic resources for your classroom, let's talk! Reach out to one of our experts to find out how.