QSupport is a built-in help center found on your Teacher Dashboard. It is divided into two sections: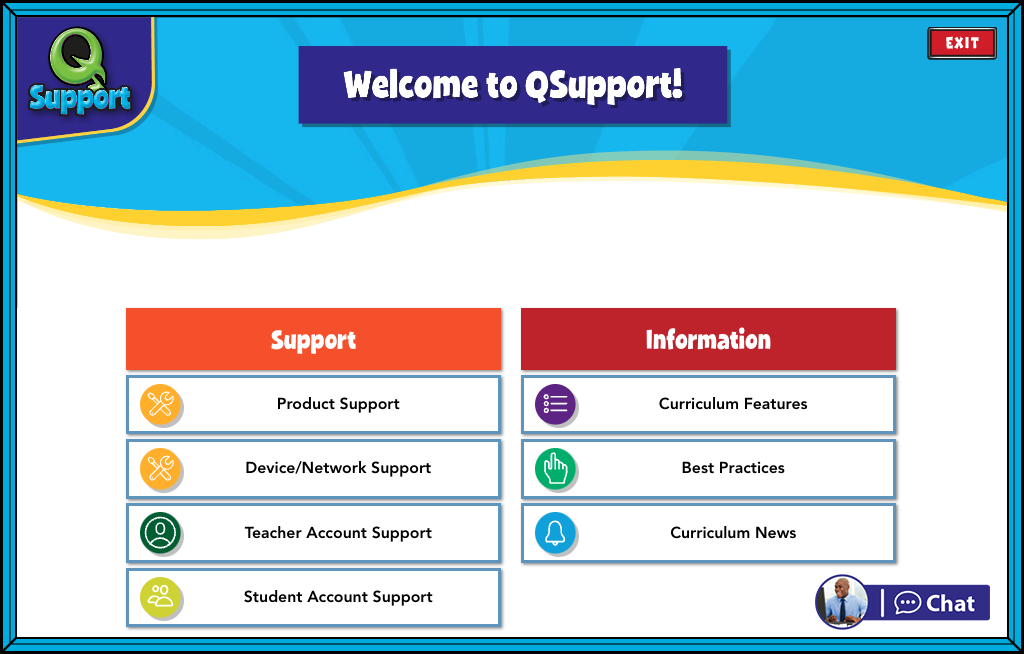 Information
The top half of QSupport contains helpful information on curriculum features, news, and best practices for each curriculum.
Curriculum Features
Curriculum Features contains a comprehensive index of downloadable PDFs on various items like Curriculum Map, Scope and Sequence, Curriculum Materials & Instruments, etc.

Best Practices
Best Practices contains a comprehensive index of downloadable PDFs on various strategies to optimize your classroom and connect with students.

Curriculum News
Stay up to date with our latest webinars and newsletters for Music, Ready, Health•PE, or Pre-K in Curriculum News.

Problem Solving
The bottom half of QSupport contains useful links to troubleshoot common user issues. Problem-Solving is an excellent first step for many teachers. If you need any further support at any time, please don't hesitate to contact us!
Product Support
Product Support is built to help you, hoping to develop your product knowledge. Use the text articles and video tutorials to self-serve your QuaverEd journey.

Device/Network Issues
Device/Network Issues is in place to help you troubleshoot common issues we at QuaverEd see so often. If you continually are having issues do not give up, please contact our Tech Support at 866-917-3633 and we would be happy to get to the bottom of the issue.

Teacher Account Issues
Use Teacher Account Issues to find easy solutions regarding passwords, QuaverEd licensing, substitutes, and more!

Student Account Issues
Use Student Account Issues to help with Student Accounts. This includes resetting passwords, troubleshooting assignments, QuaverNotes, and more!