QComposer is a QuaverMusic Creative that allows you to create melodies and chords by simply dragging notes to the staff.
Create Your Composition
Select a note from the note options and drag it to a line or space on the staff.
To adjust the accidentals, select the flat, natural, or sharp signs.
You can add Chords with a PlayAlong by selecting MENU and PlayAlong TRACK. Alter the volume of the PlayAlong using the volume bar in the top left.
You can adjust the tempo settings by clicking Moderato and making your selection.
Add additional measures by clicking the yellow arrows on the bottom right.
Click the yellow PLAY button to playback your project.
Click CLEAR to clear your project and start over.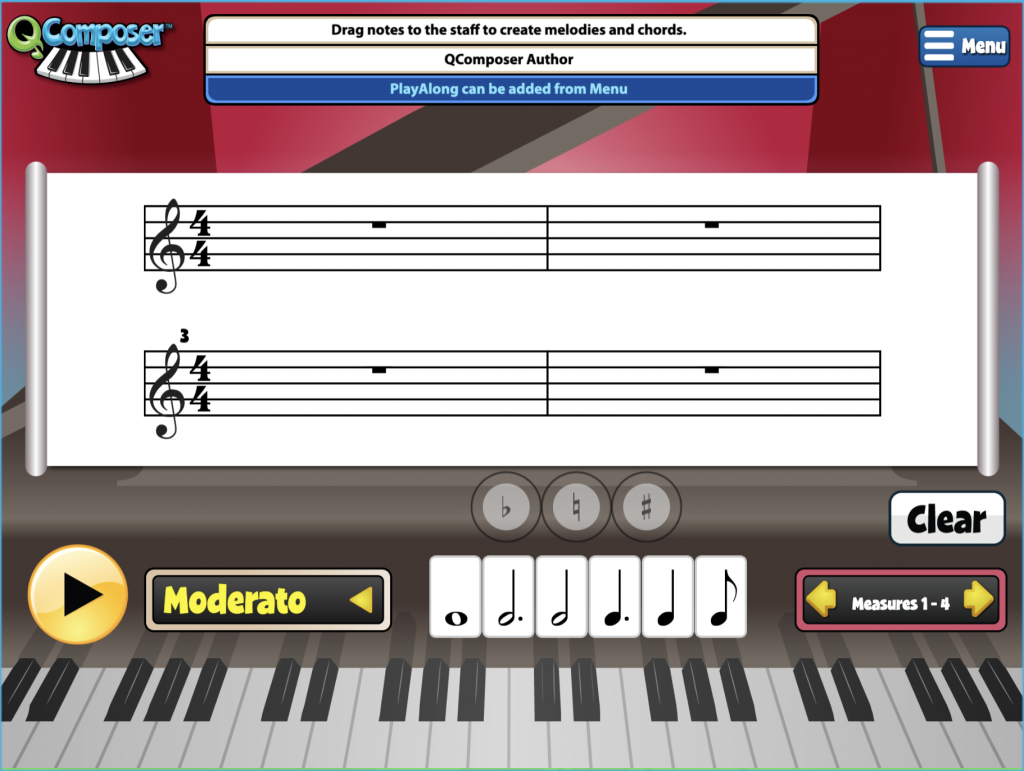 Save Your Project and Download It
Click MENU in the top right corner of the screen and click SAVE to save your project. You will be asked to give your project a title if you have not already.
Click MAKE MP3 from the menu and then DOWNLOAD the mp3 when it's ready.
Open Existing Files
If you'd like to open a saved project, click MENU and OPEN.
How to Assign QComposer to Your Students for Submission
To begin, create a folder where your assignment will live.
With no folder selected, click MENU, NEW FOLDER, and give it a title.
Your folder will now appear on the right side of your Resource Manager.
Search for QComposer in Resource Manager.
Drag the resource into your folder on the right side of the screen.
Select the folder and hit MENU and NEW ASSIGNMENT TEMPLATE.
Name your assignment, "QComposer."
Open the folder and you'll see your named Assignment with a green "A" next to it.
Click MENU and ASSIGN TO CLASS to choose a class or classes you would like to give the assignment to.
Students can submit completed assignments but selecting MENU and Submit.
Students should SAVE their submission if they wish to access it at a later time.
Completed submissions will show up in your GradeBook next to the student's name with an orange checkmark.
Click the checkmark to review their work.