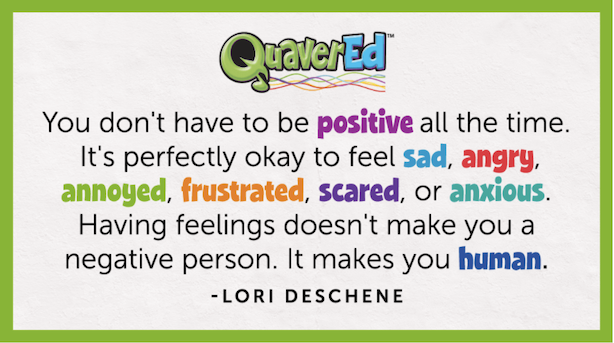 Thank you, Quaver Educators, for your dedication to your students while navigating another year with unique challenges.
The beginning of this year has presented a new set of challenges. You've likely had to adapt – again. We mention it countless times in our SEL curriculum, but we want to remind our Quaver Educators that it's okay to feel varying emotions during challenging times.
As someone that your students see regularly, you have an opportunity to model SEL social-emotional competencies in the classroom. It's beneficial for students to observe an adult feel their emotions and healthily cope with them. Teachers are great at modeling these healthy coping strategies.
Now more than ever, we hope you get to take some time for yourself and your mental health. A few resources available to you include the Count to 5 breathing exercise, using the peace corner for yourself, talking through your feelings, or a mindful reflection like "Self Compassion." You can explore this resource here.
We applaud our educators for everything they have accomplished and continue to accomplish.
With QuaverEd, you have a full support team here to help in any way we can. Feel free to reach out to us if you have any questions, and thank you for letting us be a part of your classroom this year.