A Suggested Lesson Sequence for Stress Management
Click here to hear Manage My Stress
This song can be found in QuaverSEL's Grade 3, Lesson 17, and has tons of great resources for learning and talking about stress in the classroom.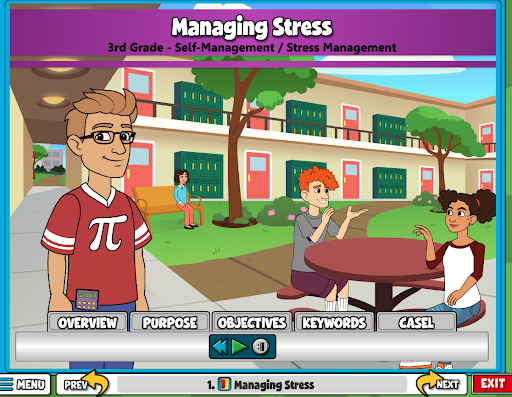 Managing Stress
When used in a Self-Management lesson, Quaver's Stress Management lesson plan can be used to remind students how to recognize stress, identify, and apply ways to relieve stress during stressful situations.
Ask your students these essential questions: What is stress? What does manage mean? How do you manage stress at home? How do you manage stress at school? Why is it important to manage your stress? Name some things you can do when you feel stressed.
Suggested Use of This Activity
Topic Discussion: To start a discussion with your class, click the "Student Selector" button and pull a card by clicking the deck. Each card has a prompt and can help determine who will go first.
Next, click one of the balloons and it will populate a question. You can circle around the room and continue this process until all of the questions have been asked, or each student has taken a turn. This is a great tool to help explore students' prior knowledge.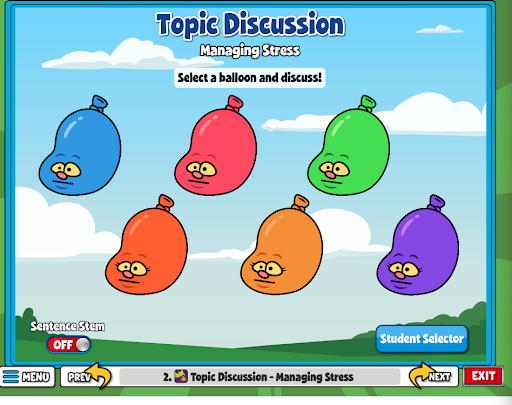 Read the Lesson Mindset: "Controlling stress is my goal." This screen states the goal you are working towards as you continue the lesson. From there you can press play to hear the phrase from the song, or choose from a number of interactive activities that reinforce the theme.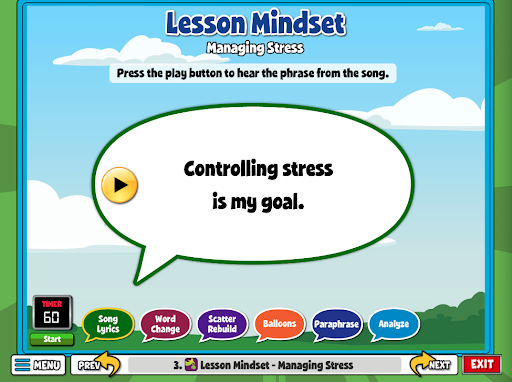 Controlling Stress
This part of the lesson is designed to help students discuss SEL topics in greater depth by breaking them into pairs. During this activity, students can turn and talk to the person sitting next to them. For example elbow partner, student choice, birth months, or numbering off.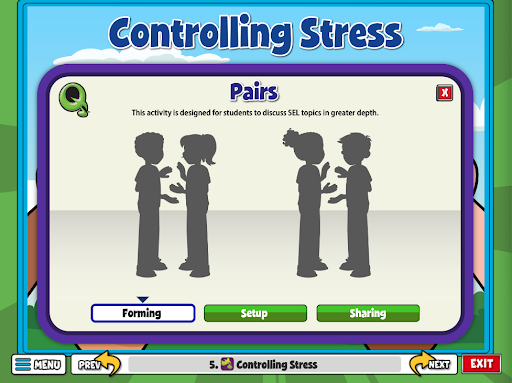 Each pair will discuss the topic presented. There are a few suggested variations of this activity that can be found by clicking the "sharing" button at the bottom of the screen.
Practicing Stress Deflators
This screen offers several different activities designed to help students learn how to deflate stress. Select a balloon to rotate through movement, music, coloring, and talking it out. You can participate in each activity for 3 minutes by using the timer to "start" or "reset" in between.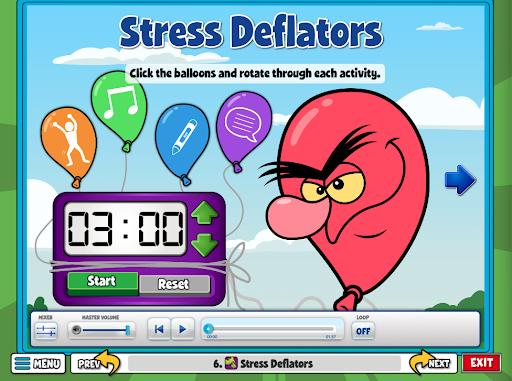 The lesson ideas shared here can be a launching point for your classroom discussion on understanding stress and different ways to manage it.
We are very interested to hear how these lesson slides and sequencing ideas are carried out in your classrooms. Share your ideas or feel free to ask us any questions at Info@QuaverEd.com or make a post on our QuaverSEL Teachers Facebook Group!
***
Connect with us @QuaverSEL and let us know how these resources are working with your students!