Music teacher Natalie Rios uses Quaver to highlight Hispanic heritage and encourage inclusion, diversity, and representation in her classroom. Read her story below.
"I came to this country when I was 13," said Natalie Rios. Born in England, she emigrated to Wetumpka, Alabama, in the early '80s. Rios laughed as she recalled, "it was a real culture shock. They didn't know what had hit them and I didn't know what had hit me, either. But it was through music that we reached understanding. I saw that music can break down barriers and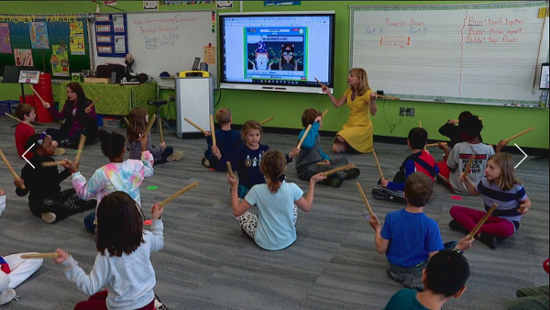 it put me on the path to becoming a music educator."
Rios is the music teacher at Trinity Catholic School and, based on her personal experience, she understands the importance of inclusion, diversity and representation.
She infuses those ideals through every aspect of her music curriculum and has created a Hispanic heritage unit for her kindergarten – eighth graders. "We have a pretty hefty representation of Hispanic students. Music is universal and it's a phenomenal vehicle for the students to feel very proud of their heritage. It also opens the opportunity for other students to learn about those cultures."
With the help of some Trinity parents, Rios has been able to teach traditional music and dance from all over South and Central America from salsa and merengue to Joropo and El Sebucán. As a culmination of the unit, fifth graders learned about the dance known as La Raspa and mariachi music.
Using the Quaver music curriculum, Rios can enhance and expand on her classroom instruction. Students get to see interviews with mariachi musicians, compare and contrast the instruments used, and learn some Spanish and geography at the same time. One of the instruments the students didn't see in the mariachi band – maracas. "They are not part of mariachi even though everyone thinks they are," said Rios.
Though Carmelo Perez was born in the United States his parents are both from Mexico. The fifth grader is bi-lingual, speaking English at school and Spanish at home. He says listening to the music of Mexico is "an enjoyment for me. It feels really good because I can relate to everything and I'm happy because other people are understanding my culture."
His classmate, Riley Young has especially enjoyed learning some percussive skills. "We were on the drums doing the clave," a rhythmic pattern used in Afro-Cuban music. "Each drum had a different part and when we layered it together, it sounded really cool."
Riley believes this unit of study is important because "as more and more people migrate to America, more and more Hispanic heritage is bring brought. We need to learn about others, so we know how to take care of everyone's needs, not just our own."
That's exactly what Rios hopes her students gain from her music instruction. "You see the world right now and its lack of empathy. If I can't help my students get in touch with that part of their humanity, then I've failed. All our hope and our brilliance has to be grounded in the arts and the compassion for others. How else are we going to express those ideas and think of solutions that include everybody, not just a few?"
Article originally published by Tallahassee Democrat on November 5th, 2019