We're on a mission to see lives enriched by the power of high-quality teaching resources in the hands of great educators. Our evidence-based approach yields positive impacts on teacher job satisfaction, student engagement, retention, and behavior. Read on to learn more about the impact of QuaverEd solutions on teachers and students around the world.
---
External research and qualitative surveys inform our development.
Our music-powered resources unlock student emotion and lead to incredible results across subject areas.
Digital delivery and customization tools empower teachers to differentiate content to all students.
Backed by Data
National Survey Results
To ensure our resources remain relevant to our customers, we regularly seek out and respond to feedback from the teachers and students using our resources. An anonymous survey of 2,364 teachers shows the positive impact Quaver resources are having in their schools.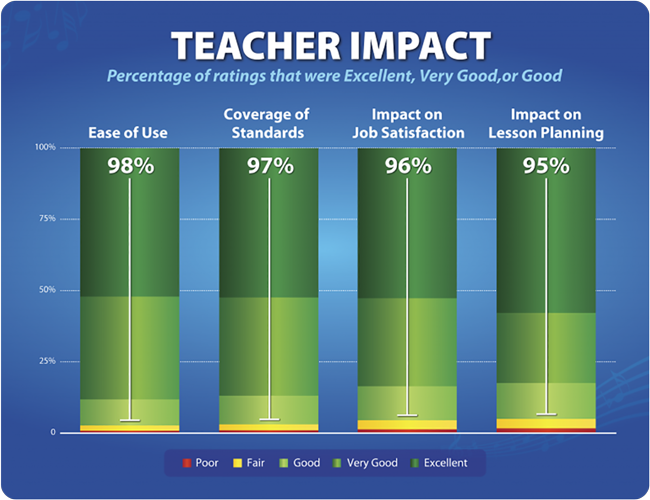 Teachers found the online curriculum resources were very easy to use, seamlessly covered standards, vastly increased their job satisfaction, and saved them considerable time in lesson planning.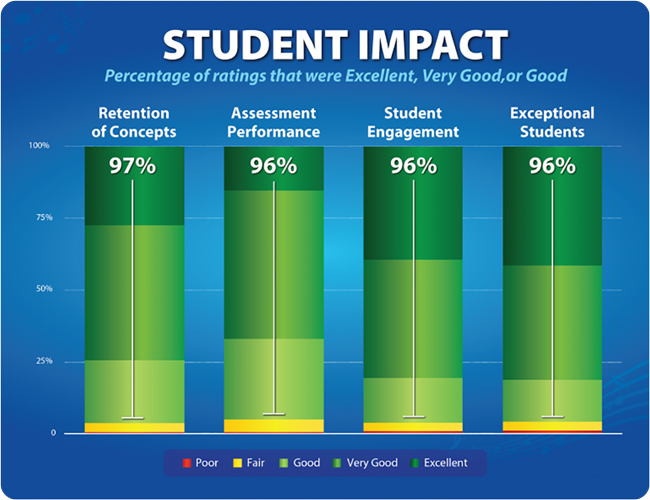 For students, more than 97% of teachers surveyed reported an increase in concept retention, assessment performance, engagement, and positive impact on exceptional students.
---
The Benefits of Music Education
Research shows an incredible tie between quality music education and success in and out of the classroom. These stats, along with ongoing research, drive our curriculum resource development:
Students of music perform better on standardized tests. Research from The College Entrance Examination Board found that students involved in public school music programs scored 107 points higher on the SAT's than students with no participation. (The College Board, 2002)
Graduation rates soar alongside participation in music. According to a Harris Interactive poll, schools with music programs have an estimated 90.2% graduation rate and 93.9% attendance rate compared to schools without music education, which average 72.9% graduation and 84.9% attendance. (Harris Interactive, 2006)
Music reaches all student groups. In fact, experts say students of color do better in school, have higher graduation rates and a better chance of getting into college when exposed to music education on an ongoing basis throughout their K-12 education. (Children's Music Workshop)
---
Powered by Emotion
Unlocking Student Engagement
QuaverEd resources are all supported by a deep understanding of the power of music as a catalyst for learning. Music, humor, storytelling, and movement are all time-tested ways to engage with students on an emotional level.
When students are engaged emotionally, they are ready to learn.
This connection to the emotional cortex of the brain is why music is so powerful and such an integral part of our teaching approach.
Connecting Across Curricula
Quaver lessons use music to connect to grade-appropriate concepts in academic, social, and emotional arenas and provide ample opportunities for classroom teachers to connect their lessons to musical concepts as well.
Academic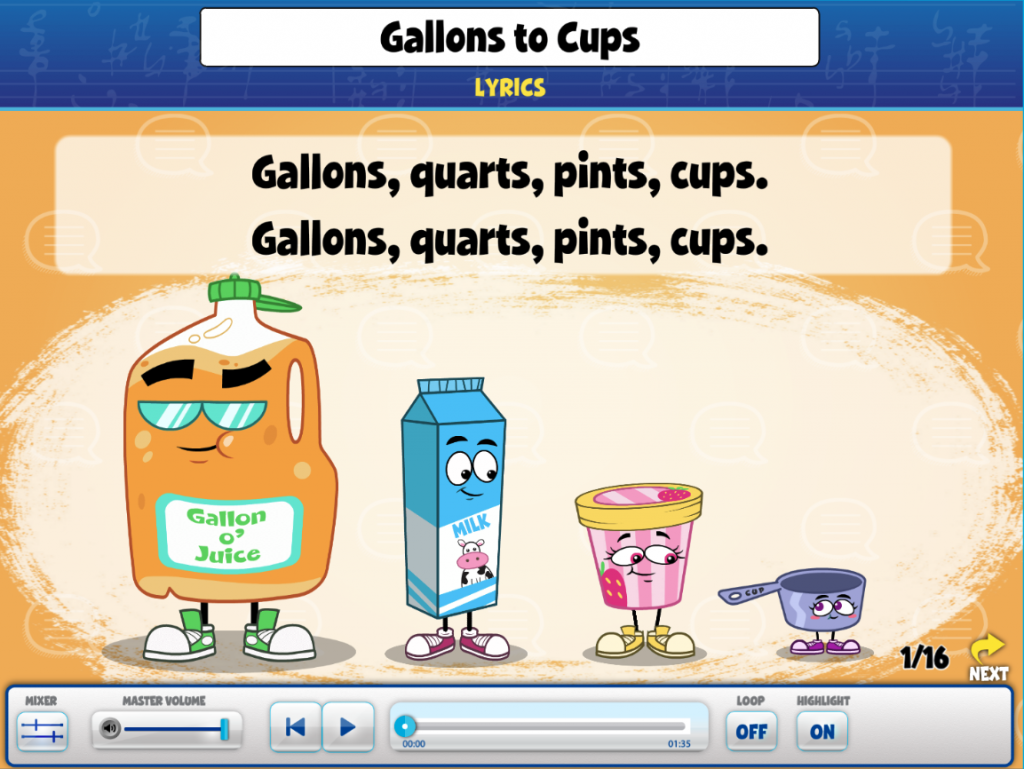 Memorable songs provided valuable opportunities to increase retention of key academic concepts.
Social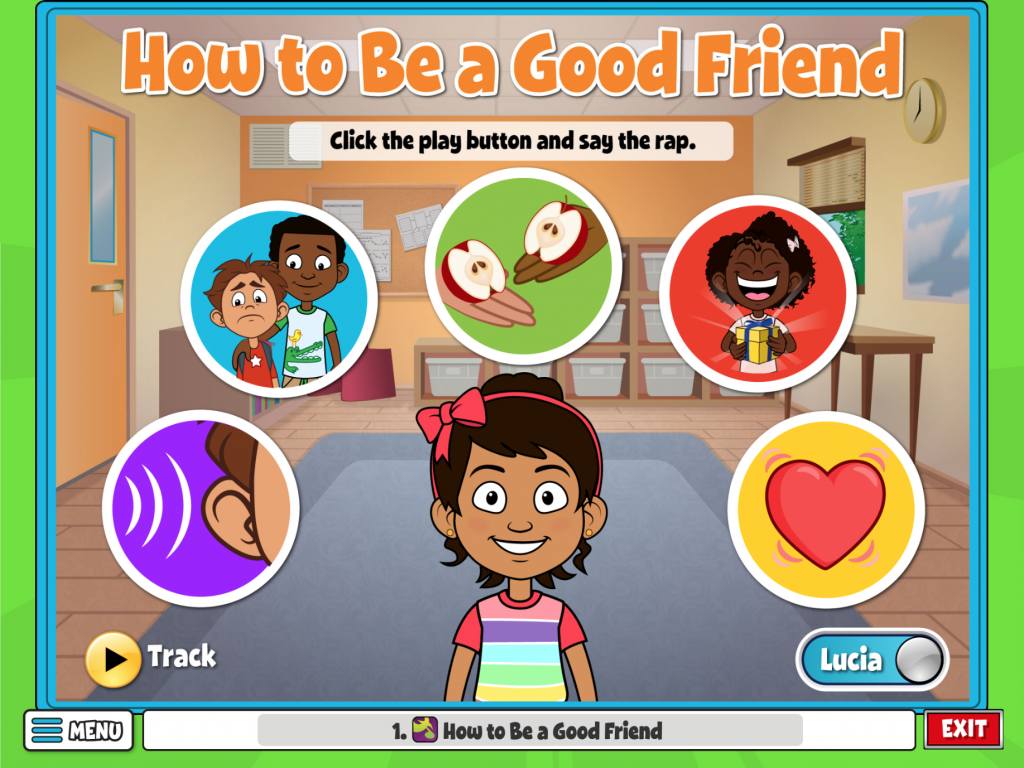 A variety of social learning structures encourage development of social competencies.
Emotional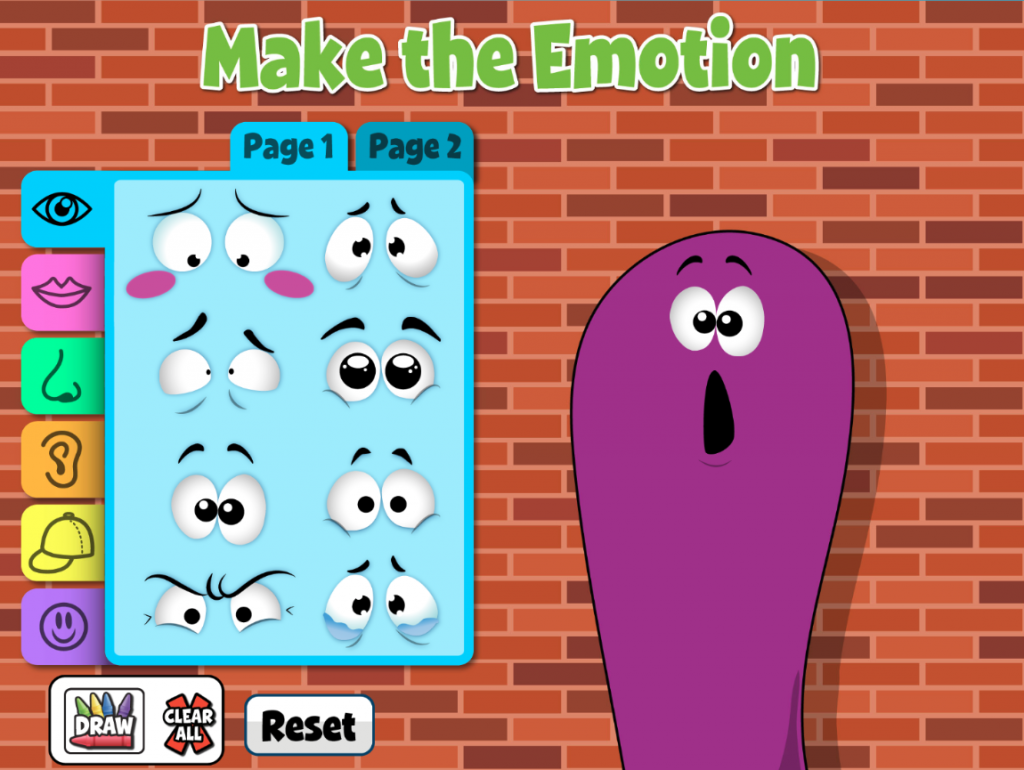 Interactive resources invite students to express their personal opinions and emotions.
Maps of cross-curricular connections to math, literacy, science, geography, and more are also provided at each grade level.
---
Accessible to All Students
Student Learning Styles
Whether in the classroom or at home, Quaver resources provide visual, aural, kinesthetic, and group learning opportunities to address multiple student learning styles.
Visual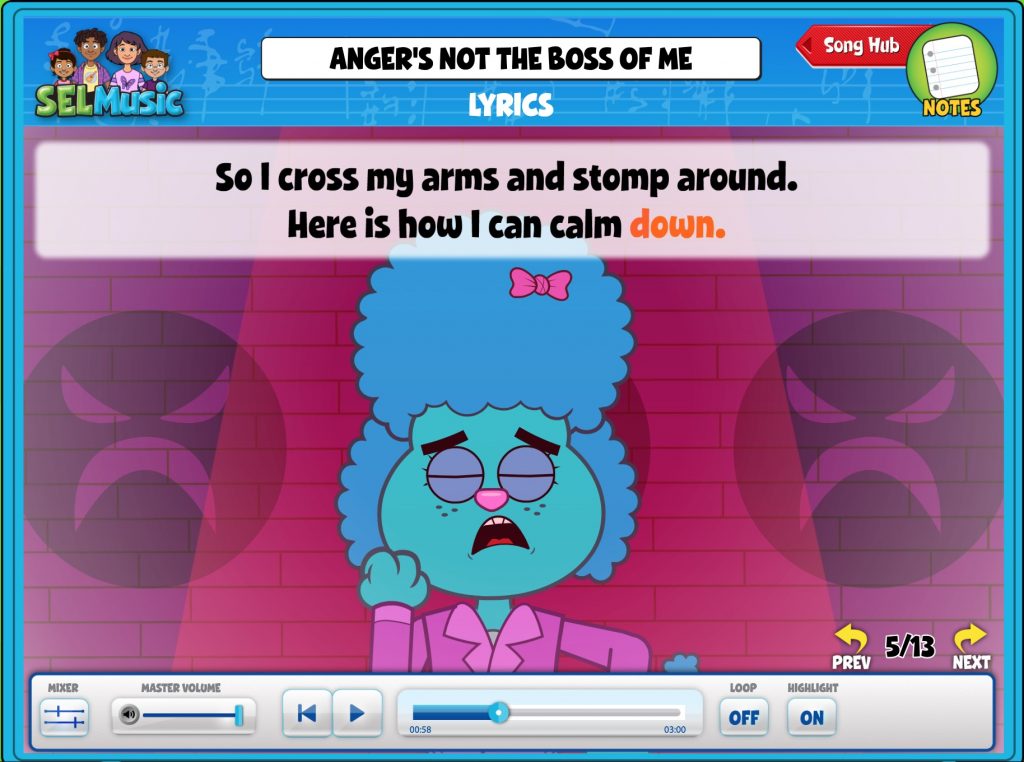 Engaging graphics and highlighted key terms engage students visually.
Aural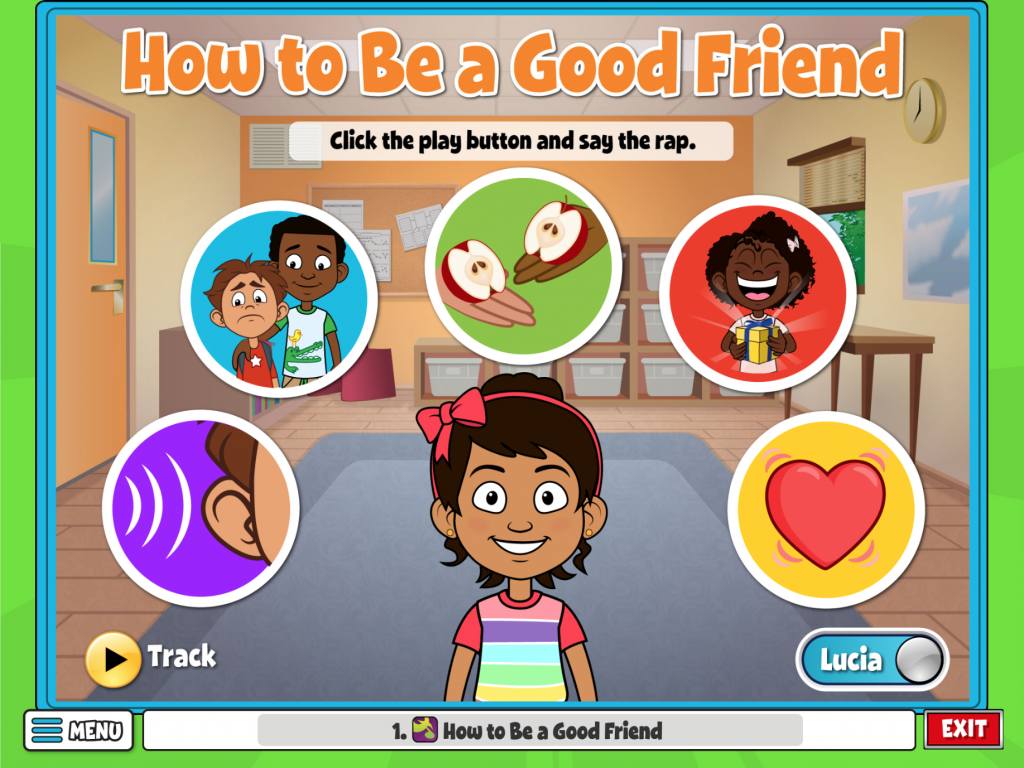 Audio instructions accompany high-quality song tracks to give teachers and students options when it comes to recordings.
Kinesthetic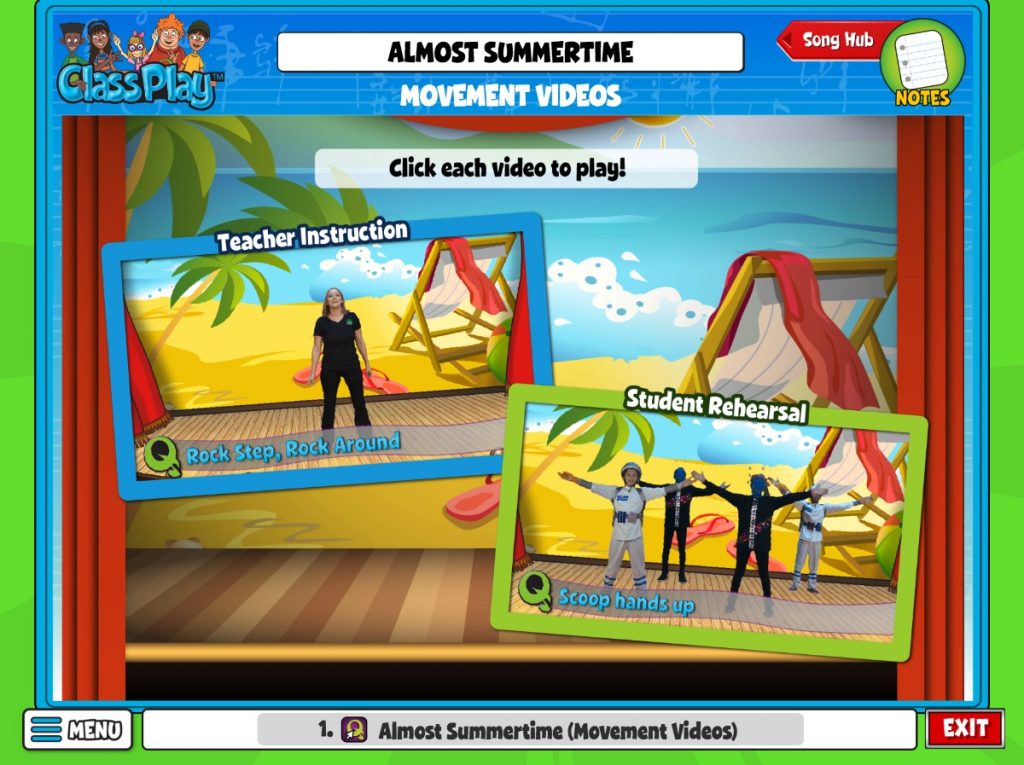 Movement activities help promote physical activity, improvisation, creativity, coordination, and a tangible connection to concepts.
Differentiation
Teachers can differentiate instruction in the classroom to support students at varying proficiency levels. Varied instruction, leveled interactivity, and student-led exploration can be used to challenge more proficient students.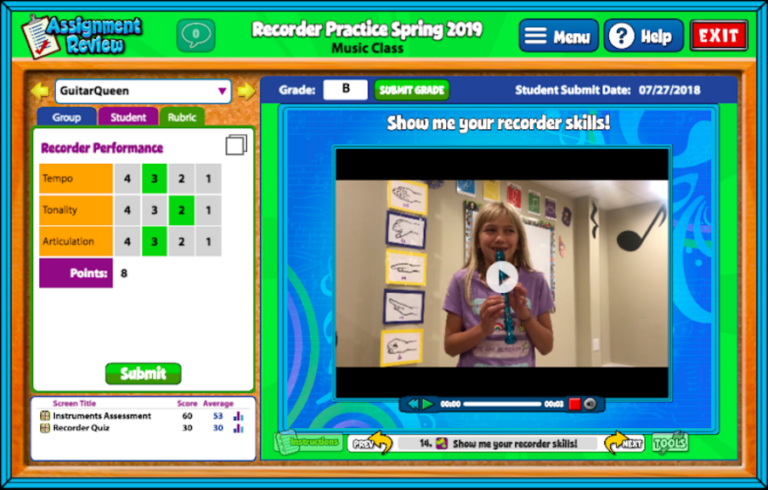 Blended and Personalized Learning is easy to implement because students can use any device to access their assignments and Student Interactives. Students can communicate with the teacher via messaging or video uploads. Parents can be engaged with access to resources at home and communicate with the teacher if needed.
---
EL Support
All Quaver Resources include supports for EL students. Access to technology and computer-assisted learning can be effective in engaging ELs' motivation, developing writing, and editing skills.
Highlighting Lyrics
To improve comprehension, song lyrics are highlighted as the lyric is sung.
Animated Lyrics pages allow teachers and students to follow along with the highlighted text or preview songs.
Primary Lyrics found in the Pre-K resources support repeated text through simplified lyrics screens and visuals.
Comprehension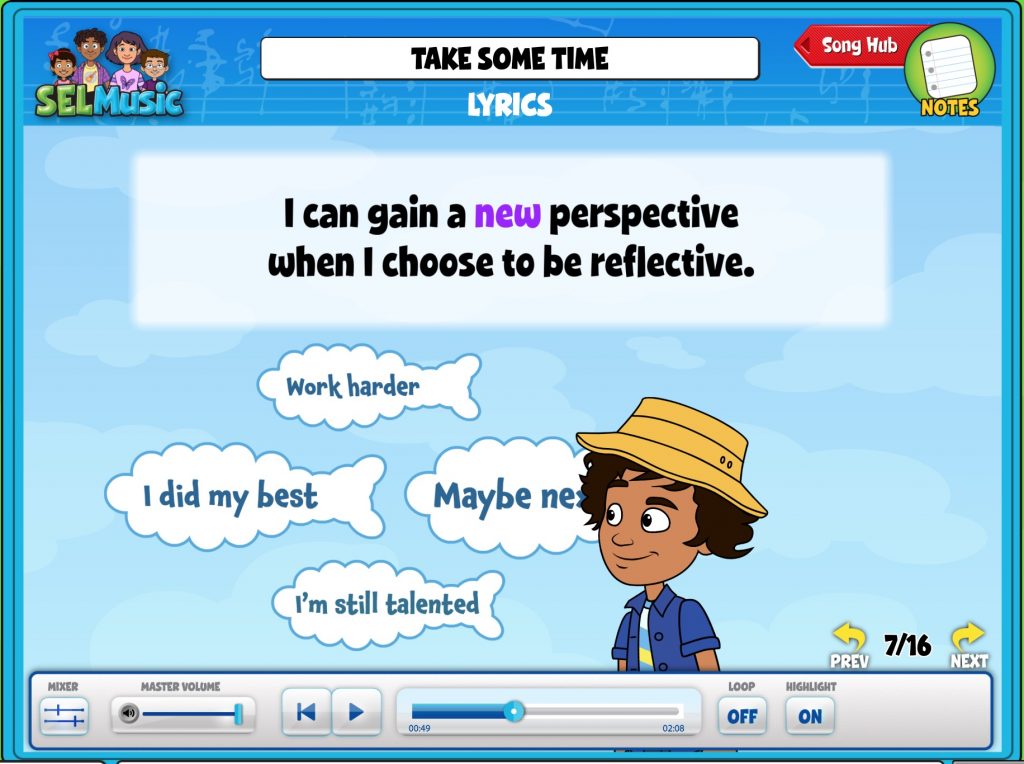 Quaver uses videos and animations to accelerate the learning of new words through a reinforcing multi-media approach.
Lessons use appropriate vocabulary for each grade level, so ELs are not required to learn above what is expected in a particular grade.
---
Questions? Want to learn more?