Quaver teachers can create a custom quiz to add to any assignment or lesson.
Read on to learn more!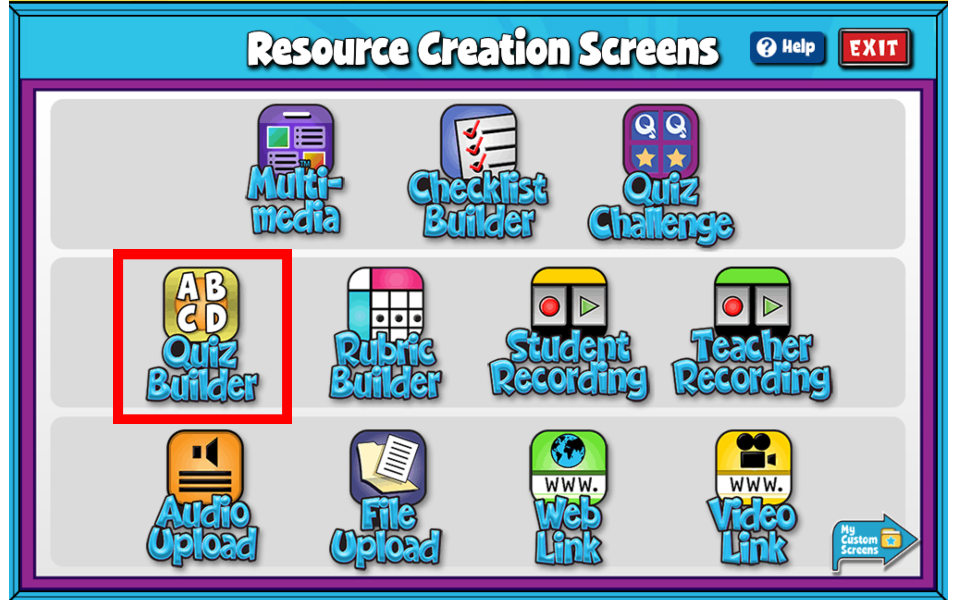 Quiz Builder Features
Give your screen a title by clicking the box labeled "Type Your Screen Title Here." Click Enter to save.
Click the gray +ADD NEW button at the bottom of the Quiz Builder to create a question from scratch.
Drag-and-Drop questions to re-arrange their order.
Add/Edit Notes: Using the add/edit notes icon, you can add custom notes to any quiz builder screen.
Quiz Question Bank
To the left you'll find the Quaver Quiz Bank. These are easy to filter, search, and use right away. You can also auto-build a quiz here based on any grade level or keyword. Another great time-saving tool!
Question Bank:
Click Search Quiz Bank to search more than 2,500 pre-made questions to add to your custom quiz.
Enter any keyword in the Add Keyword field to search for pre-made questions. Click Add to add multiple keywords to your filter. Once ready to search simply click enter.
Select Grade dropdown to filter by Grade.
When you're ready to add it a question to your quiz drag and drop your question over to the right.
Auto-Build a quiz:
For even more speedy quiz making, try our automation option!
Click AUTO-BUILD to randomly generate questions from the search criteria you already selected.
Using auto-build, you can generate anywhere from 1-30 questions.
Click the blue + or – icons to add or subtract from the amount of questions you'd like your quiz to include.
Auto-build is most useful when broadly assessing a concept.
How will your Quiz Builder look once complete?
To view your screen, head to your My Custom Screens folder in Resource Manager. This screen will remain in this folder ready to be added to a custom lesson or assignment at any time.