As an online curriculum platform, QuaverMusic is always growing!
Content and functionality are updated regularly at no cost to licensed users. New resources and tools are fueled by feedback from teachers and students using the program around the world.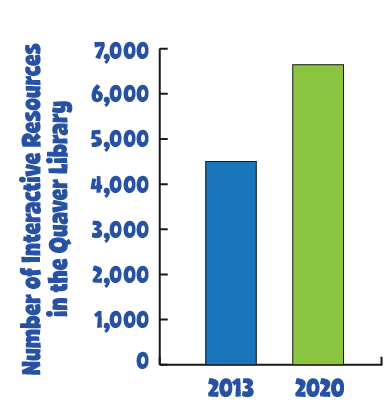 Since 2013, we have added more than 2,100 teaching resources to the Quaver library. This includes over 100 new ClassPlay songs, 166 complete lessons, and more than 1,000 interactive screens–not to mention a few beloved characters.
2013 – Perry the Sheep makes his debut!
2014 – New Release: Project-based resources for grades 6-8
2016 – Added: 60 new songs including modern and music from around the world
2016 – New Release: 38 Song-Based Lessons
2017 – Added: Resources for Pre-K Music
2018 – Added: 40 new songs including Choral Resources
2019 – Added: SEL songs including "You-Nique!"
2020 – Added: Multi-lesson banjo and spoons projects developed in collaboration with the National Museum of African American Music
In addition to new content, the functionality of the Quaver platform has continued to grow! Since 2013, we have added a number of customization options and enhancements so you can continue to do what you do best—teach!
2016
Key and Tempo options added to Full Score activities
Curriculum resources now deliverable to students in the form of Assignments


Single Sign-On and Rostering integrations now available
Teachers can now edit and print Custom Lesson Plans

2017
Custom Curriculum Builder launches for personal or district use
2018
Quaver GradeBook now includes Attendance options
Curriculum resources now available without the use of Adobe Flash
Custom Assignments and Rubrics added to Resource Creation toolbox
Teacher and Student Record Screens added to Resource Creation toolbox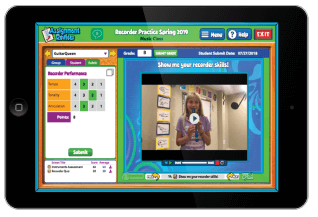 2019
Resource Manager enhancements include a Topic Index view!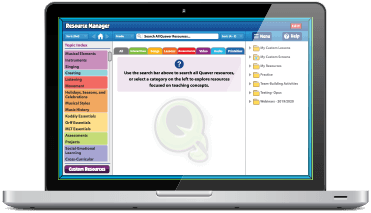 2020
New customization options added including interactive Quiz Challenge Games
Enhancements to support distance teaching and learning include resource sharing with a single link, video instructions for asynchronous learning, and more!
What's Next for QuaverMusic?
We don't plan on stopping here! We have a number of exciting resources on the horizon that will be added to QuaverMusic Curriculum resources, at no additional charge to licensed users. Some of these updates include:
Movement project
More resources that emphasize female composers and composers of color
Songs and resources inspired by the Freedom Songs Movement and Civil Rights Movement
New Music and Resources from Brazil, Cuba, and India
Additional ClassPlay songs – New Folk Songs – Lyrics Pages, Animated Scores, and Supplemental Resources
New customization options
And much more!