These past few months have presented a new challenge for many teachers: how can I connect with my students at home? One of the ways that teachers can continue to make important connections with students is through video. You don't need to go to film school to make engaging, quality videos that reach and teach your students.
Today, Quaver teacher and YouTuber Brian Gossard shares his best tips and tricks for creating amazing videos for your students.
We're excited that Brian will also be joining us at QuaverCon! Brian will be sharing his distance teaching tips on Wednesday, July 22 at 10:30 a.m Central for "Success Stories with Distance Teaching."
Take it away, Brian!
***
Distance teaching can be as intimidating for teachers as it is for our students! This is especially true when it comes to communicating with students via video, a platform many of us didn't learn about in our music ed programs. Whether it's a simple Zoom call or an entire video lesson, the challenge of becoming video creators overnight has pushed a lot of us out of our comfort zone.
Today, I'd like to share five simple ways you can take your distance learning videos from amateurish to amazing!
Let me introduce myself. I'm a Quaver teacher just like you and a self-taught video creator. Like Quaver, I make educational videos to reach my students, and I share them on YouTube for other teachers to use.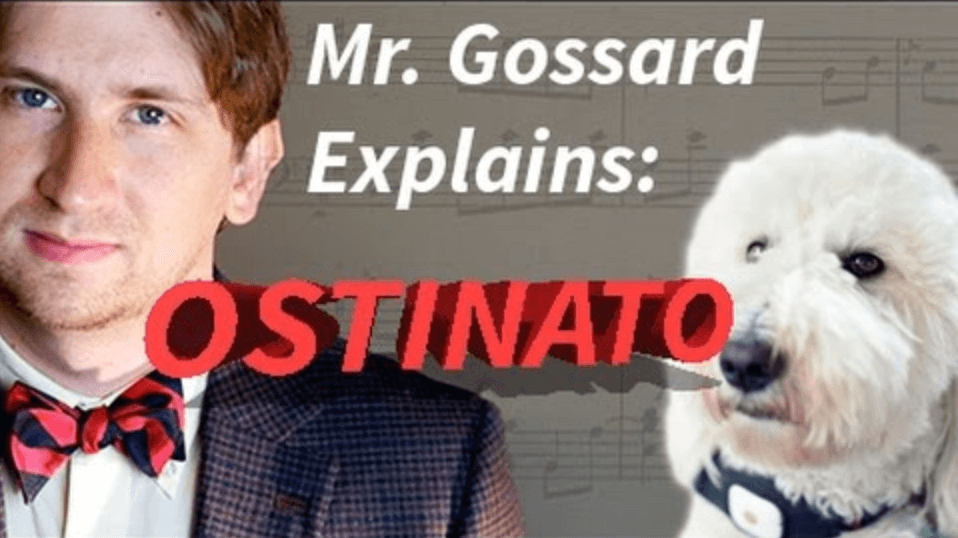 I've learned a lot over the years and especially in the last few months. Today I want to share some of that with you.
In fact, I'm sharing more of my story at QuaverCon this year. I hope you'll join me there and use these five easy tips to get started on your own journey to video teaching success.
Let There be Light
As teachers, we want our videos to look professional. Good light is, without a doubt, the fastest to achieve a professional look. But, what exactly is "good light" and where do we find it?
In the video below, I explain what makes light "good" or "bad" and how to use natural light to make your videos shine.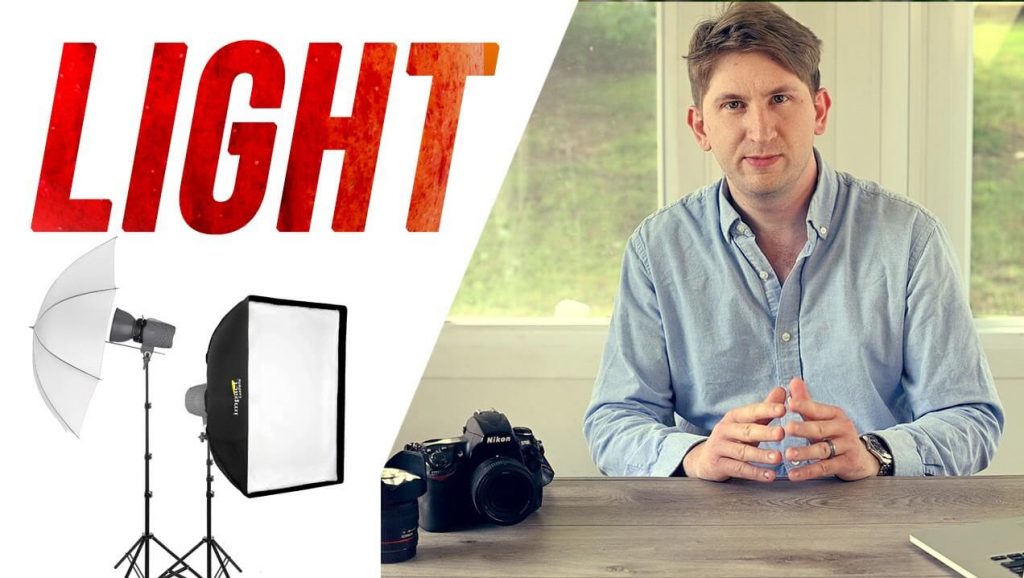 (From: "How to Make Beautiful Video Lessons: A Teachers Guide".)
While natural light is beautiful, it's not always practical. As teachers, we often need to make videos when the sun is not available or behaving the way we'd like. Your first thought might be to reach for the light switch, but I would caution you against that. Household lighting, while fine for everyday use, doesn't translate well to video. It tends to create an odd color cast and may even flicker depending on the bulb.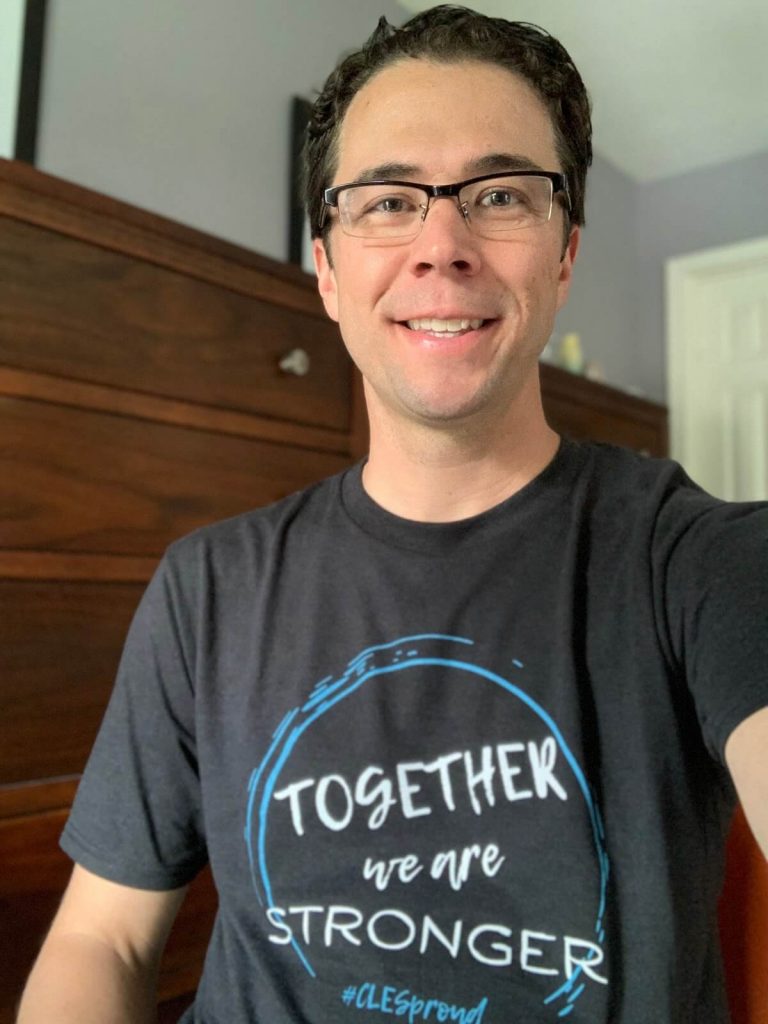 Window Light (very flattering!)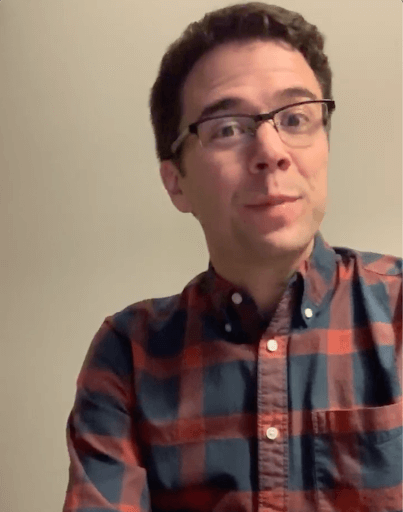 Household Light (not the best for video)
The images above are both from my co-teacher Seth. It's easy to see how beautiful window light is, but the trouble is it's not always practical. For starters, it's only available certain times of the day. As professionals we really need a dependable solution.
Fortunately that solution is easy to use and inexpensive. It's called a softbox.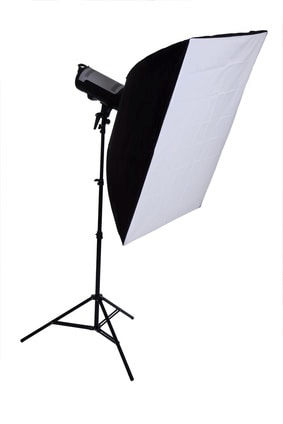 Softboxes are lights surrounded by a reflective box and diffusing panel in front. This diffusing panel breaks up the light rays allowing it to cast soft even shadows. Basically, everyone looks good in front of a softbox. It's almost impossible to use one wrong. If you're looking for a single thing you can do to vastly improve the quality of your videos, this is it. I can't overstate how useful they are. Please do yourself a favor and consider getting one! I use them in my videos and they make a huge difference! The best part is they are inexpensive. You can get great results with a 50 dollar softbox from Amazon!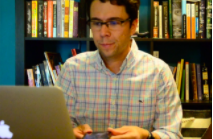 Available Light Only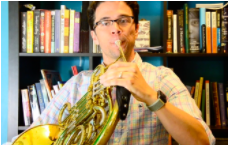 Softbox
Context Matters
When tasked with making a video for your students, your first thought might be to clear away everything. While removing clutter is good, I find teachers often go too far and remove context entirely. How many times have you seen a teaching video like this, with a teacher in front of a plain white wall?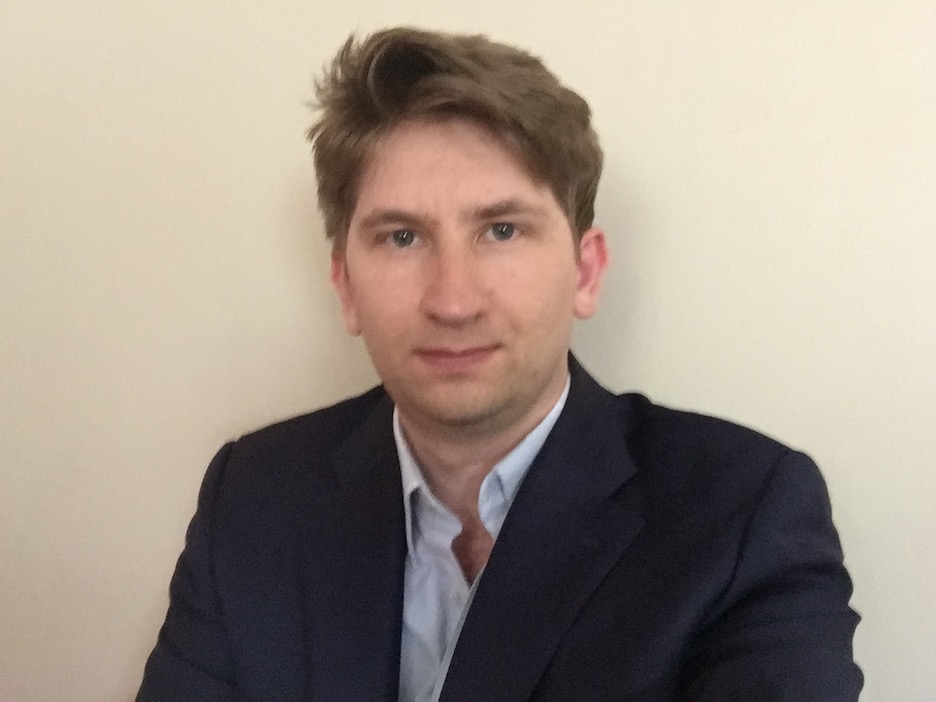 No Context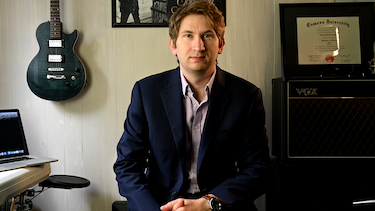 Much Better!
In some ways, this unnatural setting is more distracting than the clutter the teacher was trying to eliminate in the first place. In reality, we would never welcome our students into a vacant landscape like this. While removing clutter is a noble pursuit, putting ourselves in context is the same thing as decorating our classroom in school. To do this, the first thing you might consider is finding an area of your house where you have access to good lighting (perhaps near a window) and limited disruptions. Next, you might consider putting the same sort of things around you that you would have in your classroom, or even having objects nearby that lend credibility to you as a musician, like my amplifiers and guitars. Bottom line: teaching is storytelling. Use your surroundings to support that story.
Sound Advice
Clear, natural sounding audio is one of the easiest ways to give your videos that "professional" feel. It's especially important for us as teachers because the microphone is how our students hear us. The problem is most people just use the microphone built into their camera or smartphone. By their very nature, those mics will always sound thin and unnatural. Again, we're professionals so we need a professional solution. With so many microphones out there, which one should we choose? In the video below I compare three of the most common microphone types and give examples of each.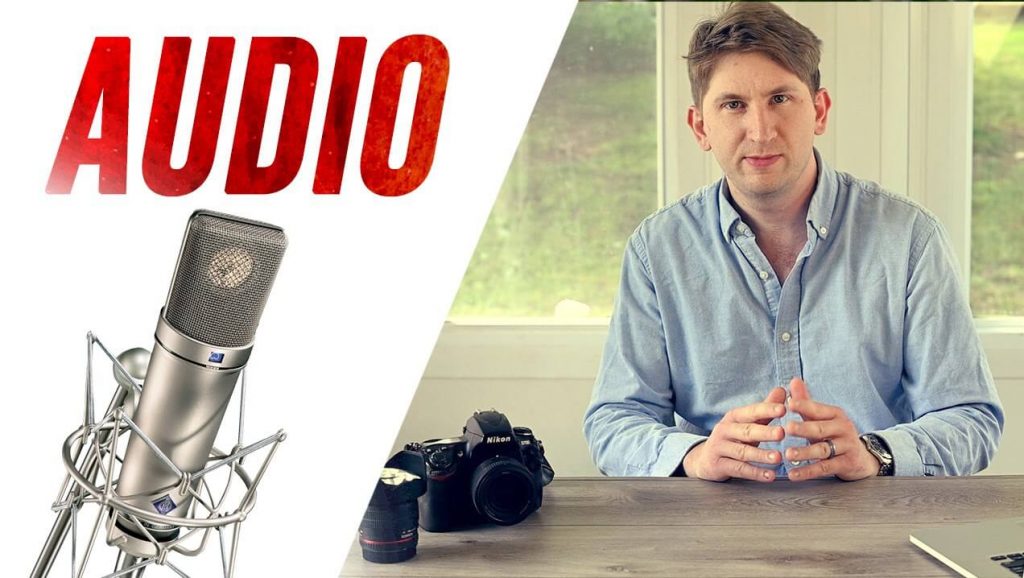 (From: "How to Make Beautiful Video Lessons: A Teachers Guide".)
Whichever microphone you choose, (whether the Lav, Shotgun or the Large Diaphragm) it will be a huge improvement over your camera's built-in mic. Your students will notice the difference.
Go Green
After you have your lighting and sound sorted out, it's time to start having some fun. One of the most fun ways I've engaged with my students through distance learning is with Green Screen. Best of all, Green Screen is both inexpensive and beginner friendly!
Check out the video below where I walk you through everything and show how easy it is to get started.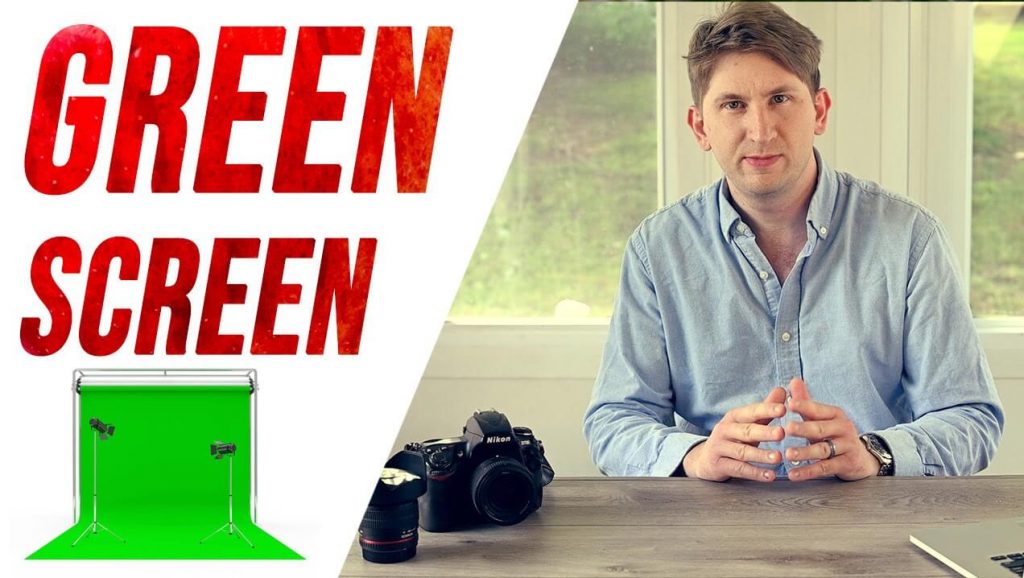 (From: "How to Make Beautiful Video Lessons: A Teachers Guide".)
My co-teacher and I used green screen to tell all sorts of fun stories. We treated our weekly "welcome" videos as sort of a TV show and used the story to grab the kids attention. We were amazed at how many students and parents wrote to us to tell us how they enjoyed the videos and how excited they were to do the lessons that went with them.
If you want to see what we got up to with Green Screen, you can view those videos here.
Be Yourself and Keep It Fun!
Some of the most useful advice I received as a young teacher was simply to be myself. Students can smell phony from a mile away but they love to see a teacher being themselves. I've done a lot of crazy things to help my students experience the same love for music that I have. Whether it's dressing as Handel and having a Rap Battle with Mozart or putting a gold chain on my dog and singing about Ostinato – the aim was always to keep it fun. Teaching videos can easily come across as robotic and fake. It's so important to let our students see us as people. Have fun and be you! You're the only one who can.
Creativity Wins Every Time: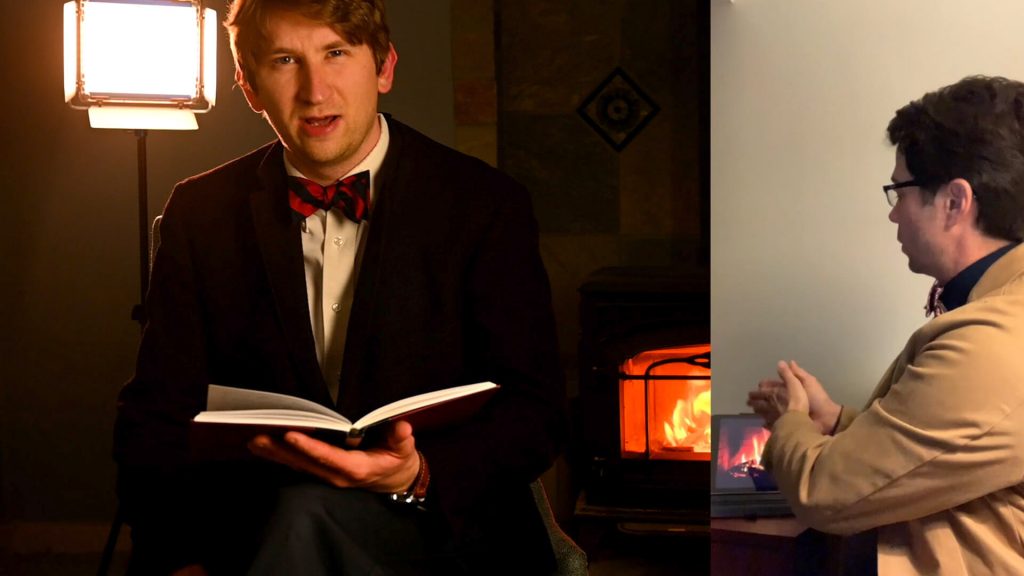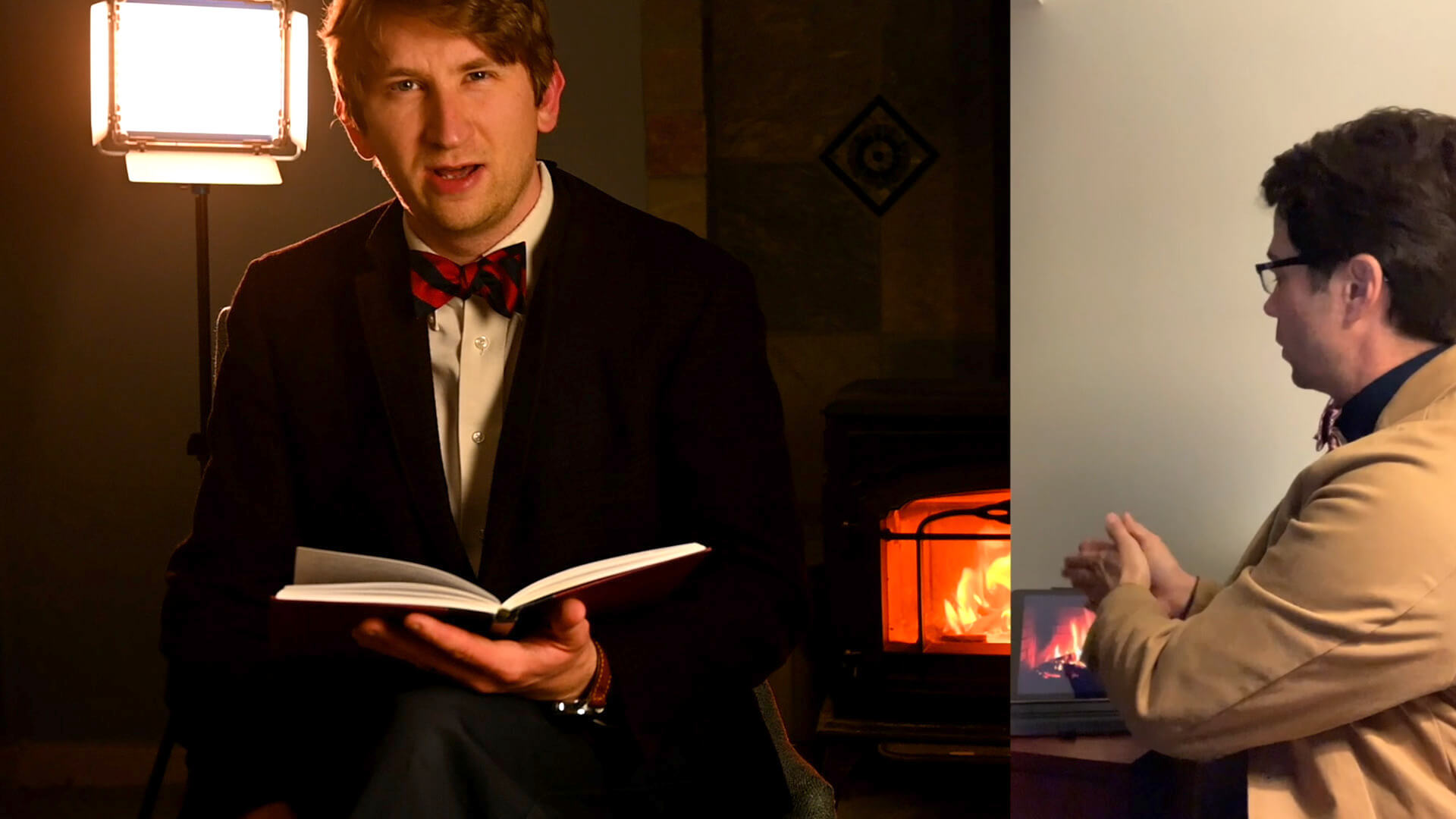 My elaborate lighting setup was bested by my co-teacher's creativity and humor!
Don't feel limited by your experience or equipment. My co-teacher perfectly underscored this point in a storytime video we filmed together. I wanted it to look like a pretentious "Masterpiece Theatre" style show with me sitting in front of the fireplace. To do this I used multiple lights and got very fancy. Seth, my co-teacher didn't have access to everything I did, but still managed to upstage me by simply turning on his iPad, opening to a video of a fireplace and pretending to warm his hands. It was so silly, and so very much him that it was even better than what I went to great lengths to set up. It doesn't matter how much equipment or experience you have. There's no substitute for personality. Whatever yours is – let it shine.
Want to Know More?
Subscribe to me on YouTube. I post lots of free educational videos that you can use with your students.
Dig Deeper with Me on SkillShare!
A lot of the information in this article comes directly from my course "How to Make Beautiful Distance Learning Videos: A Teachers Guide". This course is geared specifically for teachers who want to learn to make great looking distance learning videos. I put a lot of time into making sure it's accessible to all ability levels so I would love for you to give it a look.
***