Each week, we highlight one of the core CASEL competencies and a sub-competency. Today, we're diving into one of CASEL's core competencies, relationship skills, and a lesson that focuses on the importance of difficult conversations.
Let's dive in!
Communication is a vital part of any relationship and this includes the importance of having difficult conversations. When we are able to be vulnerable and open with others, it strengthens our relationships and prevents misunderstanding.
The following lesson, Having Difficult Conversations, can be found in Lesson 19 in the 5th Grade curriculum.
The purpose of this lesson is for students to explore the importance of having conversations with others when there is a disagreement or when feelings have been hurt.
Learn how to assign this lesson to students at home.
Topic Discussion
The Topic Discussion provides an opportunity to explore students' prior knowledge and to prepare them for the upcoming lesson.
This lesson will address topics such as:
How can talking about a disagreement be helpful?
How do you stay calm in a difficult conversation?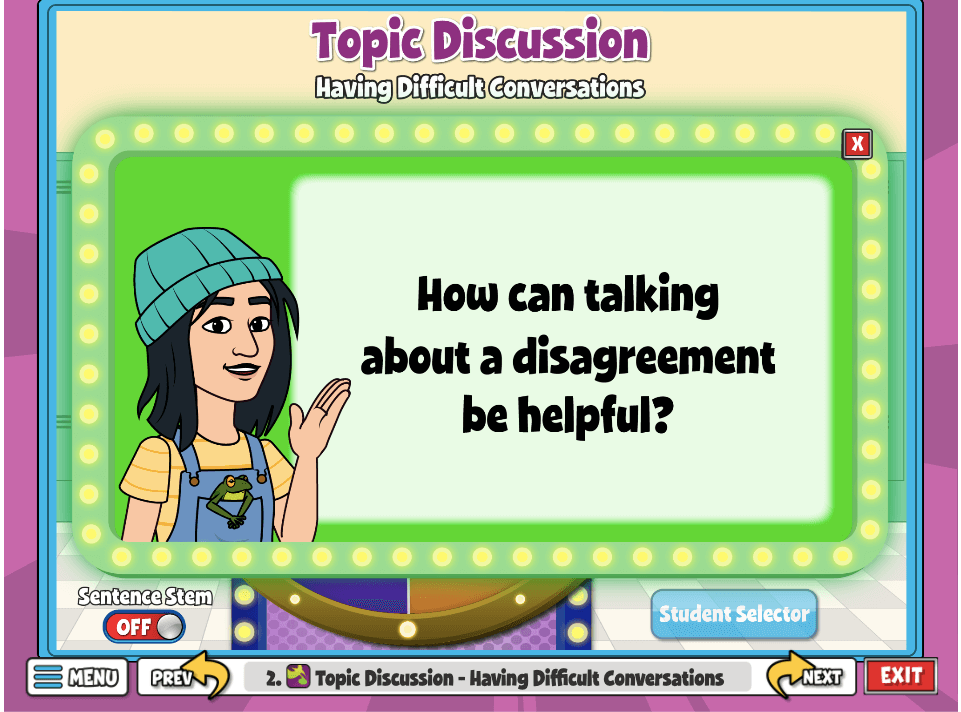 Lesson Mindset
The Lesson Mindset screen reinforces the theme of the lesson: the importance of talking to each other, even when it's difficult.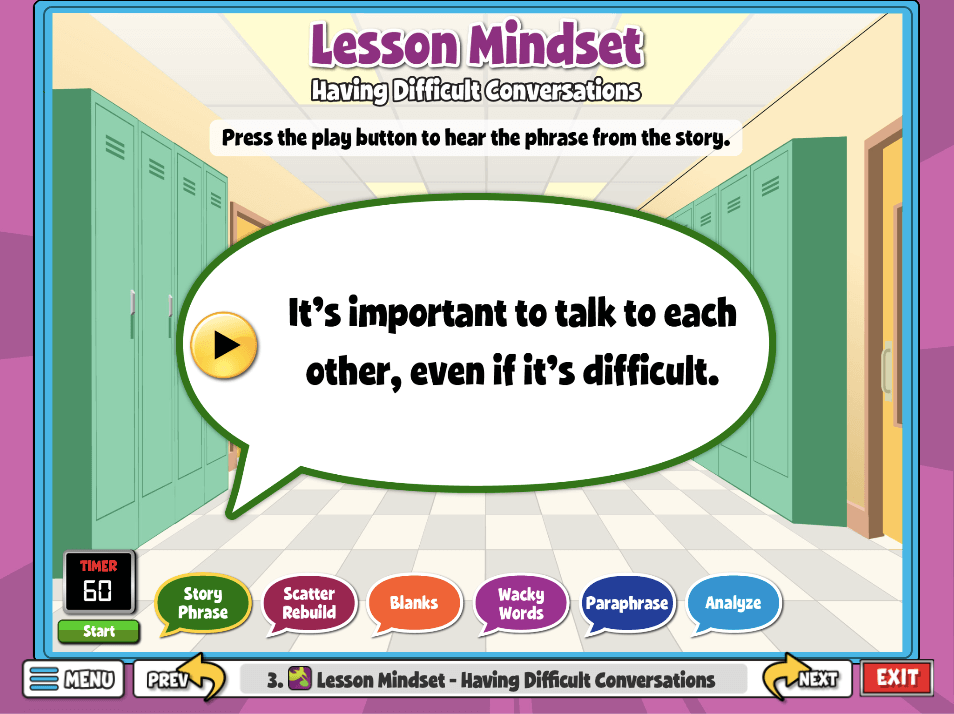 Student can click the speech bubble buttons at the bottom of the screen for a variety of activities reinforcing the learning of the phrase.
Chester's Difficult Conversation
This story reinforces the theme of learning the importance of having conversations, even when they are difficult.
The story introduces Chester, who is having a misunderstanding with a friend at school.
Click the play button to hear the story of the difficult conversation that Chester had to have with a friend and how even though the conversation was hard, it ultimately had a good outcome.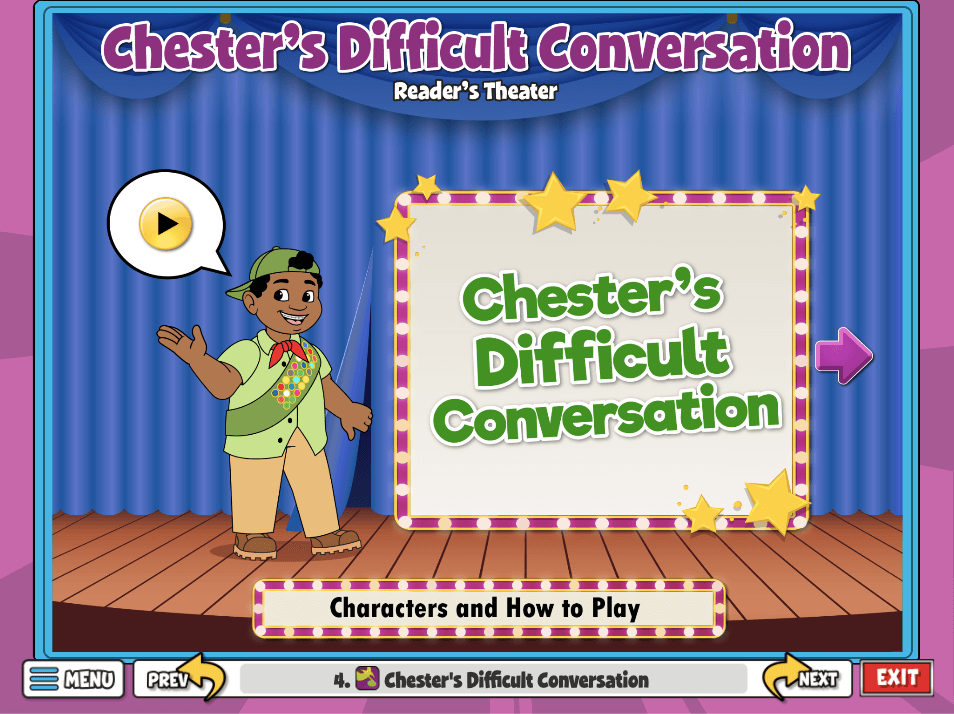 Analyze the Story: Chester's Difficult Conversation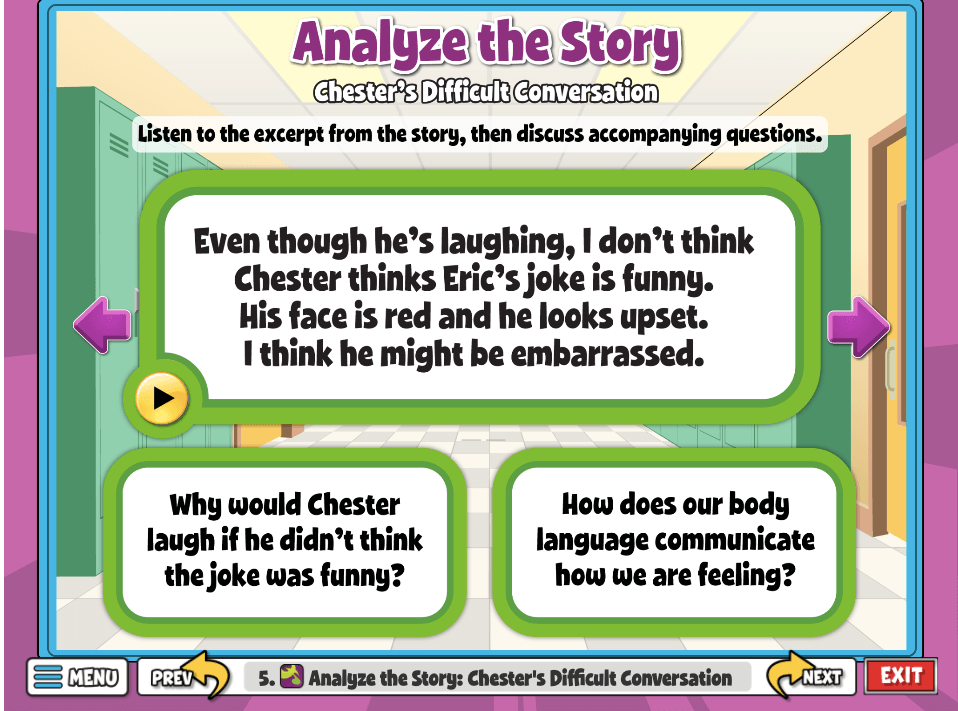 Invite students to reflect on the story they heard in the previous activity and reflect on the given questions.
Students will listen to an excerpt from the story and discuss the accompanying questions.
This activity includes questions such as:
How does our body language communicate how we are feeling?
How could the situation have been better if Chester had talked to Eric in the first place?
Steps to Talk
In this activity, students will look at the five steps to having a difficult conversation.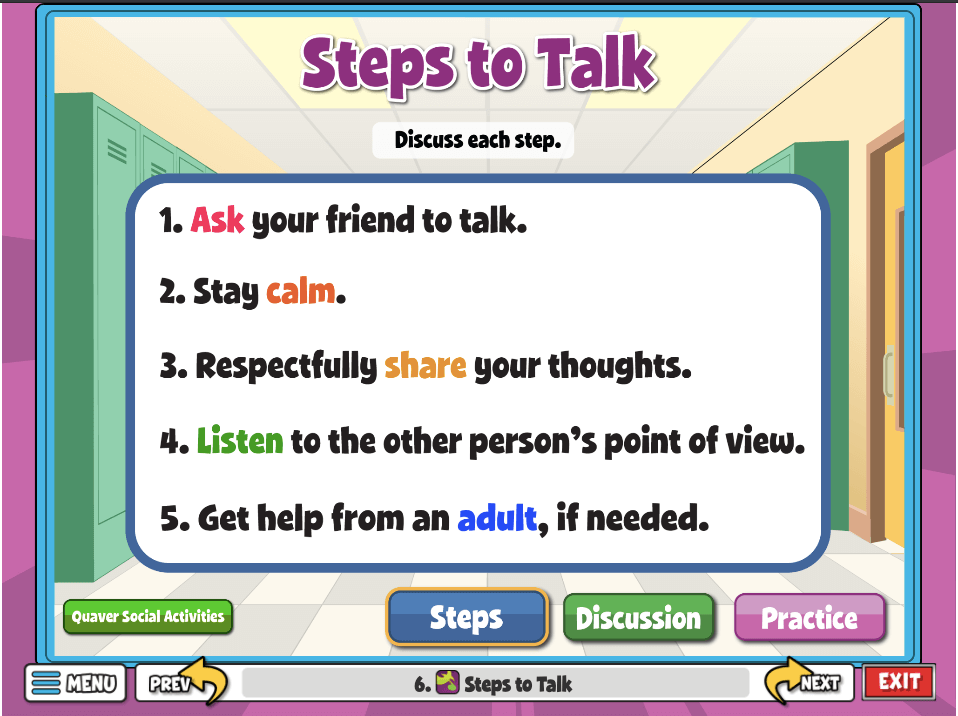 Clicking DISCUSSION to listen to another scenario with Chester and a friend.
Chester and Holden have been friends for a long time. One day in the hallway, Chester overheard Holden telling some older kids that he only pretended to be friends with Chester. Chester assumed that Holden was only trying to seem cool, but it still really hurt his feelings. Chester feels nervous to talk to Holden about what he heard.
Then, reflect on the given questions. What might happen if Chester doesn't talk to Holden?
Select MENU and WORKSHEETS to download and print the worksheet "Steps to Talk." Here, students can reflect on a difficult conversation that they have had or need to have.
***
*Facing school closure due to COVID-19? Find tips on distance teaching and free, ready-to-use resources at QuaverEd.com