Each week, we highlight one of the core CASEL competencies and a sub-competency. Today, we're diving into one of CASEL's core competencies, relationship skills, and a lesson that focuses on empathy.
Let's dive in!
Now more than ever, empathy is an important relationship skill for both children and adults to possess.
The following lesson, Empathy in Action, can be found in Lesson 23 in the 5th Grade curriculum.
The purpose of this lesson is to explore examples of empathy in the world and learn how having empathy for others can have far-reaching effects. It also invites students to reflect on how they can turn their passions into action.
Learn how to assign this lesson to students at home.
Topic Discussion
The Topic Discussion provides an opportunity to explore students' prior knowledge and to prepare them for the upcoming lesson.
This lesson will address topics such as:
What does it mean to be passionate about something?
How can empathy ignite passion to help others?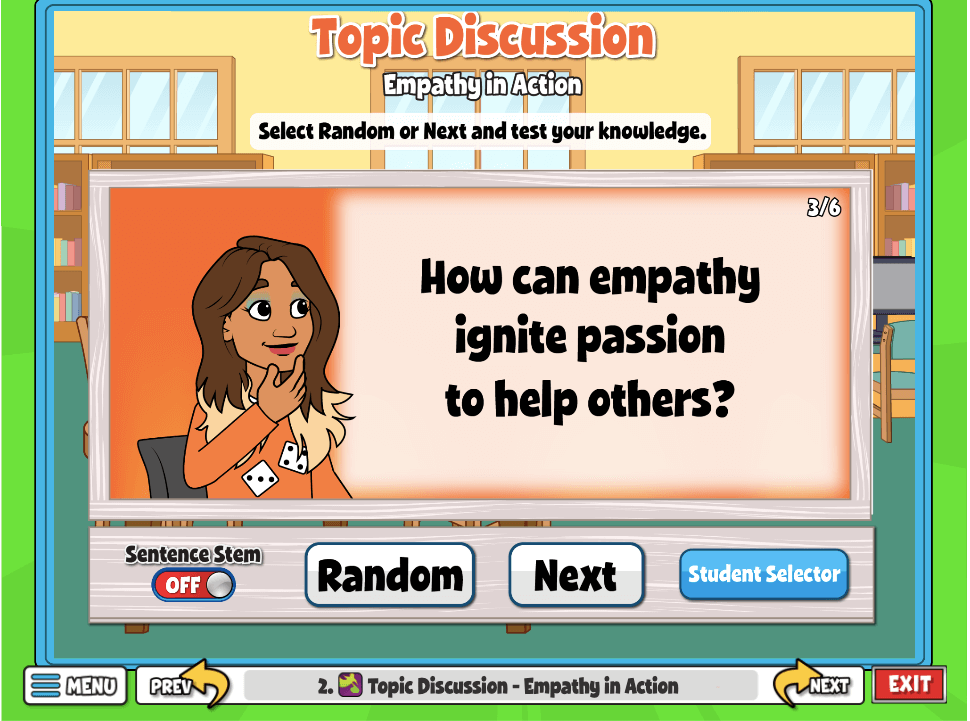 Lesson Mindset
The Lesson Mindset screen reinforces the theme of the lesson: putting empathy into action.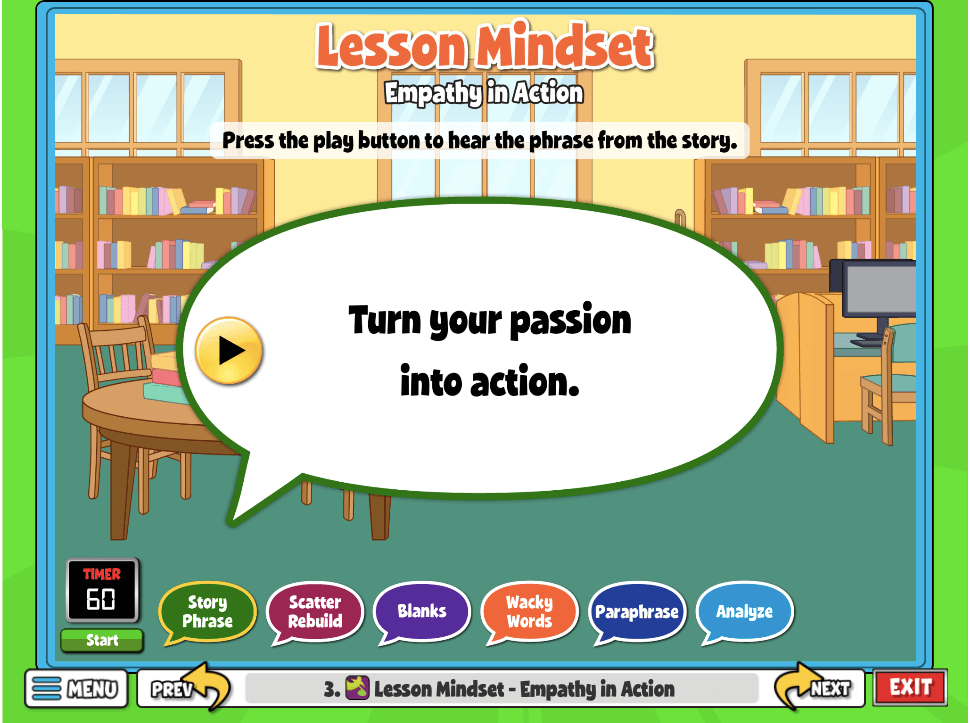 Student can click the speech bubble buttons at the bottom of the screen for a variety of activities reinforcing the learning of the phrase.
Examples of Empathy in Action
This screen reinforces the theme that people can make a difference when they put their passion into action.
Students can click each book to hear examples of people who helped other people or the planet by putting their passion and empathy into action, including Mother Teresa, Malala Yousafzai and more.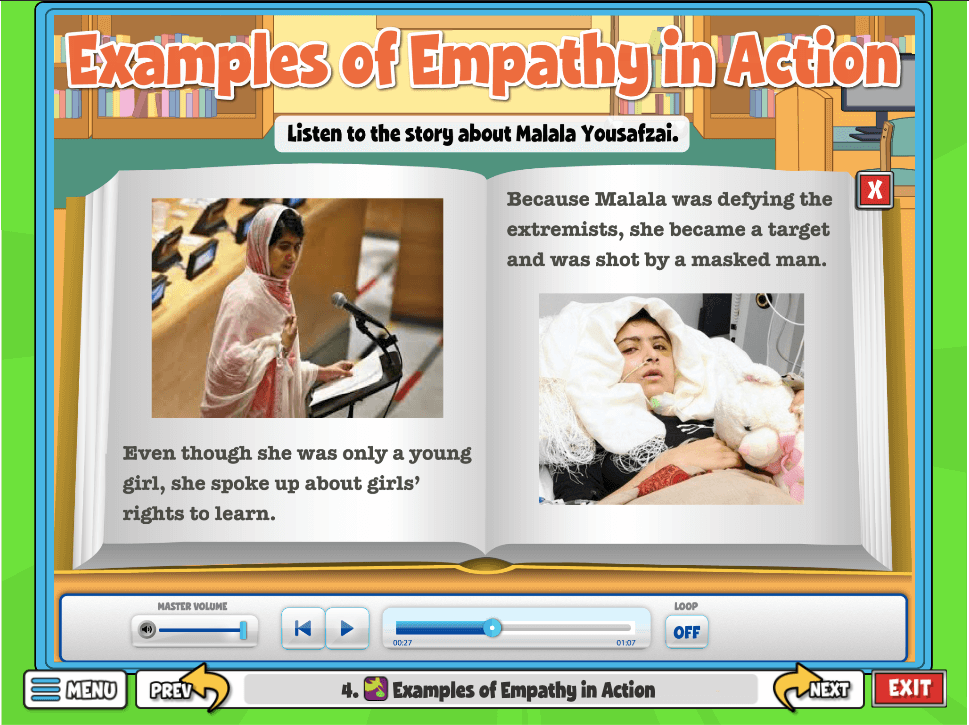 Exploring Empathy in Action
Invite students to reflect on the stories they heard in the previous activity and reflect on the given questions.
This activity includes questions such as:
How do you feel after hearing the stories about empathy in action?
What characteristics do the people in the stories have in common?
Put Your Passion into Action
In this activity, students can listen to a character named Zara talk about her own passions. Zara struggles to know how to put her passion in to action and reflects on the questions in the activity to help her know how to do that.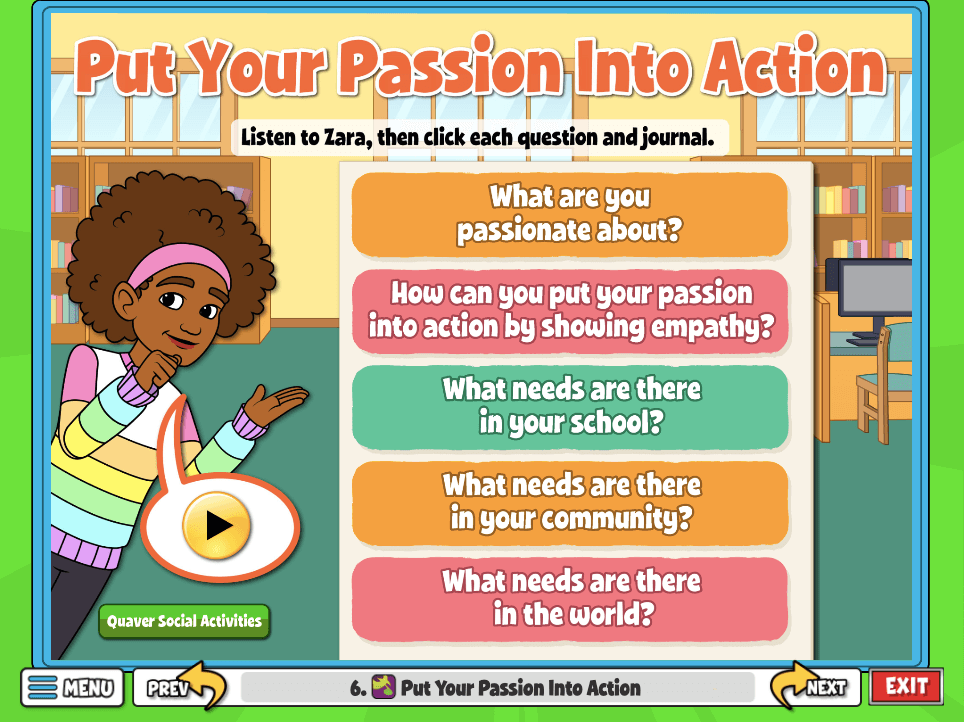 Students can then reflect on these questions to think about how to put their own passion for helping others into action.
Select MENU and WORKSHEETS to download and print the worksheet "Put Your Passion Into Action." Here, students can reflect on the questions on this screen and journal.
The World We See
You may also consider ending the lesson with a QuaverSEL original, "The World We See." This song can be found in the SELMusic library or on YouTube.
With "The World We See," put a focus on social awareness and how everyone has a unique perspective. How do our cultures, families, and experiences shape the world we see? How can knowing about each person's individual perspective allow us to feel empathy for them?
***
*Facing school closure due to COVID-19? Find tips on distance teaching and free, ready-to-use resources at QuaverEd.com