July 21-22, 2020
Attend from your laptop here!

Step 1
Make sure you are registered for the conference
Step 2
Sign in to the QuaverCon portal in Whova
Step 3
Select a session and launch the session in Zoom
What is QuaverCon?
QuaverCon is a virtual event designed for PreK-8 music educators interested in using Quaver teaching resources to engage their students in the classroom—and remotely. Sessions will equip educators to use music, technology, and emotion to effectively reach their students, wherever they may be this Fall.

Get the professional development you want and need from the comfort—and safety—of your own home this summer.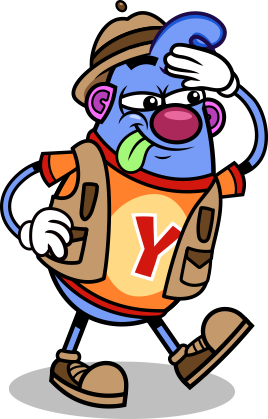 You'll walk away with:
Up to 16 hours of professional development credit
Strategies for enhancing student engagement
Practical applications and ideas for the use of technology in a remote teaching environment
Inspiration to embrace the opportunities for growth this school year will bring
New friends and colleagues from around the world!
Meet Your Clinicians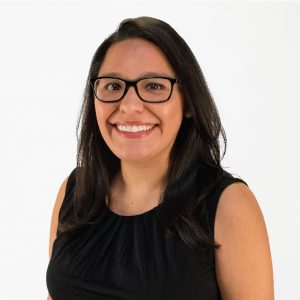 As an Instructional Coach and Clinician, Toni Garza plans and conducts training events for all QuaverEd curriculum resources including Music, Social-Emotional Learning, and Music Integration (PK-8th Grade). Using her experience in the classroom to connect with teachers, she also acts as a clinician for various education conferences throughout the country.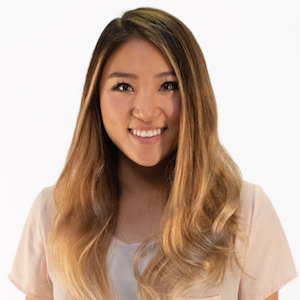 Sharon Cho is an Instructional Coach, Clinician, and SEL training lead focusing her research on Music and Culturally Relevant Pedagogy to protect diversity, equity, and inclusion in school systems across the country. Her work on cultural competence has been shared and presented nationally at education conferences.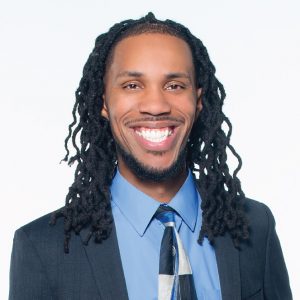 Otto Gross is an Instructional Coach and Audio Producer for QuaverEd. He specializes in the Orff technique, songwriting, and appears as "Austin Otto" in our online video segments for QuaverMusic. He has a passion to see children excited to learn about music!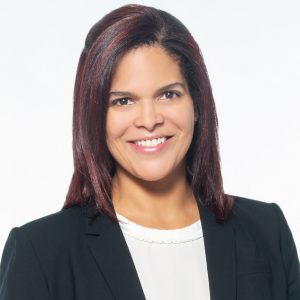 Valerie Diaz Leroy is a Research and Pedagogy Specialist for QuaverEd. She holds Orff Levels I and II, and a Kodály Certification. Working with teachers across the country, Valerie addresses the disconnect between the implementation of vernacular music in the classroom and its historical origins and perspectives.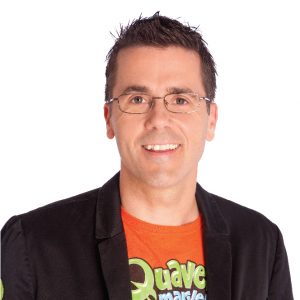 Co-founder of QuaverEd, Graham Hepburn heads up all content development and curriculum alignment as Vice President. He leads a team of teachers, developers, and artists to create engaging and innovative content for the PreK-8 classroom.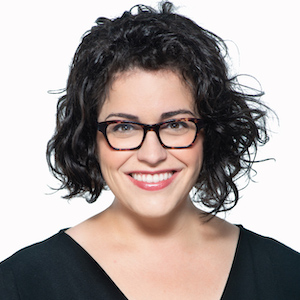 Emily Hopkins is the Director of Training for QuaverEd. Emily leads a team of trainers in providing meaningful professional development opportunities and conference sessions for teachers across the country. You may also recognize her from many of our helpful QuaverEd video tutorials.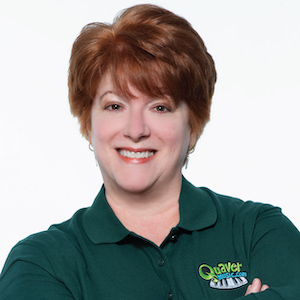 Michele Hobizal taught elementary music in Texas for 31 years. She has served two terms as the Texas Music Educators Association (TMEA) Elementary VP. Hobizal loves traveling around the nation working with teachers as a QuaverEd Instructional Coach and Clinician.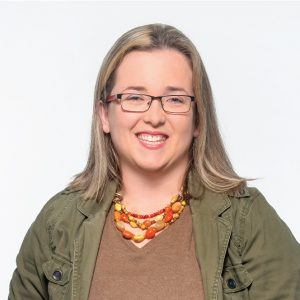 Catie Dwinal is best known as an elementary music technology social media personality and blogger, national conference presenter and, for her work helping educators across the country successfully integrate digital resources into their instruction. She now works as an EdTech Specialist for QuaverEd.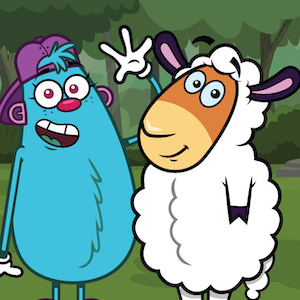 Plus many more friends and educators from the the Quaver Qmunity!
Registration Details
Step 1: Register for QuaverCon
If you haven't already registered:
You can do so easily here: QuaverMusic.com/Register2020
Simply select 1 ticket from the drop down and click Register.
You'll then be asked to enter your name and email and answer a few simple questions.
Once you click Submit, you will see a confirmation screen. You'll also receive the information on this screen via an email to the address you used to register.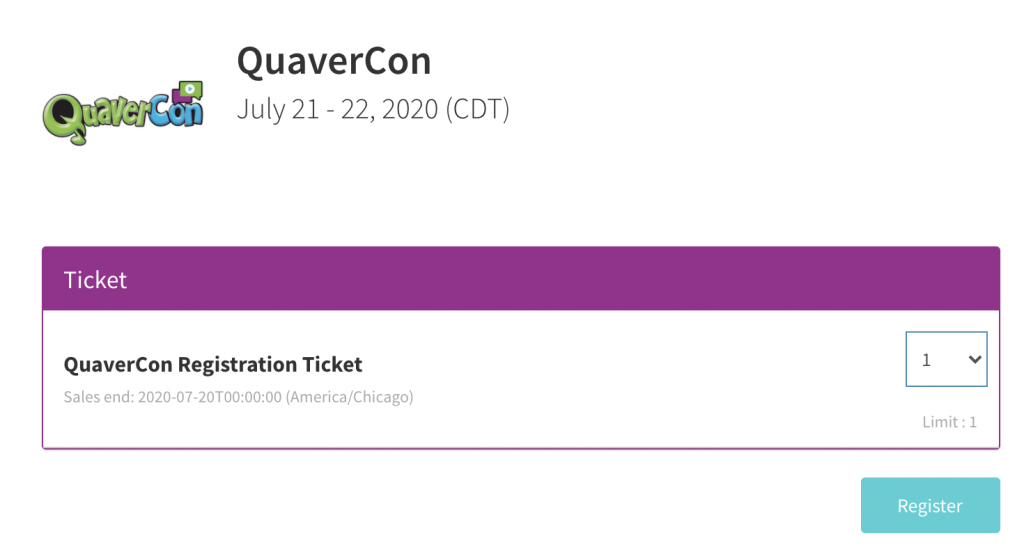 To check to see if you have registered already:
Simply visit the QuaverCon portal here: QuaverMusic.com/Attend2020
If you are taken directly to the QuaverCon page – then you're in! Bookmark that portal for later.
If you are asked to sign in, you can do so by following the instructions below!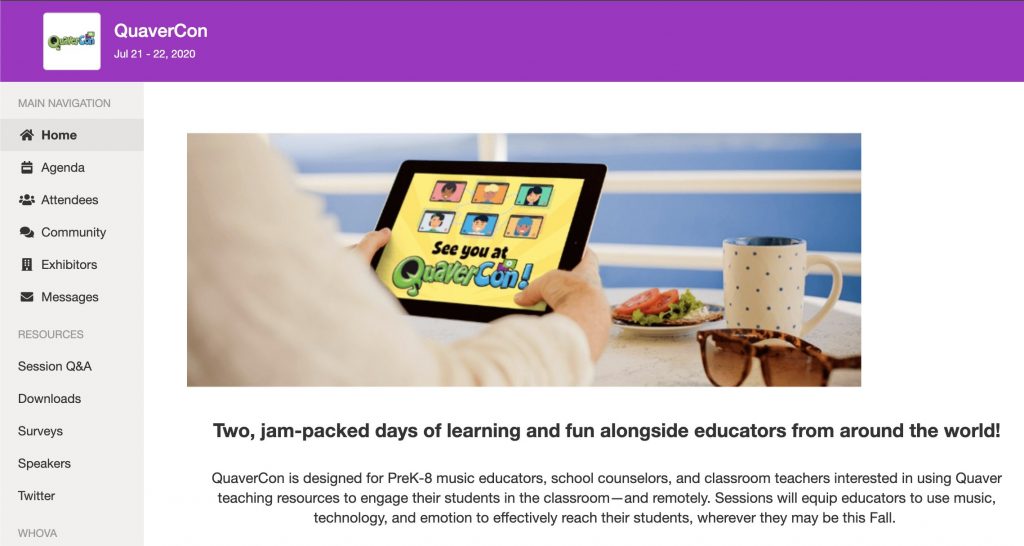 Step 2: Sign In to Whova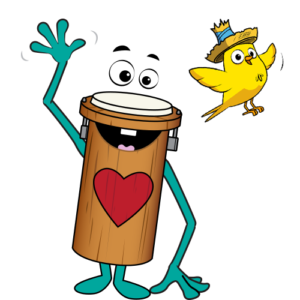 The next step after registration is to create your account in Whova – the online portal where QuaverCon is happening.
Think of Whova as the convention center, and your Whova account as your ticket through the door. You'll use the email address you registered with to create your Whova account.
You can create your account on a computer or mobile device by following the steps below:
To sign in to Whova for the first time on a computer:
Visit the QuaverCon Whova portal here: QuaverMusic.com/Attend2020 .
Click the Sign Up here link under the Sign In button.
Complete the form to create a Whova account using the email address you used to register. You'll also create a password at this time – so you will want to write that down!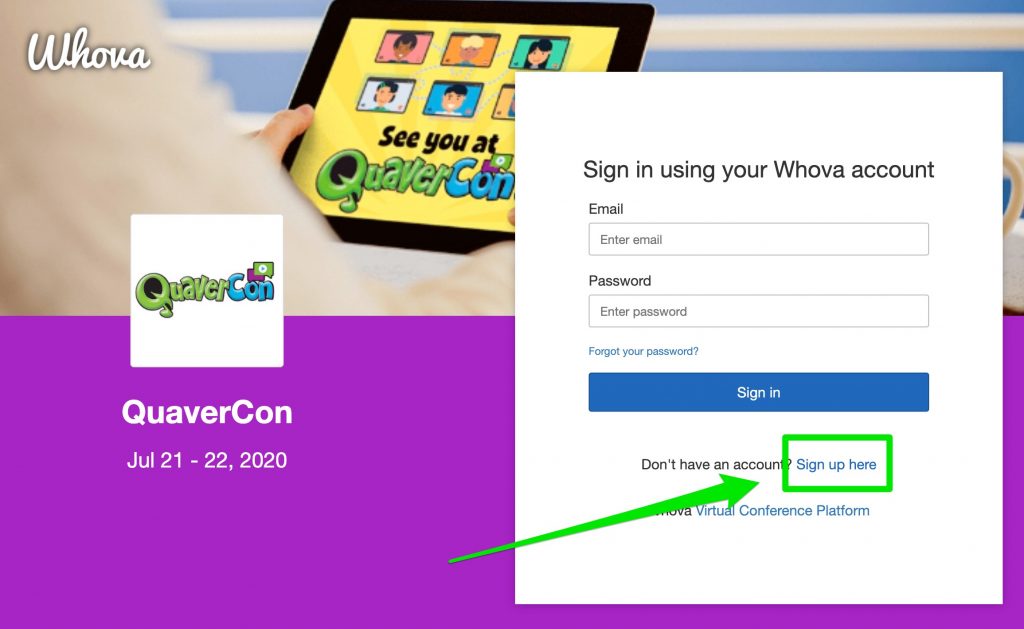 You'll be automatically logged in and can bookmark the portal link on your computer to return anytime: QuaverMusic.com/Attend2020
If you return to the portal and are asked to log in, simply enter the email and password you set up (remember this is different from your QuaverName and password – it's unique to the QuaverCon portal!).
To sign in for the first time on a mobile device:
Enter the email address you used for event registration and click Continue
You'll be promoted to create an account and set a password – which you'll want to write down for later!
You can add a profile picture and other details if you like, or just continue. The app will automatically connect you with QuaverCon and log you in to the mobile experience.
Once your Whova account is created – test it out by visiting the QuaverCon portal on the web at QuaverMusic.com/Attend2020.
Simply enter the email and password you set up (remember this is different from your QuaverName and password – it's unique to the QuaverCon portal!).
*You can also search for QuaverCon and click Join to start the sign in process the same way.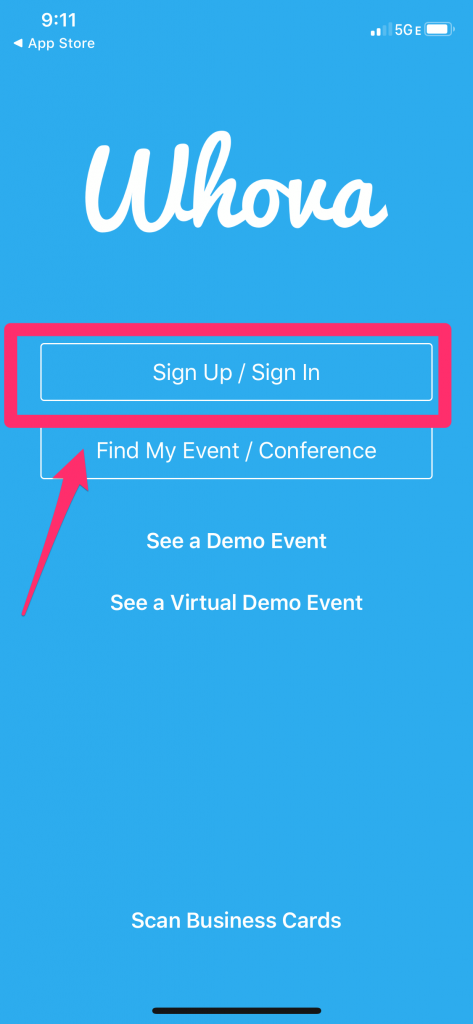 Once your Whova account is created – you can return to the QuaverCon portal anytime on the web (QuaverMusic.com/Attend2020), or open the app to find the same great content and build your agenda for the conference.
Step 3: Launch a QuaverCon Session
When it's time for QuaverCon, you will attend each session by launching it from your Whova agenda. QuaverCon will consist of mostly live and a few recorded sessions:
Live Meetings and Webinars will be launched in the Zoom platform. You'll need a free Zoom account and an updated version of the web or mobile app to attend.
Pre-recorded Sessions are available around the lunch hour each day and can be watched at anytime if you'd like to take a break and space out your day. These sessions will feature live chat during their slotted time.
To browse and select a session:
On the morning of QuaverCon, head to the QuaverCon Portal on your computer or to the app on your mobile device and sign in using the email and password you created with the steps outlined above!
Select Agenda in the menu. This is where all QuaverCon sessions live and where you will access them at their scheduled times.
Click Add to My Agenda to get a reminder for any session on the day of QuaverCon!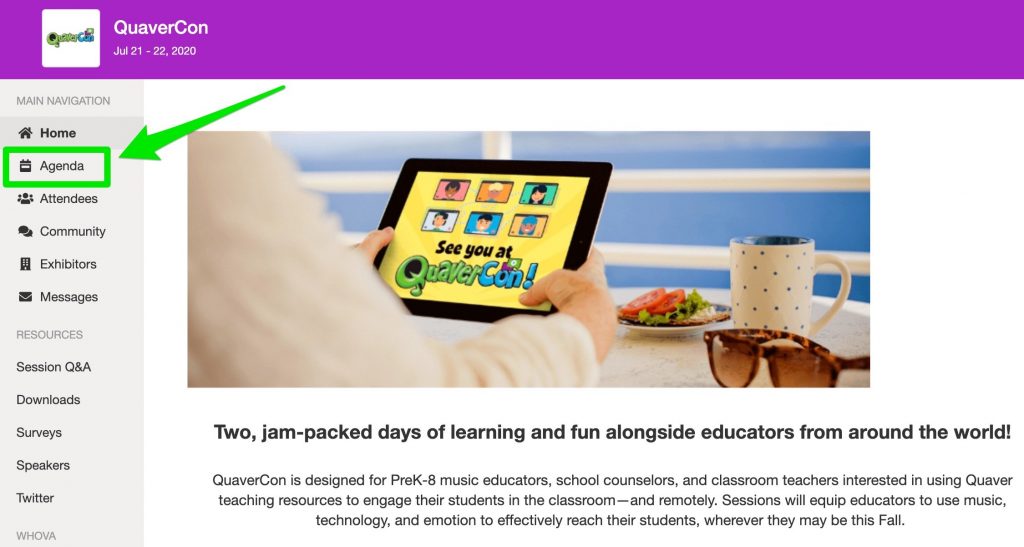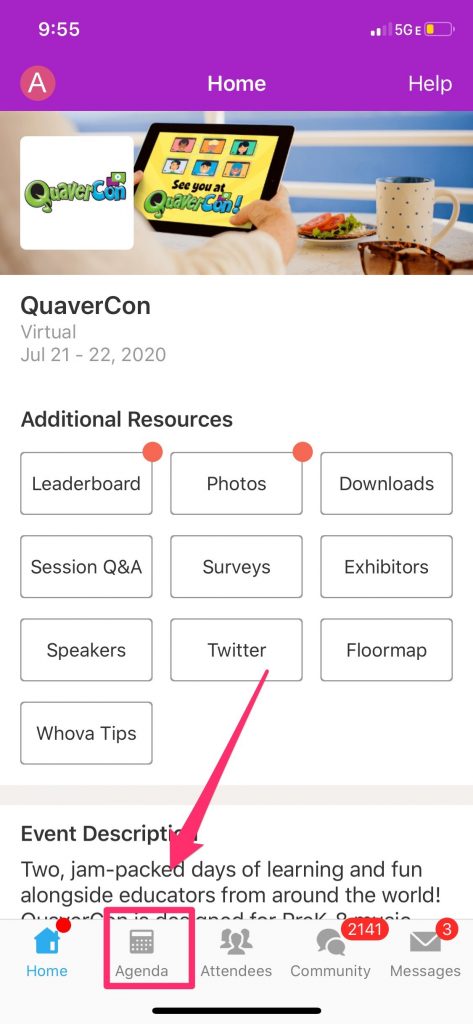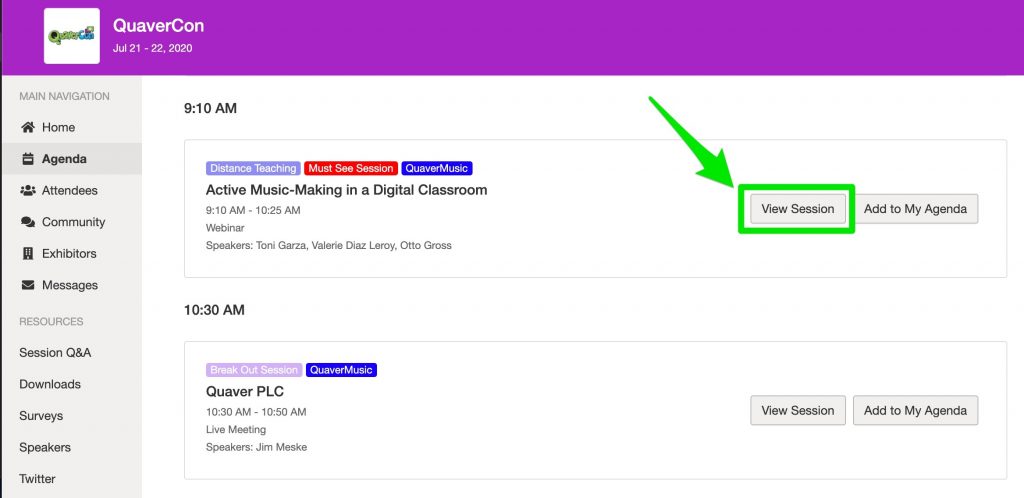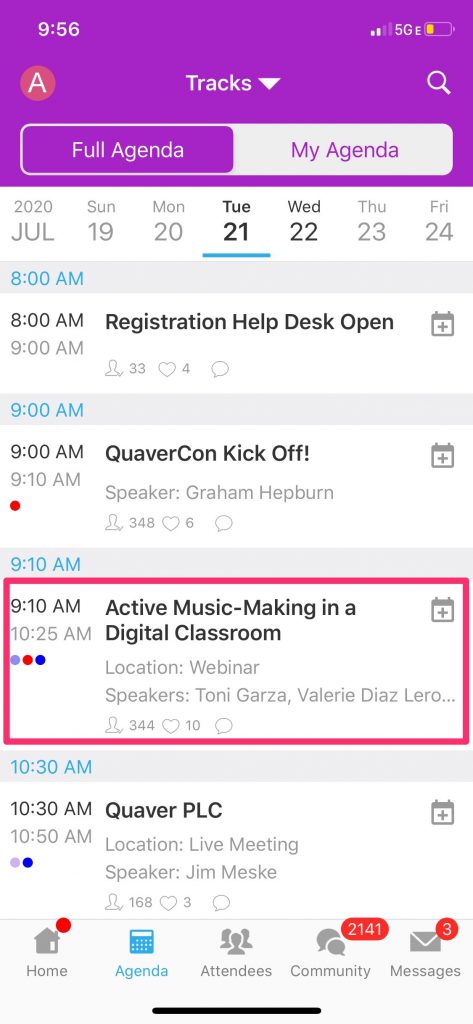 To launch a live session:
Live sessions will be streamed from the Zoom platform.
Select View Live Stream to register for any session in Zoom! You'll be asked to enter your name and email. This is to ensure that your attendance is recorded for PD credit. You will be asked to do this at each session.
Once registered, you should be taken directly into the session. You'll also receive a confirmation email.
If you register early (the rooms will open about 10 minutes before start time) you may come to a "Webinar Registration Approved" screen. This means the session hasn't opened yet. Please exit and re-enter the session from Whova using the same link 5 minutes before showtime. Multiple registrations for the same session are not a problem!
To launch a recorded session:
Recorded sessions will be accessible from the Agenda anytime, with live chat available during the appointed time.
Select Launch Recorded Video to load the video and watch on your own time.
Once each session is complete, head right back to the Agenda to find the link to your next session!
QuaverCon FAQs:
How much does QuaverCon cost?
Registration is FREE, and all are welcome. You don't have to be a Quaver user already to gain skills and confidence in your craft from this two-day event.
What sessions can teachers expect?
All sessions will feature ideas on implementing Quaver resources via distance teaching, as well as in classrooms with COVID restrictions, so that teachers will feel confident going back to school.
Will attendees be able to talk to QuaverEd Staff during QuaverCon?
Yes! Q&A sessions will be incorporated into several sessions throughout the conference so that teachers can chat directly with the session speakers.
The conference is on an app. Can I attend from my laptop?
Yes! You MUST download the app to create a Whova account. You may then visit the QuaverCon conference site by logging in with those same credentials.
How does the Whova app work?
Troubleshooting
If you see the following message when attempting to sign up for QuaverCon, it means that email has not successfully registered for QuaverCon.
Check to make sure that you are using the correct email address.
Register for QuaverCon with a new email address and try again!
Preparation Tips
Ensure a great QuaverCon by tackling these housekeeping items in advance!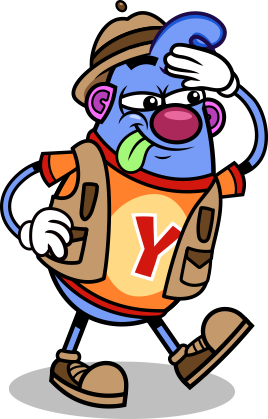 Choose your tech set up: QuaverCon can be accessed on your computer or on a mobile device – or both! While we recommend viewing the sessions from a computer, you may wish to take advantage of the community features of the conference with the Whova mobile app.
Review the Agenda: Add sessions to your personal Agenda that you plan to attend and set reminders so you don't miss anything!
Check your apps: Make sure you have an up to date version of Zoom on the device you plan to use to attend sessions.
Plan to be prompt– We recommend launching each session about 5 minutes early so you can be "in your seat" when the presentation begins!