Are you using Google Meet with Quaver this year? Technology can be tricky but with a few helpful tips, you'll be on your way to being a virtual music class master!
Today, Quaver Teacher Dan Brennan, a music teacher at Martha Jane Potter Elementary in Whitesburg, KY, shares some tech tips that he has learned from his synchronous learning experience this year.
Take it away, Dan!
***
QuaverCon Inspiration
When we were all sent to work from home in the spring, I created some videos and posted them to YouTube for my students to have as we all did our best trying to navigate this whole new way of teaching and learning. I noticed that these videos did not have as much engagement as I would have liked.
Fast forward to QuaverCon this summer — I participated in a session with Toni Garza, Valerie Diaz Leroy, and Otto Gross called Active Music-Making in a Digital Classroom. It was inspiring because the magic of music class is the opportunity to do things together and I wasn't able to see that with my pre-recorded videos. One of the most powerful things I learned from that session was that anything I do while my students are learning at a distance is not going to be performance-quality and that's okay.
The most important thing would be for me to focus on ensuring that my kids get the opportunity to engage and do music together.
A Suitable Space
One of the first challenges that I faced was working out a suitable space. I'm an elementary music teacher and a middle school band director. I found out when we came back to school that the facilities where I teach music class had been repurposed for providing other school-related services during the pandemic. So, I decided to operate out of my middle school's band room!
My initial focus was creating something visually interesting behind me. I normally teach with the big screen television so I wanted to incorporate it into the setup. To take up space around it, I used different music-related posters – some of them Quaver posters and some not. I didn't intend to teach from these posters, so I overlapped them and put them at different angles to make it visually interesting. Later, I added real music instruments to create more texture.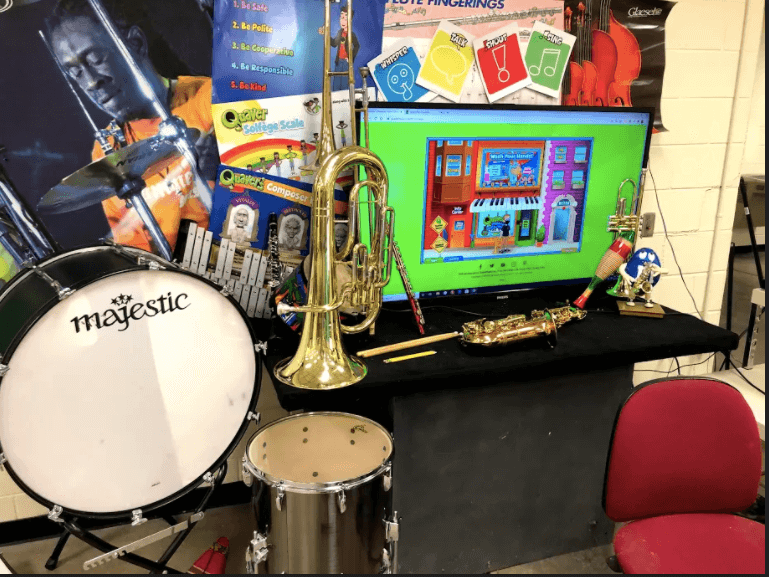 The background that Dan uses for his virtual lessons
The Technology
I started with a laptop and connected it to the TV via an HDMI cable like I do on a daily basis. From here, I did test runs using Google Meet and presenting the lesson on the same machine through Google Meet.
With some trial and error, I discovered that if you use two separate devices (one to run the Google Meet and one to run the Quaver Lesson) simultaneously, it works the best. I have a desktop computer in the band room so I used that to run the Google Meet session and the district provided new webcams for all of us. The basic equipment is two computers (one with webcam) and a big TV.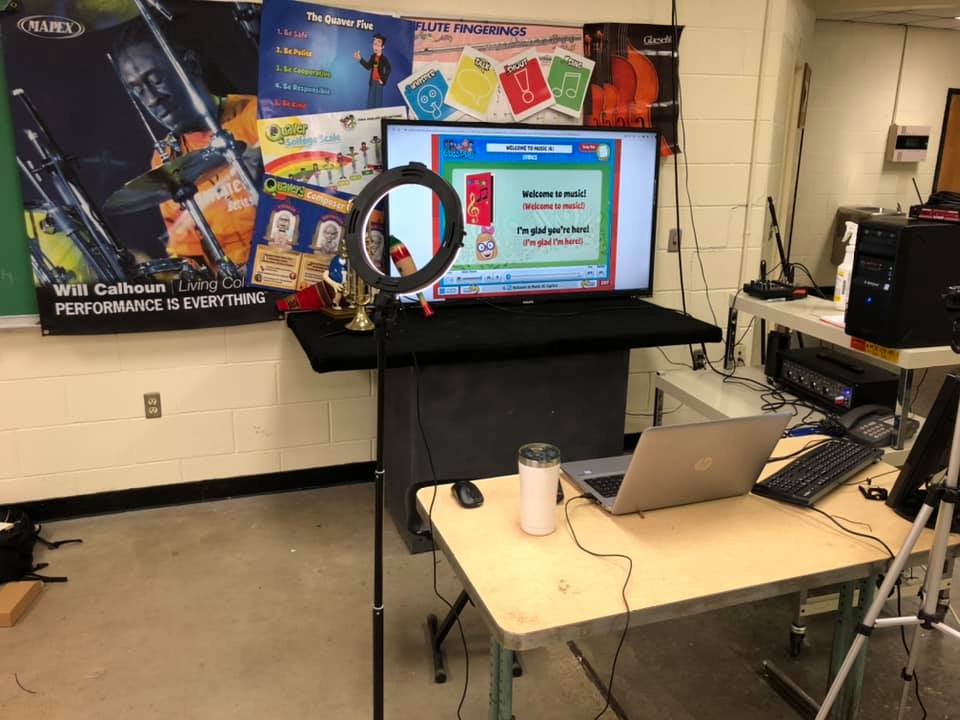 Dan's inventive classroom setup
The other items that I used are accessories. I used an inexpensive LED light ring that I picked up at Wal-Mart. I also used a camera tripod that I put the webcam on if I want to change the angle.
In this YouTube video, Dan talks more about his virtual setup!
During the QuaverCon session, Otto talked a little about audio quality and getting a good balance between the Quaver lesson recordings and your voice, so I picked up a small mixer. I used that to mix audio coming from the TV that's playing my Quaver lesson with a microphone for my voice. The mixer gets plugged into the microphone input on the computer that is running the Google Meet. I started with a wireless headset microphone but it wasn't durable enough so now I'm simply using a wired microphone on a boom stand!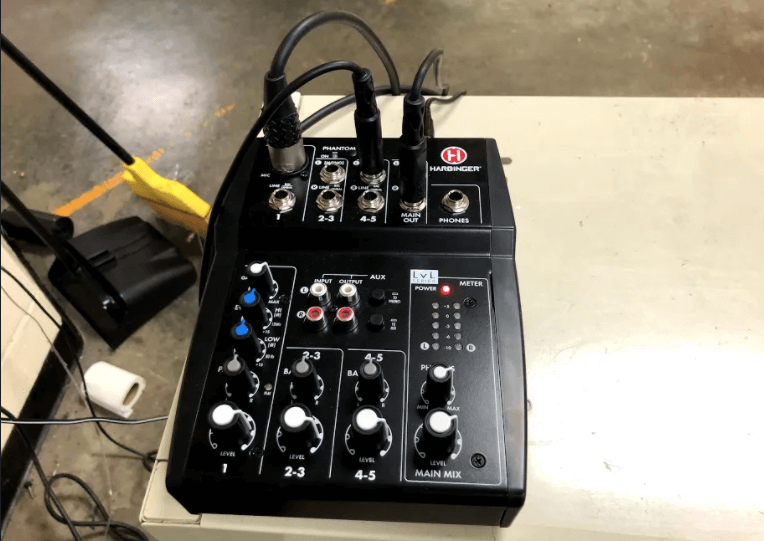 The audio mixer that Dan uses for class.
"It's Not Music Class as Usual"
So far, I've found a lot of success with lessons that incorporate Movement body percussion. My students don't receive a grade for music class, so my job is to encourage engagement in music class. I do this by providing them with a high-quality music experience that's fun, allows them to interact with each other and rests on the Quaver Curriculum as its foundation.
I was an early adopter of the Quaver Curriculum so I didn't really do a lot of lesson customization before. With this new distance learning environment, I knew that I would need to do things much differently. The lessons would need to be shorter and even more engaging. I tackled time and engagement to come up with a blend that works for me and my kids. Now, my lessons are about 20 minutes long! Improvising found sounds instruments to substitute for classroom instruments is fun. Pencils are a great substitute for rhythm sticks.
It's not music class as usual but having the opportunity to interact with the kids is worth it. Google Meets with my kids and Quaver are absolutely the best part of my workday!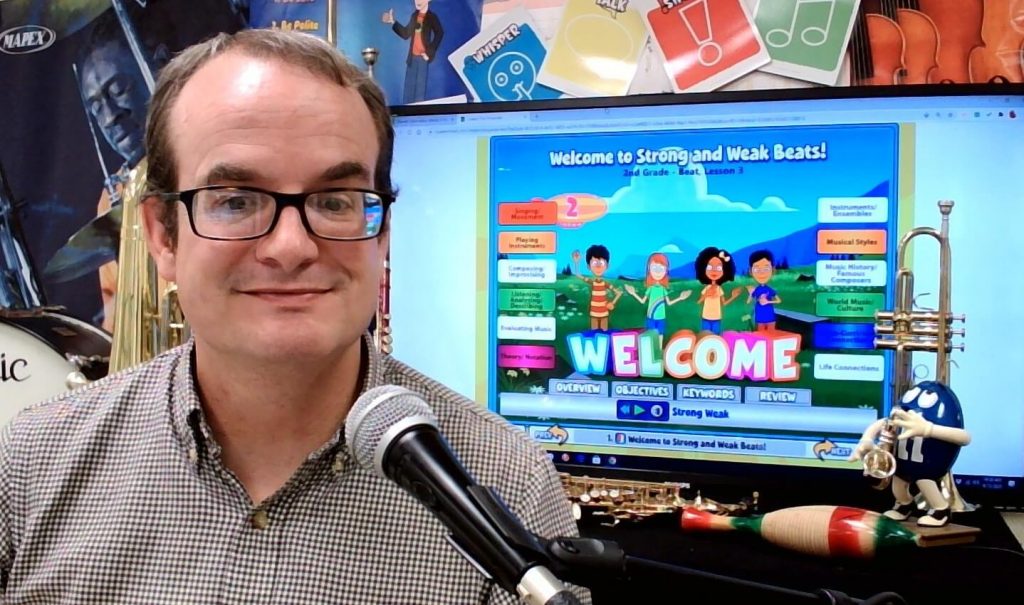 Dan in his virtual classroom!
***
Are you using Google Meet in your classroom this year? How will you incorporate these tips?
Looking for more? Our Help Site is full of How To articles and video training. Start here for all things distance teaching.