One of the biggest challenges many teachers are facing right now is creating connections with new students who are learning remotely. Today, Quaver Ambassador Erin Casimir of Northside Elementary in Midway, KY shares a simple assignment she created to meet her new students this year!
Her goal was simple. "I wanted to start this time of remote learning with a simple assignment that introduced students to the Quaver platform and measured how successful they were in logging on."
She calls it her Quaver Access Check and it includes just three simple screens:
A Multimedia screen with instructions
A Student Record screen for students to say hello
A simple three-question Custom Quiz that asks if they were successful
Note that the video submission is identified as the graded content. This makes it easy for Erin to review the submissions in her GradeBook!
***
Let's take a look at each screen in this simple Assignment!
Instructions
Erin chose to use a simple Multimedia screen to write out instructions for students and parents.
She also used the Video Instructions option to record herself giving the same instructions to students. The video pops up right away for students, so they can't miss it!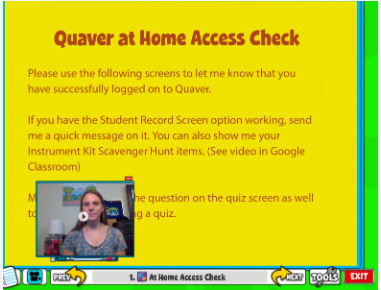 Student Record Check
Erin's second screen is a chance for students to try out the record functionality.
It prompts them to Record if they have video settings turned on. If they do not, they will see a place to Upload the video.
We love how Erin made the instructions so clear by putting them in the screen title. If they don't see the Record option, they will have a chance to tell her so in the next screen.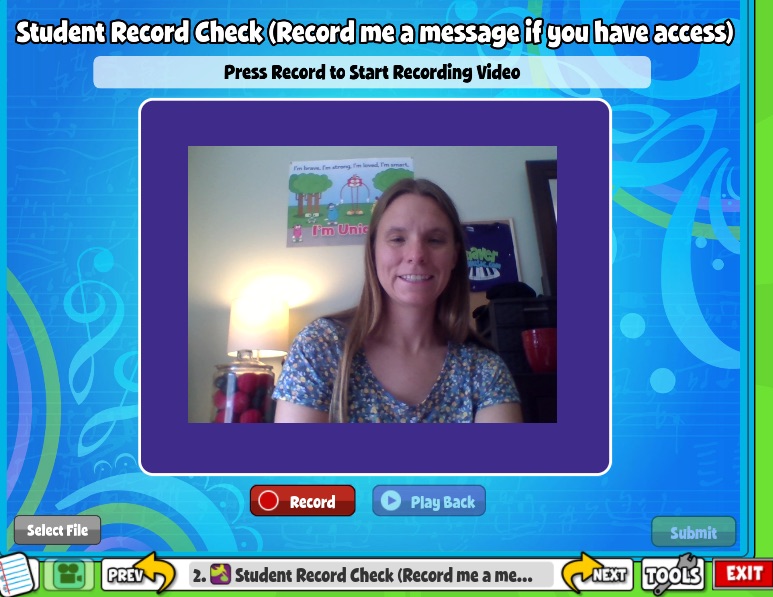 Access Check Quiz
Erin's final screen includes three simple questions.
The first measures if students were able to access Quaver at home.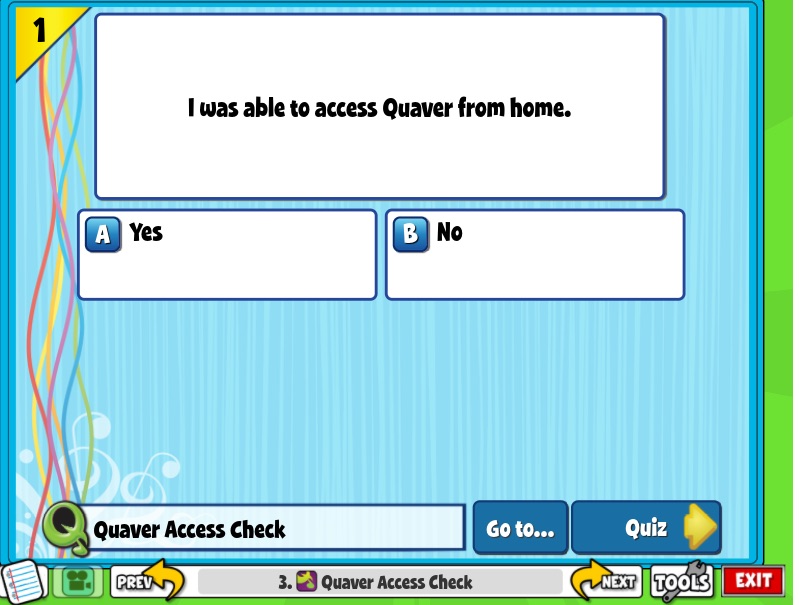 The second question asks if they were able to use the Student Record screen successfully.
This is a great way to measure the capabilities of her students learning remotely, so she can plan lessons that will be accessible to all her learners!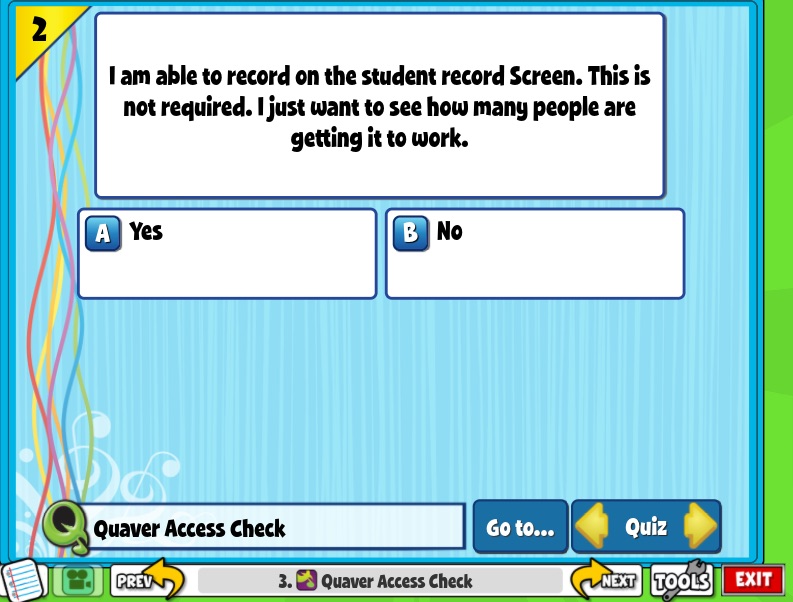 The third question asks what device students are using. This will also help Erin get a better feel for what her students have access to at home.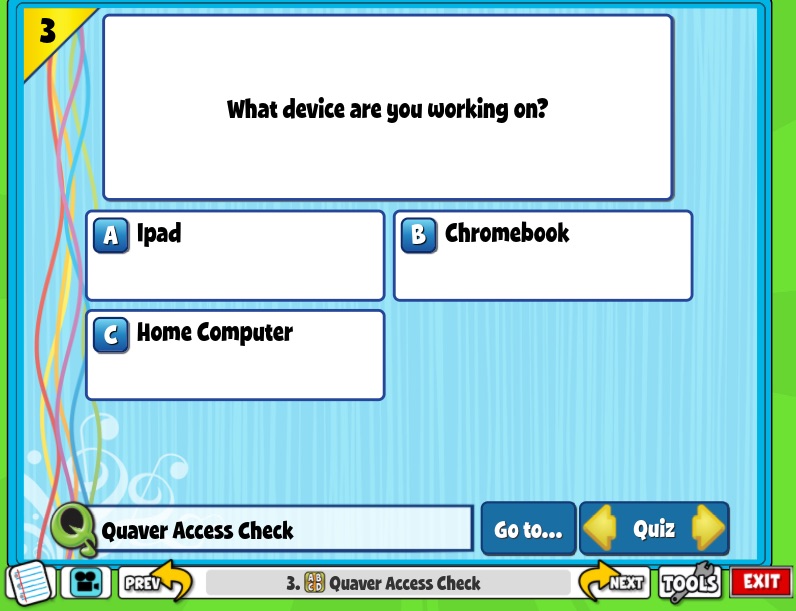 With the video submission selected as her gradable screen, Erin is able to see at a glance who was able to submit a video.
In her GradeBook, a yellow check appears where a video has been submitted!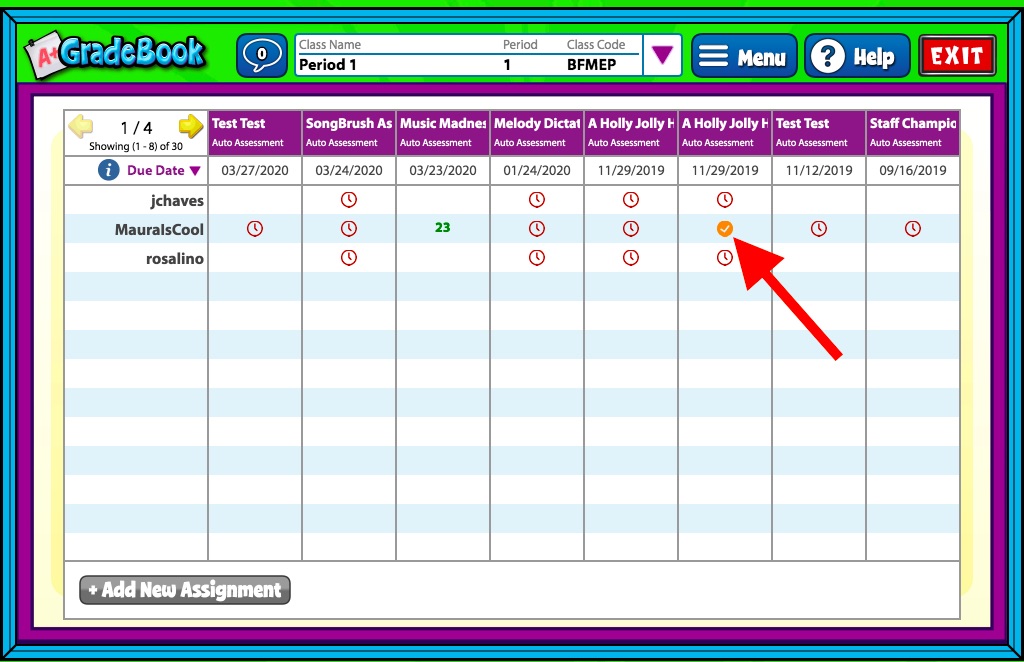 All of these resources and more are available with a free
30-day Preview of QuaverMusic!
***
For more on how you can make assignments to distribute to students, visit our Help Site.