Celebrate summer with a brand new ClassPlay song, "You-Nique!"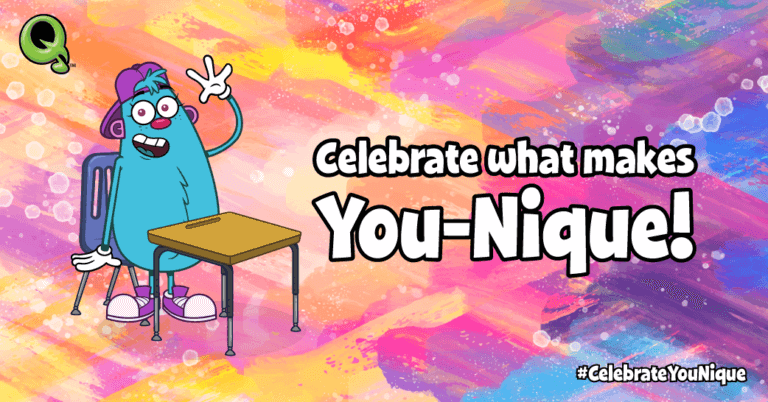 Congratulations! You've either made it to the end of the school year or you're crossing the finish line. We hope you've planned all sorts of fun activities for the summer and that you're wrapping up your school year with successful programs and lots of musical fun!
You may recall that at the end of each school year, we wrap up another wonderful year with a Digital Field Trip. These digital field trips have become a big hit with Quaver teachers as a way to bring the entire school together to celebrate all they've learned in music each year! You may remember last year's field trip where Quaver, Gwenda, and Austin Otto learned about musical styles while searching for our favorite sleepwalking sheep Perry. Or the year before that, when Gwenda and Austin Otto toured the world exploring movement and dances from around the world, including Tango, Clogging, and of course, the Q-EE!
But this year, we're excited to say that the Digital Field Trip is going to look a little different.
This year, we're celebrating YOU, our Quaver Qmunity, and what makes each and every one of you, You-Nique!
How is the Digital Field Trip different this year?
This year, we've added a brand new song to ClassPlay called "You-Nique." This original Quaver song is a perfect social and emotional learning (SEL) song to incorporate in your teaching repertoire. "You-Nique" celebrates individuality and what makes our schools, students, and all of our teachers unique. Complete with brand new activities to guide you through the last few weeks of school, this song can be found by searching "You-Nique" in ClassPlay or Resource Manager and by accessing the Featured Resources menu.
Is there an episode this year?
While there is not an episode for the Digital Field Trip this year, we invite you to watch our last three Digital Field Trips here.
What kinds of activities can I expect?
"You-Nique" will include a full ClassPlay Song Hub of accompanying activities.
Lyrics– follow the story of Sonder and learn the lyrics to this uplifting song
What's Your Strength?– students will identify their individual strengths and the strengths of their peers
What I'm Good At- students will discuss two activities that they are good at
My Me I.D– students will discuss what makes them unique and share fun facts about themselves
Celebrate Our Differences– students will answer questions to learn more about each other and celebrate each other's differences
Worksheet- You-Nique Me– students will draw a self-portrait, their family, and more!
Worksheet- I Am You-Nique– students will draw a self-portrait, then write out descriptions of their favorite food, family, and more!
When can I find these activities in my account?
These activities will be available in your Quaver account on the morning of Tuesday, May 7, 2019.
What about the Summer Contest?
This summer, after you spend the last few days of school singing along to "You-Nique", we challenge you and your school to show us what makes you You-Nique!
You might film a video, take a picture, write a song, it doesn't matter—just make sure you share it with us on social media (tag @QuaverMusic) and include the hashtag #CelebrateYouNique. And don't worry if you're getting out of school soon—you'll have from now until September 13th, 2019 to share your entries.
*By participating in this contest, you give us permission to share your entry on our social media platforms and in future promotions.
The most You-Nique entry will be selected to win our grand prize—a Quaver prize pack chock full of goodies to Quaverize your classroom and make your room the most You-Nique in your school! And it wouldn't be complete without a video call with Quaver himself for your school.
We hope you have a wonderful summer and we can't wait to see you back here next year. Boom-Chicka-Boom!