Have you explored our latest update? 
We're so excited to bring you fresh, new resources like a new Song-Based Lesson, printable custom quizzes and rubrics, and one of our favorites, a brand new way to assess students: Quiz Challenge!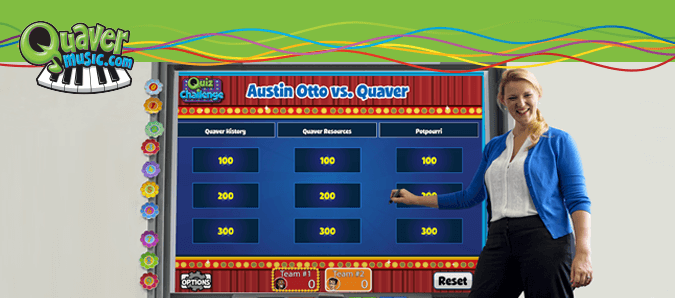 Explore the latest addition to your Resource Creation menu and an easy way to assess students, Quiz Challenge. Use this quiz-show style screen as a review or assessment tool or as a fun competition in your class.
You'll find this screen in the Resource Creation menu on your Teacher Dashboard or by adding a new screen to a custom lesson.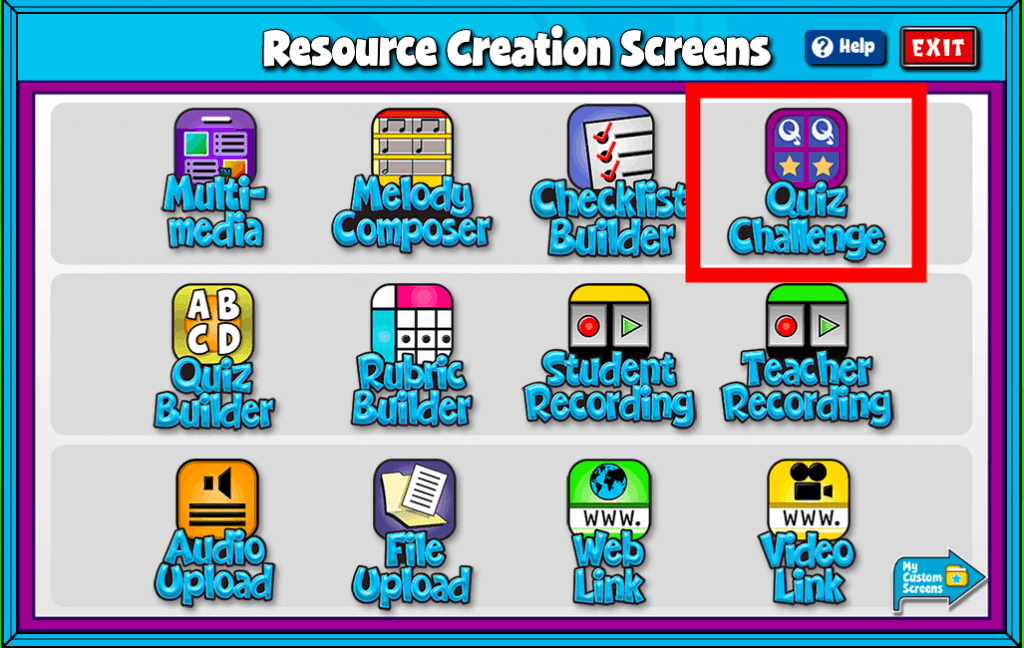 Let's zoom in on this resource and on a few ideas for how you can use it in your music classroom:
Game Show Time!
Looking for a fun way to kick off a new semester or even just a new week? Quiz Challenge provides the perfect opportunity for a little friendly, gameshow style competition in your classroom.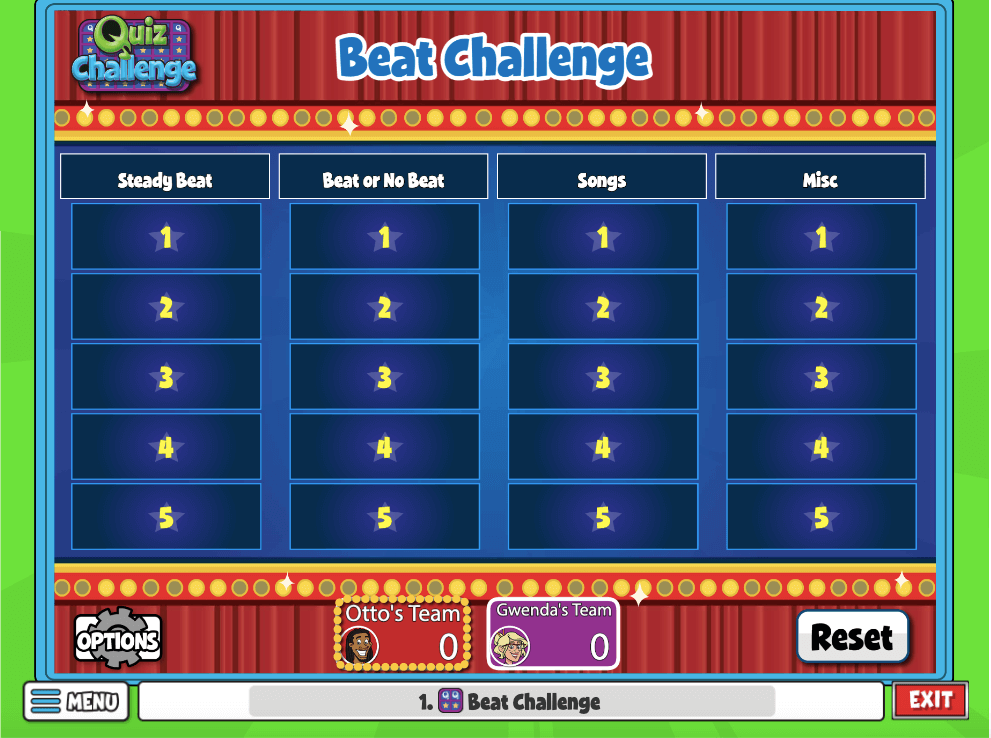 Create your own board like the one pictured or choose a Jeopardy-style game. You can manipulate the character associated with each time by clicking the OPTIONS button once launched.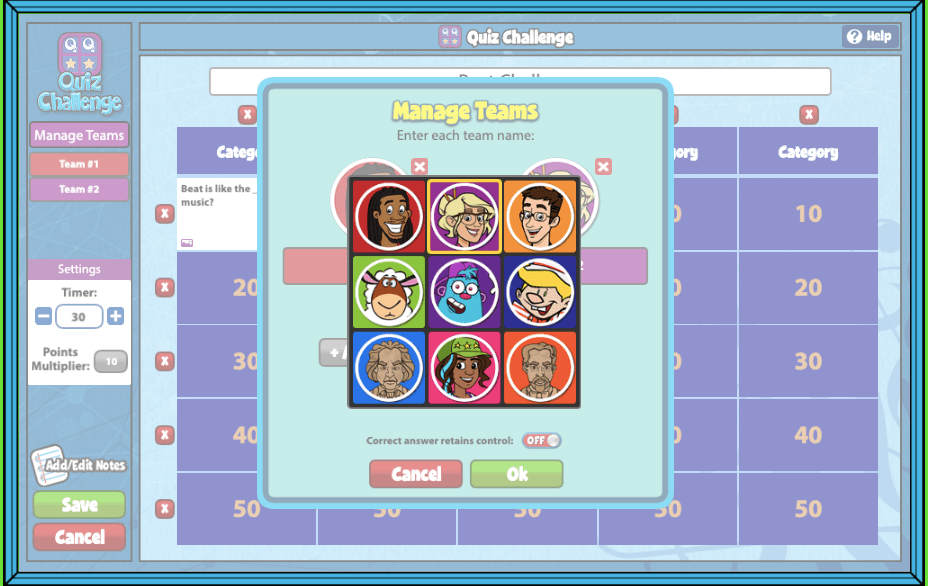 Choose from favorite Quaver characters like Austin Otto, Sonder (from "You-Nique"), Perry the Sheep or one of the composer busts!
You can also change the team name under OPTIONS. Students may want to choose their own team name or, you can pick one for them.
Assessing and Reviewing with Quiz Challenge
Using the Resource Creation menu, you can easily create your own Quiz Challenge game from scratch, as seen above. However, if you're looking for a pre-made quiz that you can customize or use as is, you have 66 Quiz Challenge gamesto choose from. These screens are perfect for reviewing and assessing concepts within the Quaver lessons.
You can find these games in Resource Manager by searching "Quiz Challenge" or in a number of curriculum lessons
From here, you can launch the quiz as is…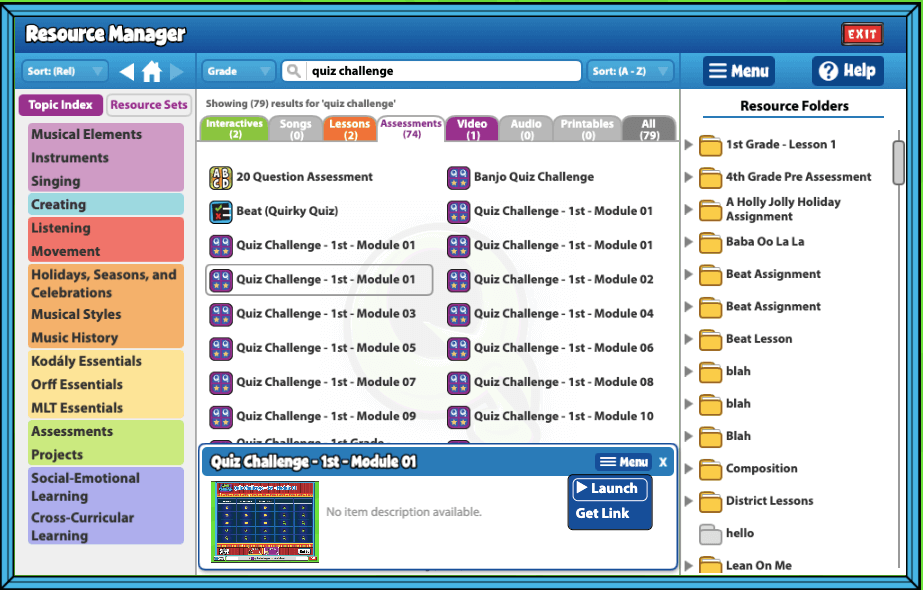 …or you can edit this screen in Resource Manager by dragging the screen over to a custom folder and selecting EDIT.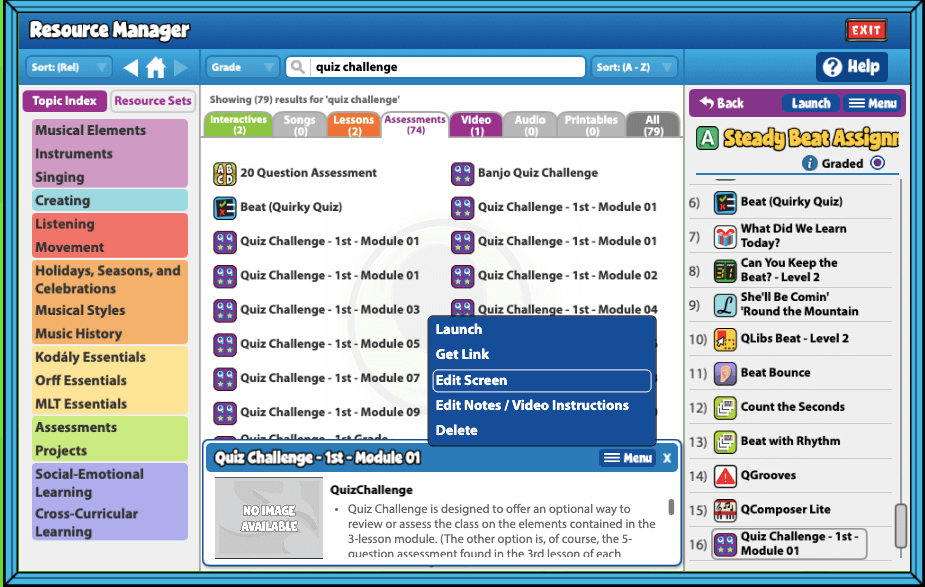 From here, you can manipulate and customize the screen, just like you would when starting from scratch. Add your own questions or delete some of the pre-made ones.
Note: When launching the screen, a square with a Quaver "Q" on it denotes a blank box. Once you've edited the screen, the question will populate in the box once you've saved and launched.
And there you have it!
Just a few of the ways you can now use Quiz Challenge in your music classroom. We'd love to hear how this screen is working for you and your students, so drop a comment below and let us know!
For more information and training on how to use this screen, visit Quaver's Help Site to access our library of video training courses or click the blue HELP button in the top right corner of this screen to access training videos.
***
How will you use Quiz Challenge in your classroom?