Top tools and tips from Quaver to meet your Students wherever they are!
Welcome back to school! We hope you had a great and relaxing summer.
The start of the new school year looks different than years past. Are you teaching online? Teaching from a cart for the first time ever? Or maybe you are headed back to school as normal. QuaverMusic is here to help make the transition as smooth as possible—whatever school looks like this year.
Here are just a few tips to start your school year off with confidence!
New Music at Home Assignments for Back-to-School
Whatever your first weeks of school look like, QuaverMusic is here to support you. We've added 18 new Music at Home assignments for grades K-5 to support a hybrid learning environment.
Each assignment covers one topic based on the QuaverMusic curriculum and can be used to lead synchronous instruction via video or assigned to student accounts for asynchronous learning.

Quaver on a Cart
Due to COVID-19, you may be teaching music on a cart for the very first time this year. You're not alone! Here are a few of the best pieces of advice for teaching music on a cart — from Quaver teachers just like you!
***
"I have an iPad cart that holds 12-24 iPads on a shelf above a storage area. I hung plastic bag recycling bins around the outside for Boomwhackers. I log in on the teacher's computer by opening my own Chrome window, and they really appreciate that. I keep a bin or recorders for each class IN their classroom. It doesn't take up much space, so the teachers don't mind much. Start with the curriculum lessons and modify to suit what you can reasonably do!" – Cindy Calafaty, Parkview Elementary, Sedalia, MO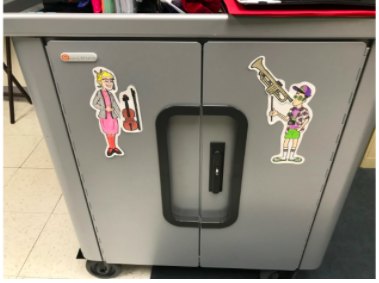 Cindy's Quaverized cart!
***
"Quaver is a godsend on a cart. Open everything before you head out for the morning. Walk in and plug into the teacher's projector with whatever you want students to do. Use a good Bluetooth speaker on your cart and you're good to go!" – Morgan Lentino, Otter Creek Elementary School, Elgin, IL
Help On-Demand
Explore our new Help Site! Here you'll find Product Guides and Video Courses to help fine-tune your Quaver skills for the new year.
Need distance teaching help? Start here.
Quaver 101
Is this your first year using QuaverMusic?
Are you unsure of where to begin with distance teaching and learning?
Let us help you get started with a brief overview of resources available to you for use via distance teaching or in the classroom.
Interactive Q&As
Whether you are brand new to QuaverMusic or have been using the resources for years, come join our Teacher Ambassador team for a series of Interactive Q&As via Zoom! From Student Accounts to Song-Based Lessons, and everything in between, we hope you'll take this opportunity to fine-tune your Quaver skills and get your questions answered.
Wash Your Hands!
We're excited to introduce a new song that will give students a fun reason to keep their hands clean!
You can find "Wash Our Hands" in the Featured Resources section of your Teacher Dashboard or in Resource Manager.
Empower your students to wash their hands properly! Students can sing this song while they apply soap and water and rub their hands together for at least 20 seconds. This is about how long it takes to sing two verses of the song.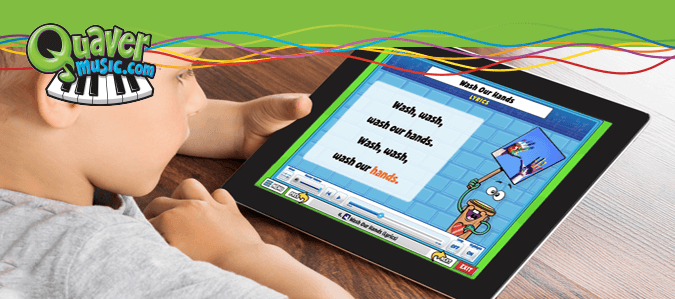 For a seamless way to distribute this song to classes, select MENU and MOBILE and provide the QR code or mobile code to students.
***
Stay tuned to the QuaverEd Blog for more back-to-school content in the coming weeks. If we can help in any way, please contact us.