Help your students process grief with this gentle lesson from Quaver SEL.
Grief is hard no matter how old you are.
Did you know that Quaver SEL has two lessons designed to create a safe and supportive space for students to explore ways to express feelings when grieving?
Lesson 35 of every grade includes an age-appropriate lesson on Grief. In grades K-2, that lesson is called "What Is Grief?" In grades 3-5, it is called "Dealing With Grief."
Today, we're going to dive into the K-2 lesson, "What Is Grief?"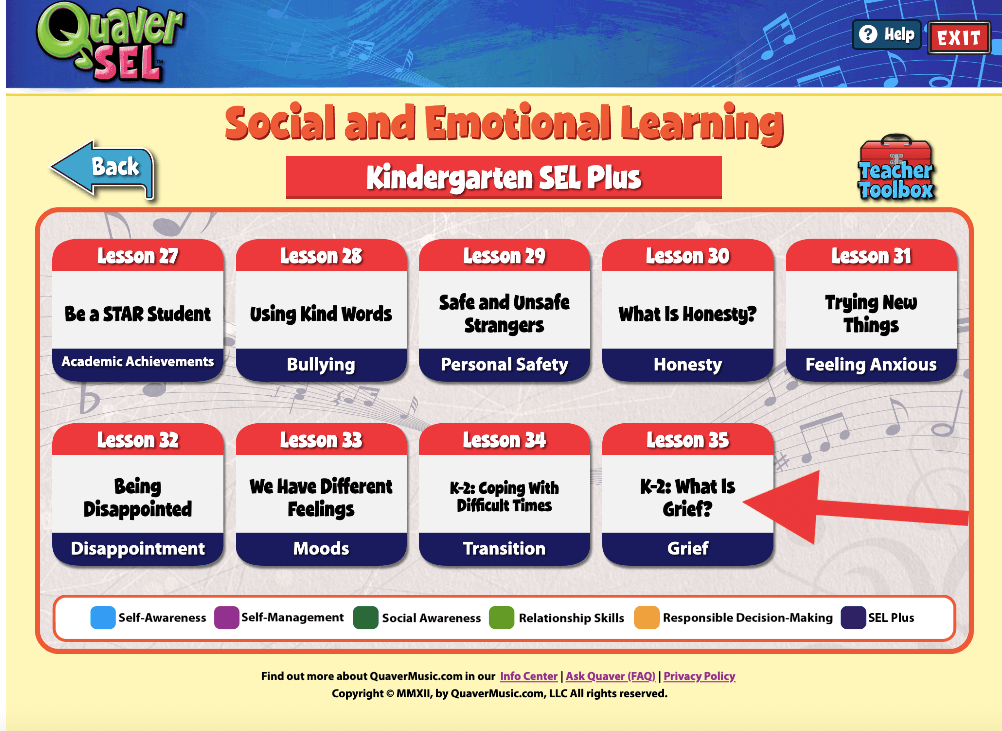 ***
Topic Discussion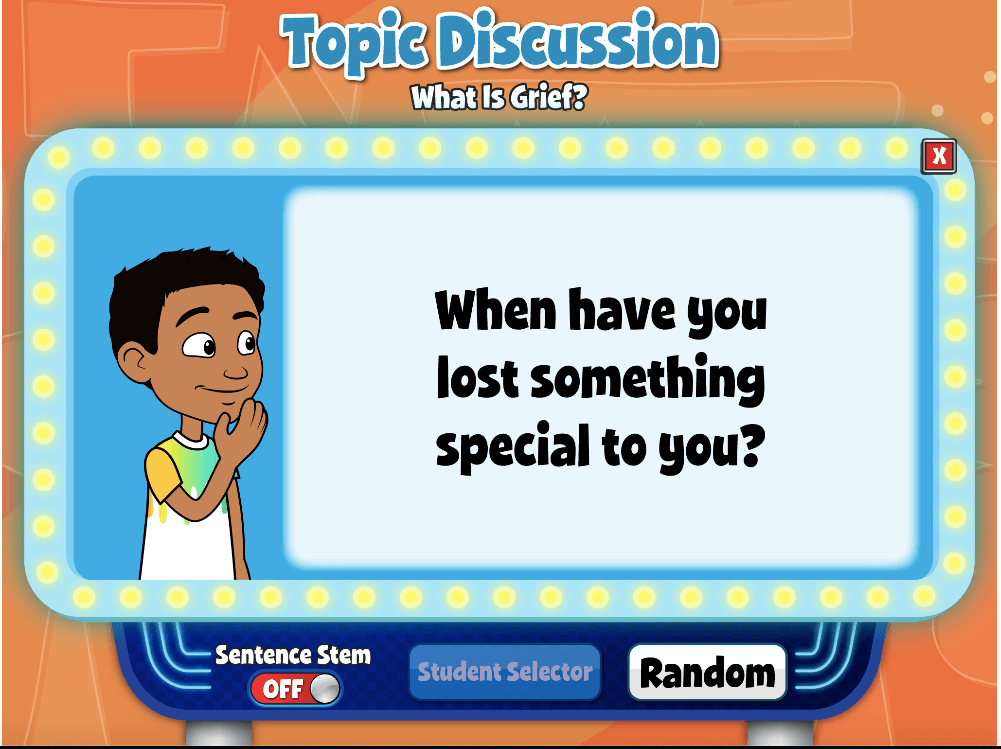 The lesson begins with a fun activity to kick off a discussion about the topic. Students will select the "Random" button or click on one of the boxes with a question mark icon to launch a question. For example, "When have you lost something special to you?" This screen is a great discussion tool to help explore students' prior knowledge.
Make the Emotion
The lesson begins with an activity that encourages students to express their emotions and feelings in an interactive way.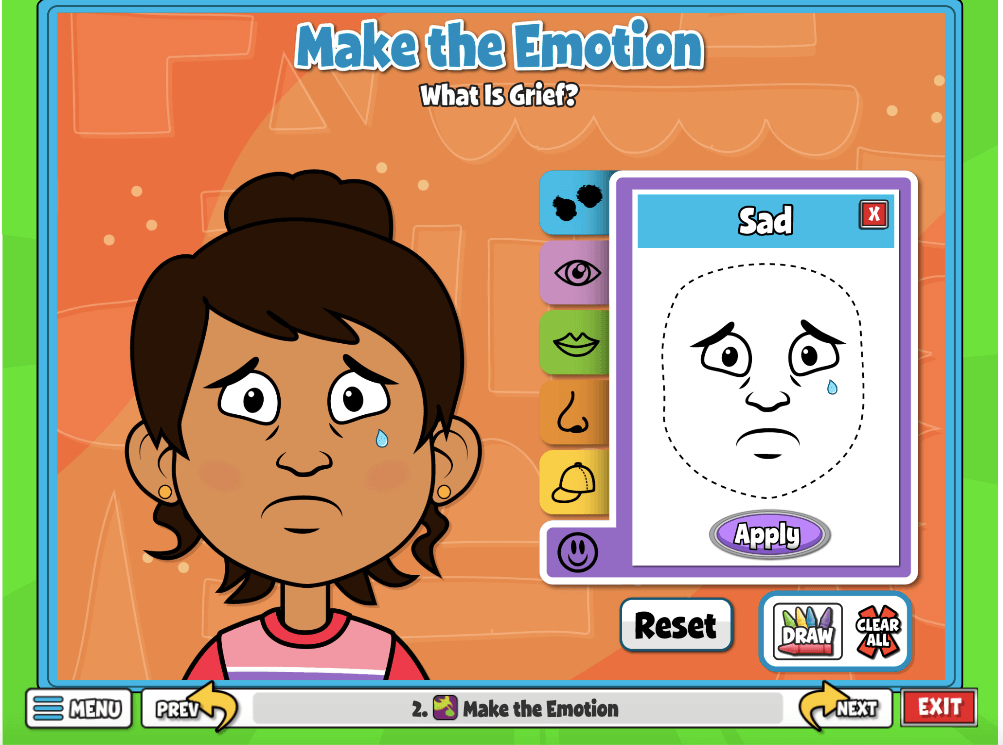 Students will have the opportunity to use the different facial expressions to identify how they're feeling.
Discuss what each emotion means and what it might look like with your students.
Comic Strip Starters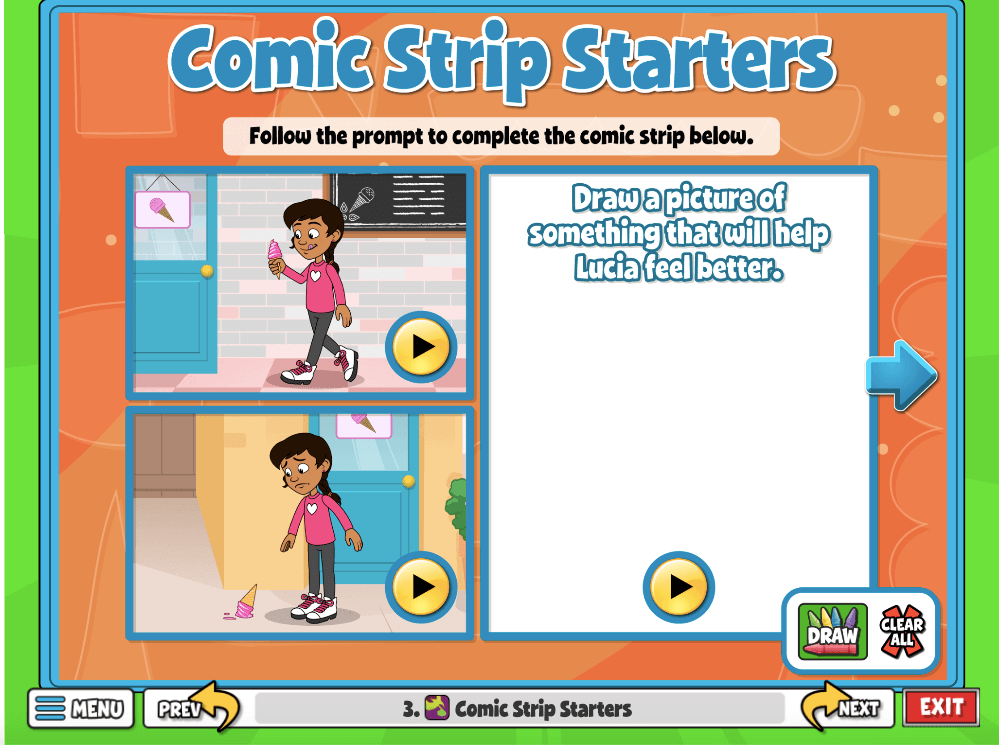 This activity reinforces the focus of creating a safe and supportive space for students to express feelings of grief. This screen provides younger learners with an easier way to begin the discussion by exploring feelings of sadness.
Click on Worksheets in the Lesson Summary window to get the worksheet that accompanies this screen.
Click Play to listen to an explanation of a time when the character on screen felt sad. Follow the directions to complete the comic strip. Click the Draw Tool to allow students to draw their response on the screen.
On the last screen, students will be asked to think about a time when they felt sad. How did they feel? What did they do to feel better?
Coping with Grief
This song introduces Jude, Javier, Zara, and Ron who are experiencing different situations that cause grief.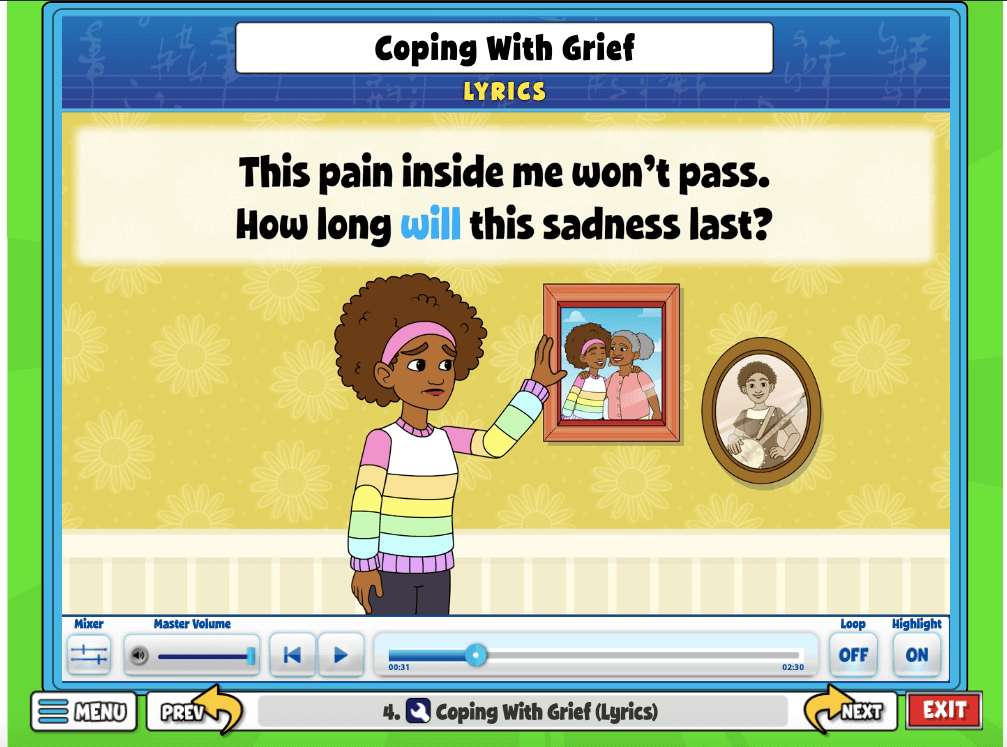 The song introduces ways to cope with grief, such as drawing, talking to a friend, or writing a song.
Sadness seems like it might last forever, but this song reinforces the idea that brighter days are ahead, and we can get through it.
Understanding Grief
This activity defines grief and two different kinds of grief: personal and situational.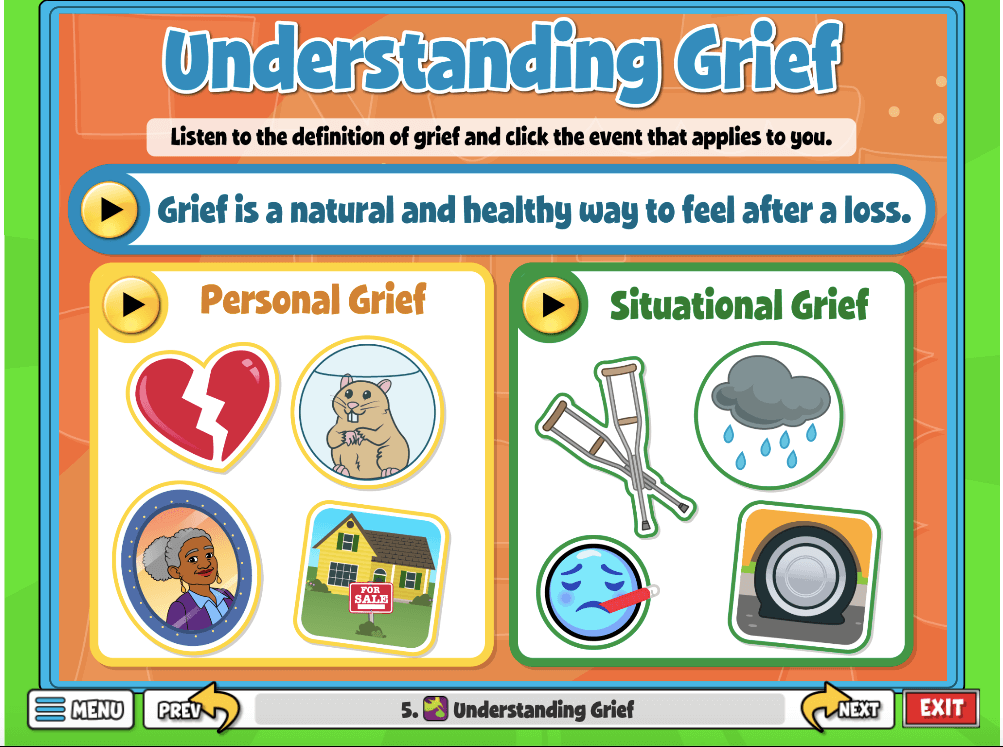 Remind students that grief is a natural and healthy way to feel after a loss.
Personal grief happens when we experience a deep loss such as a person we love dying or leaving. Other examples of personal loss are the death of a pet, moving to a new neighborhood or school, and family changes. Personal grief may cause us to feel angry, sad, or confused.
Situational grief is not as big of a loss as personal grief. Situational grief happens when your schedule or expectations change unexpectedly. Some examples of situational grief include not being able to attend events such as sports, parties, or other activities you were excited about. Situational grief may cause us to feel angry, sad, disappointed, or frustrated.
Students may relate to situational grief this year. COVID-19 has caused a lot of changes to schedules, fun events, and more. Students may be experiencing situational grief for the first time ever.
Causes of Grief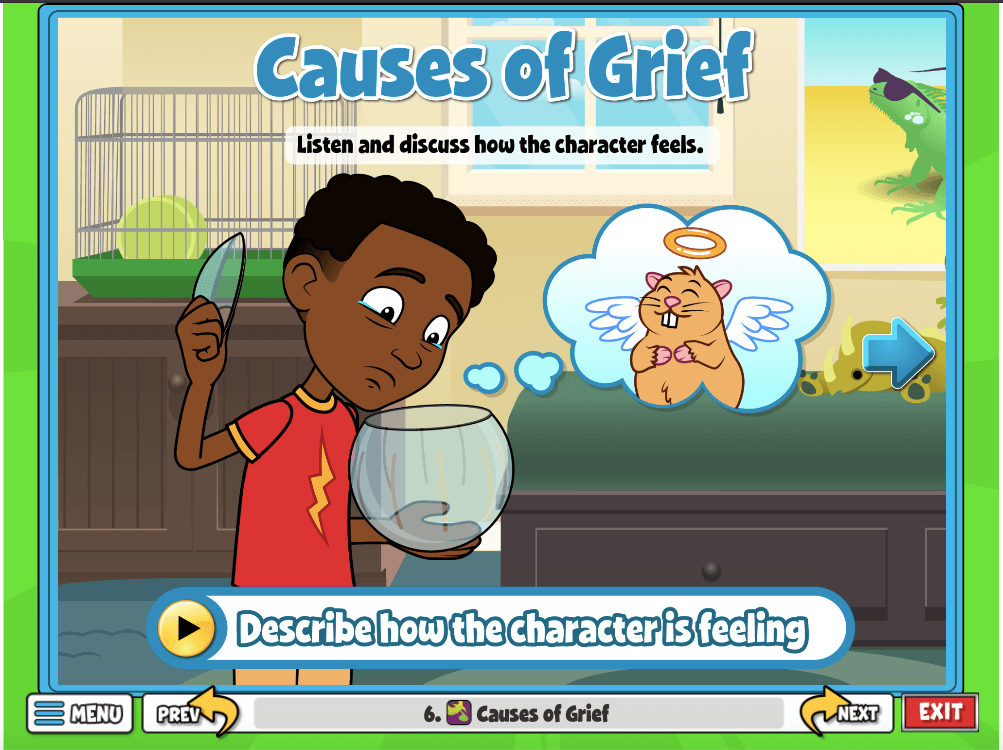 In this activity, click Play to listen to each character explain a situation where they experienced grief. Then, ask students to describe how the character might be feeling.
Can students relate to any of these situations? If so, what did they do to feel better?
Discuss the following question with students: If a friend was experiencing personal grief, what would you say to help them feel better?
Sharing My Grief
Click on Worksheets in the Lesson Summary window to get the worksheet which accompanies this screen.This worksheet has the option of creating a necklace with the shapes students cut out. To create a necklace, students will need string or yarn and a hole puncher. Alternatively, students may cut out the shapes and glue them inside a journal or memory book.
Students will click the play button to listen to a question about each character. Then, click the associated shape and respond to the prompt using the worksheet, or by sharing out loud.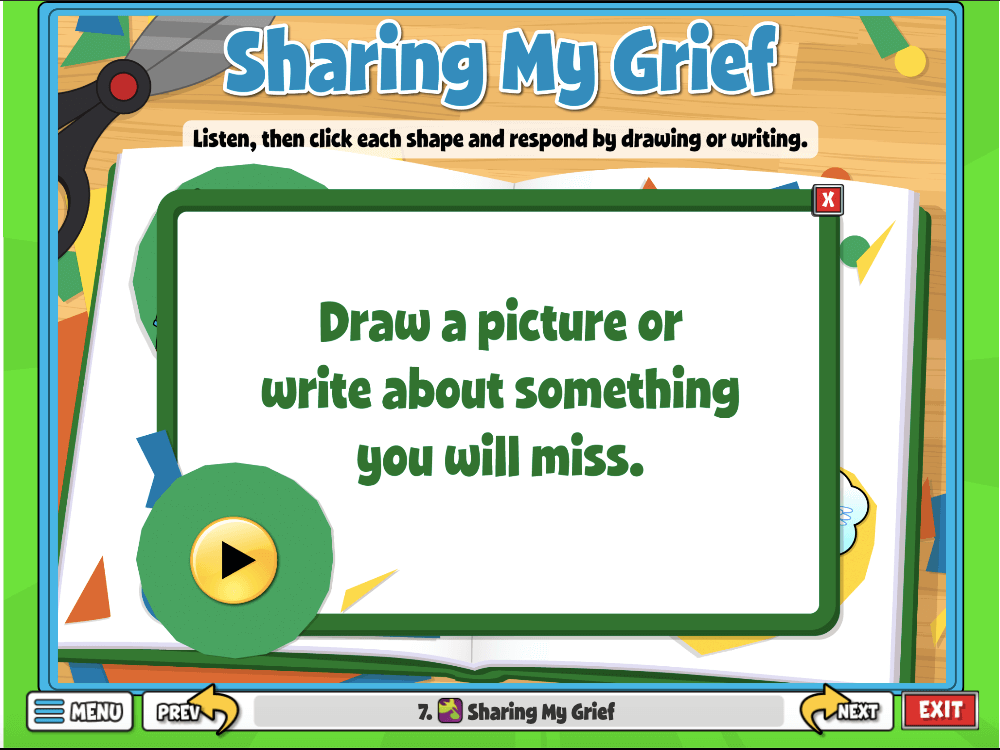 Reflection and Other Thoughts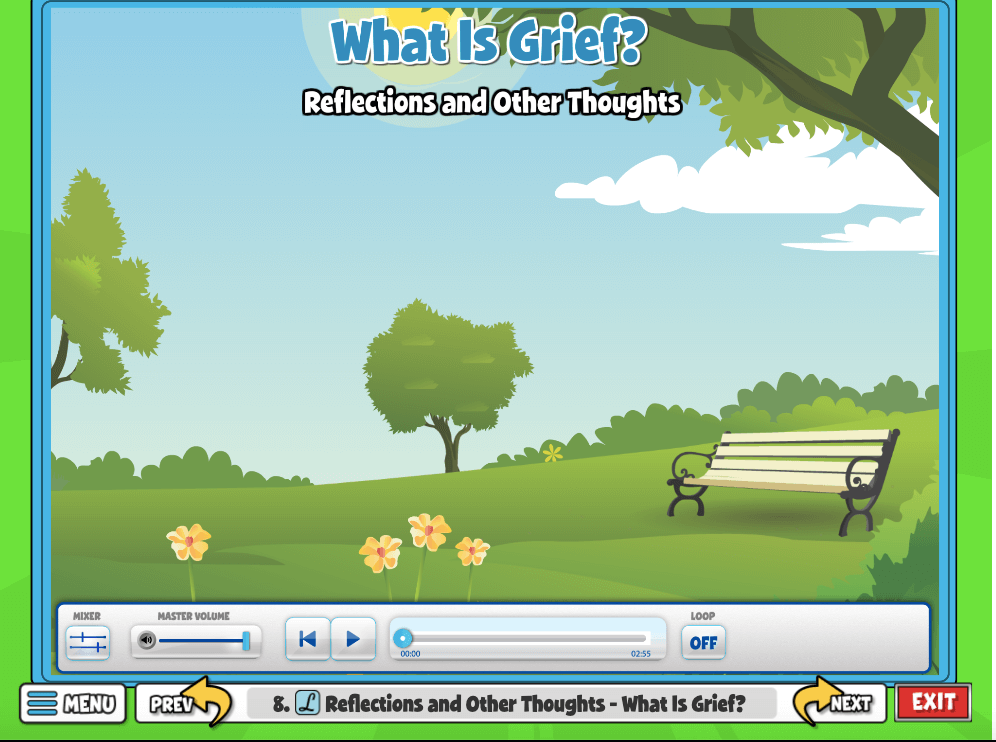 Remind students that this week we have been talking about creating a safe and supportive space for expressing feelings of grief.
As you listen to the audio, ask students to reflect on how they might use this new knowledge this year.
***
Our hope is that this lesson helps you to create a safe and supportive place for students to experience and process grief. Let us know how this lesson works with your students.
***
*Ready to create a culture of caring in your classroom? Find and free, ready-to-use resources at QuaverSEL.com/Care2020